In addition to my own scans and watch lists, I use two main sources to follow options-related news: Daily Seeking Alpha columns by Frederic Ruffy and Andrew Wilkinson. While I get great use out of these sources and have even made money thanks to them, you have to be careful not to chase the stocks or options they mention. Occasionally, you can find examples to capitalize on. Below I detail options brought to my attention by these sources and how investors might consider playing them - or the underlying security - if at all, during the trading week.

This week's recap and analysis includes contributions from two other sources of options information: Frequent Seeking Alpha contributor optionMONSTER and Briefing.com's InPlay service. Both provide alerts on notable options activity throughout the day.

My coverage spans most of Friday's trading day, including early in the session, so some information may change. As with all of my articles, use my suggestions and analysis as the impetus for future research.

Sirius XM (NASDAQ:SIRI): I utilize optionMONSTER a bit differently for today's options article than I have in the past. Because I have spent quite a bit of time writing about my long play on the SIRI September $2.50 calls and my $2.73 price estimate for shares of SIRI come earnings, I used optionMONSTER's strategySEEK feature to see how it suggests playing SIRI under several scenarios.

I plugged in four different outlooks: SIRI trades at $2.73, SIRI trades at $3.01, SIRI trades at $2.40 and SIRI trades at $2.20 come August 1st. Given the parameters for each of these three possibilities, optionMONSTER's tool spits out possible options plays. It delivers them with the following priorities in mind and in order of importance - safety (minimize loss potential), probability (maximize the odds of profitability) and profit (maximize potential market gain).

Here are the plays optionMONSTER recommended with SIRI trading at $2.23 just before Friday's closing bell. Each bullet point represents a separate options play.

$2.73 Scenario
Buy SIRI August $2.50 call
Buy SIRI August $3.00 call
Buy SIRI September $2.00 put/Sell SIRI January 2013 $2.00 put
$3.01 Scenario
Same top three plays as $2.73 scenario
$2.40 Scenario
Sell SIRI September $2.00 put
Sell SIRI January 2013 $2.00 put
$2.20 Scenario
Sell SIRI September $2.00 put
When you turn off the filter for safety and make profit and probability your top two concerns, optionMONSTER suggests buying the stock outright followed by a combination of selling the August $2.50 put and buying the August $3.00 call in both the $2.73 and $3.01 scenarios. No matter what the breakeven is, I am not a fan of selling in-the-money puts no matter how bullish I am, but that's just me.

Imax (NYSE:IMAX): optionMONSTER noted the following continued bearish activity in IMAX options early Friday:
Click to enlarge



optionMONSTER goes on to provide two explanations for the activity - bearish call selling or moderately bullish covered call writing. In any case, I truly treat some stocks like a piece of paper. Because I know very little about its business, IMAX represents one of them. In this case, I let the chart and the options market guide me. And IMAX's chart looks hideous, courtesy of FreeStockCharts.com.

Click to enlarge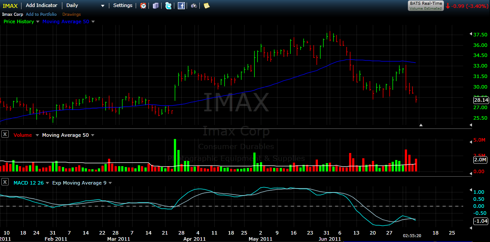 If you're bearish IMAX here - and there's good reason to be - why not give yourself a better night's sleep and hedge your pessimistic options play? I would use that $33.00 level that the stock will likely not surpass anytime soon. But if it bounces, it will likely stop shy of $33.00 and pullback from there.

With that mind, the IMAX August $33/$36 bear call spread represents a very conservative way to profit from your bearishness. The play involves selling the IMAX August $33 call for roughly $0.62 and buying the IMAX August $36 call for about $0.28, resulting in a net credit of approximately $0.34. If IMAX stays below $33.00 between now and options expiration day in August, you realize your maximum gain. Of course, you can get more aggressive by selling a call with a lower strike price.

Research in Motion (RIMM): The situation in Waterloo gets more hapless by the second. Seeking Alpha contributor Trefis cites a report that RIM might have abandoned development and production of its Playbook 2 in favor of its forthcoming QNX smart phones. While you could say (and somebody certainly will) that this is excellent news - RIM woke up and sniffed the coffee grounds - it only provides further proof of the loose grip RIM management has on its business. And that's not changing anytime soon. Or, at the very least, RIM will not come back from these past transgressions anytime soon.

In light of this news, it makes sense to revisit the options strategies I suggested for RIMM earlier in the week. First, I put forth the RIMM July $30/$35 bear call spread, which resulted in a net credit of $0.42 at the time. Heading to Friday's close that spread would result in a credit of $0.28. Second, I suggested the RIMM August $30/$35 bear call spread, which brought in $1.08 on Monday. Today, the spread would generate a credit of $0.94.

Ford (NYSE:F): Often macro events lead to opportunity for investors. Consider the options activity Ruffy pointed out in Ford in his Friday column:



I could not agree more with the sentiment. Heritage, poster-boy stocks like F tend to take a hit when bad macro news gets released. In the process, the reality that sales are up and the international picture looks better than ever gets lost in the shuffle.

Updates From Last Friday's Options Article

NASDAQ OMX Group (NASDAQ:NDAQ): Last week I suggested going long the NDAQ September $28 or $29 calls on the basis of M&A activity speculation. NDAQ closed at $26.12 last Friday, July 1st, and at $25.37 this past Friday, therefore, those calls have yet to work out, but depending upon your risk profile time could be on your side.

Saks (NYSE:SKS), Coach (COH) and Nordstrom (NYSE:JWN): Here's what I wrote last week after reaffirming my bullishness towards Lululemon (NASDAQ:LULU):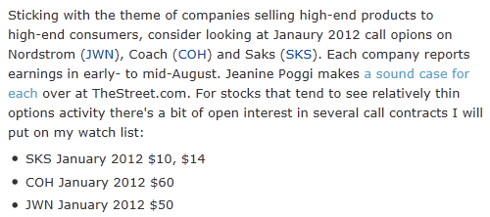 The following chart shows where each of those stocks sits from last Friday's close to this Friday's close, along with the midpoint for each of the calls suggested above:
| | | | |
| --- | --- | --- | --- |
| Stock | Friday, July 1 close | Friday, July 5 close | Option plays |
| SKS | $11.41 | $11.56 | Jan 2012 $10, $14 call ($2.25, $0.52) |
| COH | $65.99 | $66.82 | Jan 2012 $60 ($10.00) |
| JWN | $48.24 | $50.25 | Jan 2012 $50 ($4.45) |
As for LULU, it's up from $115.62 to $120.25 week-over-week.

In last week's article, I also noted that I have been buying Bank of America (NYSE:BAC) and would look to the January 2013 LEAPS calls for further exposure. The stock continues to get hammered (it closed down 2% today at $10.70), but I would still be a buyer of both the stock and LEAPS options. Clearly I missed on Apple (NASDAQ:AAPL) - for now - but I've documented the circumstances surrounding that situation elsewhere.

Disclosure: I am long SIRI, F, BAC.