Here's another reason why small investors should add Intel (NASDAQ:INTC) to their 2015 portfolio. Gizmo China has published pictures taken from a Weibo account that allegedly shows the next MiPad 2 version contains an Intel Atom processor. The expensive Nvidia Tegra K1 was used in the original $240 Xiaomi MiPad.It is therefore great news for all Intel bulls to learn that Krzanich has persuaded Xiaomi to try an x86 Atom SoC for the coming MiPad 2. The Xiaomi MiPad looks and feels like a cheaper version of the iPad Mini. Apple's tolerant attitude toward Xiaomi's copycat designs should help Intel improve its tablet chips sales next year.In my opinion, the Xiaomi brand has already achieved cult-status. Intel therefore will not be spending too much contra revenue for chips inside Xiaomi tablets and smartphones. Xiaomi is aggressively expanding outside China and if the rumor is true, Intel will likely benefit for the long term.I opine that Intel can benefit more from winning the support of Xiaomi than relying on less-famous Shenzhen-based white box tablet manufacturers. Xiaomi's global brand appeal can sell a greater number of tablets than any other Chinese brands like Huawei, Lenovo (OTCPK:LNVGY), or ZTE (ZTECOY).A lower price tag and better hardware specs make an Intel-powered Xiaomi Android tablet more appealing than a $399 iPad Mini. I bet that Xiaomi's decision to release an iPad Mini clone contributed a lot to the first ever decline in total iPad shipments this year.China, where Xiaomi is very popular, is the biggest of the emerging markets. IDC says emerging markets will post higher CAGR in tablet sales than mature markets. It is therefore pleasing to all INTC investors that Krzanich might win the support of Xiaomi.(click to enlarge)

Source: IDCAlliance With Xiaomi Is Highly DesirableUnlike Samsung (OTC:SSNLF) and Apple, Xiaomi is known for direct online selling which is why it can afford to sell $320 Android phones that have better or equal hardware components found inside the iPhone 6 and Galaxy S5. Lei Jun's use of Steve Jobs fashion sense and marketing gimmicks made Xiaomi the no.1 smartphone vendor in China. There will come a time when Xiaomi tablets will also outsell the iPad in China and other emerging countries.The introduction of a cheap Intel Atom SoC inside the MiPad 2 will greatly reduce its price tag. A lower price tag can inspire more Chinese and Asians picking the Xiaomi tablet over the iPad Mini. Intel's mistake of refusing Steve Jobs' request of providing a custom chip for the iPhone and iPad can be forgiven if Krzanich really delivers a real alliance between Intel and Xiaomi.ConclusionWhat I want to hear is a rumor that the next Xiaomi phones will also feature x86 Intel chips (instead of Qualcomm (NASDAQ:QCOM) Snapdragons). I know that Qualcomm is an early investor in Xiaomi and Intel is not. However, Qualcomm has bad guanxi with Chinese anti-trust officials right now.Intel has great guanxi with China and I look forward to Krzanich exploiting this privilege to break Qualcomm's monopoly on higher-margin Xiaomi phones like the Mi3 and Mi4. But I will still be happy be if an Intel Atom BayTrail finds its way inside $130 phones like the Xiaomi Redmi 1S and Redmi Note.I want to emphasize again that many Asian wireless carriers are now offering Xiaomi phones to their post-paid customers. There will soon come a time when carriers will offer Intel-powered Xiaomi tablets to their clients. Philippine Long Distance Company (PSI) is now offering a free ZTE-made Android tablet so that we, subscribers, will upgrade our DSL subscription to a higher plan.I will only upgrade my DSL connection if PLDT offers a free Intel-powered Android tablet from Xiaomi. Buy the rumor. INTC is a Buy.If you don't like buying into rumors, then you can still heed the technical indicators of BarChart which gives INTC an overall score of 64% Buy.Note that 16 analysts rate INTC a Buy while only 12 analysts rate it a Hold. Since StockTA also loves INTC right now, I agree with the 16 analysts' bullish outlook for Intel.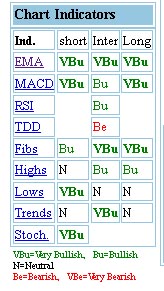 Source: stockta.comDisclosure: The author is long INTC.