In an interview with Bloomberg, Marc Faber opined that he expects volatility and surprises in the coming year. In line with this view, Marc Faber suggested that investors should remain diversified across asset classes in the coming year. I am in full agreement with his views and this article discusses some interesting investment options for the coming year.
I want to start with relatively safe assets and my first choice for 2015 is US Treasury bonds. I must add here that I am bearish on US Treasury bonds for the long-term. However, for 2015, I believe that Treasury bonds are a "must have" for the portfolio.
As the chart below shows, the global economy is on a decline and the advanced economy (excluding US) is slowing down sharply. Even China's growth for 2015 remains uncertain with negative surprises coming from the economic data.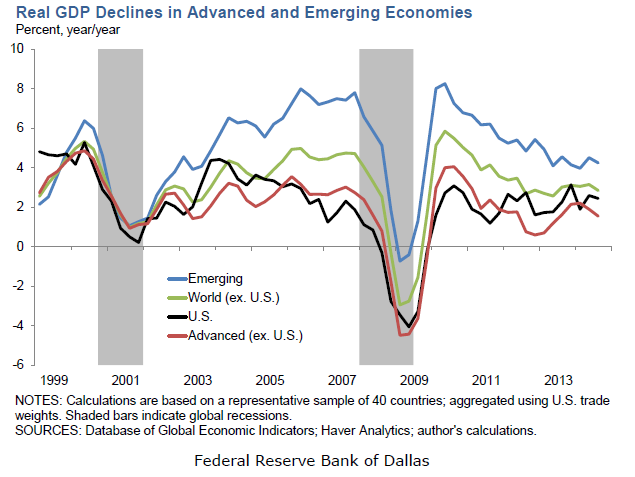 In such a global economy outlook, it is important to own Treasuries and I believe that US Treasuries will rally from current levels through 2015. In particular, the first half of 2015 will be better than the second half. Investors can therefore consider exposure to Vanguard Long-Term Government Bond ETF (NASDAQ:VGLT) and the Vanguard Short-Term Bond ETF (NYSEARCA:BSV).
The second investment option in my radar is the corporate bond ETF. As US markets trend at record highs and US corporate profit remains robust, corporate bond ETF's are an exciting investment option.
The interest in corporate bonds is evident with the Vanguard Intermediate-Term Corporate Bond ETF (NASDAQ:VCIT) witnessing robust fund inflow according to this report. The intermediate bond ETF provides a healthy SEC yield of 3.16%, making it an attractive investment option when the US economy and corporate profits are likely to be strong in 2015.
The Vanguard Long-Term Corporate Bond ETF (NASDAQ:VCLT) and the Vanguard Short-Term Corporate Bond ETF (NASDAQ:VCSH) also provide a SEC yield of 4.38% and 1.68% respectively. I believe that investors can remain invested in these ETF's through 2015.
Gold (NYSEARCA:GLD) has been my choice among safe assets in the past. However, I am not bullish on gold for the first half of 2015. I believe that a strong dollar will keep gold lower at least in the first half of 2015. Investors with a long-term view can however consider gradual exposure to gold at current levels.
While the near-term outlook is negative, gold remains a good investment and a good currency with a 3 to 5 year investment horizon. My opinion is to have limited exposure to gold in 2015 as high exposure can potentially harm the returns prospects for the portfolio.
Coming to equities, I believe that US equities will continue to perform well in 2015 and I have discussed reasons in the past for my view. The primary reasons being a resilient US economy, weak Euro-zone, Japan and Chinese economies and a strong job market to add to a the robust markets.
However, I must caution here that the broad index (NYSEARCA:SPY) might not continue to provide robust returns. Since March 2009, the US index is up by 200% and I don't expect the same rate of upside to continue in the coming year. My view therefore is to remain selective in terms of picking stocks and sectors instead of exposure to the broad based index.
With oil prices plunging, there are some very attractive opportunities in the oil and gas space and I recently wrote on Occidental Petroleum (NYSE:OXY), which is a good pick for 2015 in my view. I also remain positive on Encana (NYSE:ECA) among oil and gas stocks in the coming year.
I believe that in terms of steady performance, the healthcare sector will remain a bright spot in the coming year and investors can consider exposure to the Vanguard Healthcare ETF (NYSEARCA:VHT).
I must also mention here that the US consumer confidence is at a record high since the financial crisis on the back of a stronger economy and improving jobs markets. I believe that for the first quarter of 2015, consumption based themes will do well. I am bullish on Wal-Mart (NYSE:WMT) for the first quarter of the year and depending on the consumption pattern and improvement in the jobs market, the stock investment horizon can be extended.
Among global markets, I am most bullish on Indian equities and I believe that the Indian markets can be a star performer in the coming year.
The Indian government has promised big reforms in the budget coming up in March 2015 and I believe that there is likely to be a pre-budget rally. Further, interest rates have peaked in India and with inflation cooling down; I expect a series of rate cuts in the coming year. That will provide an additional boost to the markets and interest rate sensitive sectors such as banking and infrastructure.
In the banking space, my stock pick is ICICI Bank (NYSE:IBN), which is India's largest private sector bank. As reforms unfold and as interest rates cuts come in 2015, the bank is best positioned to benefit. Besides the option of directly investing in Indian markets, investors can consider investment through ETF's. Considering the broad markets, iShares India 50 ETF (NASDAQ:INDY) and iShares MSCI India ETF (BATS:INDA) are also good investment options. While the former gives exposure to 50 largest Indian stocks, the latter gives exposure to large and mid-sized companies in India.
In conclusion, 2015 is likely to be volatile and the best strategy is diversification. On an overall basis, I remain overweight on US and Indian equities and underweight on China and Euro-zone equities. However, investors need to apply bottom-up approach to investing even in attractive markets. I expect oil to remain largely in the range of $50 to $70 per barrel for the coming year. However, I do expect some oil and gas companies to perform well and I have mentioned some names in the article.
Disclosure: The author has no positions in any stocks mentioned, and no plans to initiate any positions within the next 72 hours.
The author wrote this article themselves, and it expresses their own opinions. The author is not receiving compensation for it (other than from Seeking Alpha). The author has no business relationship with any company whose stock is mentioned in this article.