After the More Alaskan Production Act was passed in April 2013, which lowered oil production taxes in Alaska, ConocoPhillips (NYSE:COP) announced that it was going to add four new drilling rigs to the Kuparuk Field. Two of those rigs are already at work, the Nabors 7ES and 9ES. So far those rigs have already added 8,000 bpd of oil production to the region. The other two rigs will be added in 2016, one in February and another later on in the year. Below is a picture of the Kuparuk Field and Greater Kuparuk Area in northern Alaska.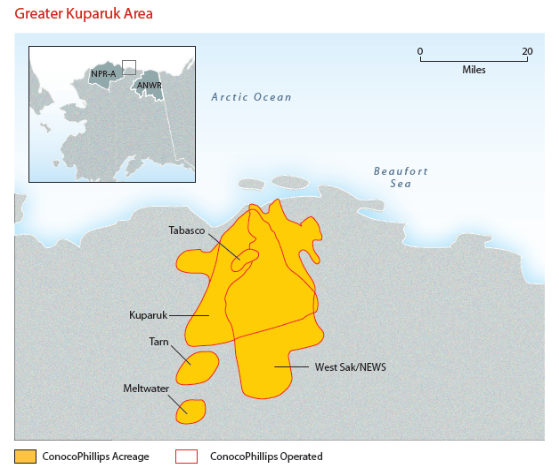 Source: ConocoPhillips Alaskan Fact Sheet
Kuparuk Field expansion
ConocoPhillips is the operator of the Greater Kuparuk Area with a 52.2% - 55.5% interest in the region, partnering up with BP (NYSE:BP) (37% - 39.2%), Chevron (NYSE:CVX) (4.9%), and ExxonMobil (NYSE:XOM) (0.2% - 5.8%). The Greater Kuparuk Area produced an average of ~100,000 barrels of oil per day in 2013, 53,000 bo/d net to ConocoPhillips. It also produced sizeable amounts of natural gas, ~170 MMcf/d, which ConocoPhillips used for fuel. To enhance the oil recovery rate of the field, Conoco reinjects some of the natural gas back into the field.
Discovered in 1969, the Kuparuk River Field is just 40 miles west of Prudhoe Bay in Alaska. Production started up in December 1981, and by 1992 the Kuparuk River Field's output peaked at 322,000 bo/d. Since then production has slowly declined to much lower levels. Originally, the field had 5.9 billion barrels of oil and 2.8 Tcf of natural gas (equivalent to 330 million BOE) in place. According to BP, 2 billion BOE had been produced from the Kuparuk Field at the end of 2012. That means by the end of 2014, ~2.073 billion BOE (100,000 BOE/d x 2 years x 365 days in a year = 73 million BOE) has been produced as far.
A recovery rate of 34.6% (2.073 BBOE / 6 BBOE) does point towards most of the recoverable oil in place has already been produced. Even so, if Conoco may be able to increase that to 50% through technological advances and additional production facilities. That rate would allow it to uncover an additional 920 million BOE from the Kuparuk River Field, enough sustain current production levels for just over 25 years.
The Kuparuk Drill Site 2S in the southwestern part of the Kuparuk River Field. By leveraging its existing infrastructure in the area, ConocoPhillips and its partners are able to keep costs down. Funding for the $500 million expansion was approved on October 24, 2014, a bit after ConocoPhillips started laying gravel in Q1 2014. Construction on the facility began late in the fourth quarter, with drilling planned to start up by mid-2015. By the end of 2015, the expansion will begin producing first oil. At its peak, the development will pump out 8,000 bo/d.
West Sak upside
Close by in the West Sak Field, ConocoPhillips is building off its existing Drill Site 1H operation to develop the North East West Sak [NEWS] project. Funding for the $450 million development is expected to be approved in early 2015, with first oil in 2017. Like the Drill Site 2 expansion, the NEWS development will have a peak production rate of 8,000 bo/d.
Discovered in 1971, the West Sak Field is estimated to hold 7.7 billion barrels of oil originally in place, with 1.5 billion barrels located in the "core" part of the field. The West Sak Field underlaps the Kuparuk Field, laying ~5,000 feet underground. Unlike the light oil that is produced in the neighboring Prudhoe Bay, the crude that is produced in the West Sak is thick, making it more expensive to pump out.
The West Sak Field started producing crude in 2004, and so far 90 million barrels of heavy crude have been pumped out. This gives the consortium a long growth runway that can be used to boost production levels, in a state that has seen is oil output plummet since its 2 million bo/d peak in 1988. In light of the reduced tax burden and massive resource potential, ConocoPhillips and its partners are currently evaluating additional expansions in the area.
Final thoughts
By 2018, ConocoPhillips plans to add 40,000 BOE/d (mostly oil) to its Alaskan output streams. Additional developments, particularly in the Wesk Sak Field, will help sustain production growth through the next decade. New producing assets are necessary if ConocoPhillips wants to revive its Alaskan operations. From 2012 to 2013, ConocoPhillips' Alaskan production fell from 213,000 BOE/d to 200,000 BOE/d. Factoring out Q3, which was negatively impacted by maintenance in Prudhoe Bay, Conoco's Alaskan production in 2014 has averaged 196,500 BOE/d.
Investors who want to read about how more about how ConocoPhillips is revamping its Alaskan operations should take a look at: After Tax Cut, ConocoPhillips Expands Alpine Field In Alaska.
Disclosure: The author has no positions in any stocks mentioned, and no plans to initiate any positions within the next 72 hours.
The author wrote this article themselves, and it expresses their own opinions. The author is not receiving compensation for it (other than from Seeking Alpha). The author has no business relationship with any company whose stock is mentioned in this article.