Consistent revenue growth
A rising tide via the

IoT

Margin expansion
Smart, goal-oriented investments
Product and revenue stream diversification
The Internet of Things
The "Internet of Things" movement is projected to be the biggest growth engine for the global economy leading into 2020. For those of you that may not know what the Internet of Things is - it is the proposed development of the Internet in which everyday objects have network connectivity. Connected thermostats are a prime example of its applications. Connected-home device shipments will grow at a projected compound annual rate of 67% over the next five years, making it the fastest growing niche in the IoT movement. The connected-home niche will represent 25% of shipments within the broader Internet of Things space.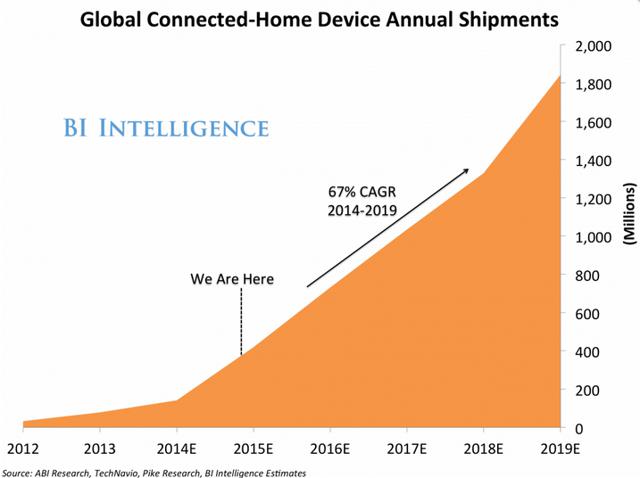 When the tide rises, it tends to bring all of the boats up with it. I believe Control4 (NASDAQ:CTRL) is poised for explosive growth as its niche is expected to represent 25% of the potentially enormous overall IoT market, which is practically untapped.
Control 4 Corp.
Control4 is a leading provider of automation and control solutions for the connected home. By unlocking the potential of the connected device, they make entertainment systems easier to use, homes more comfortable and energy efficient, and families more secure. Their technology provides their consumers with the ability to integrate music, video, lighting, temperature, security, communications and other functionalities into a unified home automation solution that enhances the consumers' daily life.
Communicated through Control4's 10-K statement, they have estimated that they have successfully automated more than 150,000 homes representing cumulative sales of more than 340,000 of their controller appliances, the brain of the connected home. Their solutions are installed in 87 different countries as of now. Control4 generated revenue of $93.4 million, $109.5 million, and $128.5 million in 2011, 2012 and 2013, respectively. They had a net loss of $3.9 million and $3.7 million, and a net income of $3.5 million in 2011, 2012 and 2013, respectively.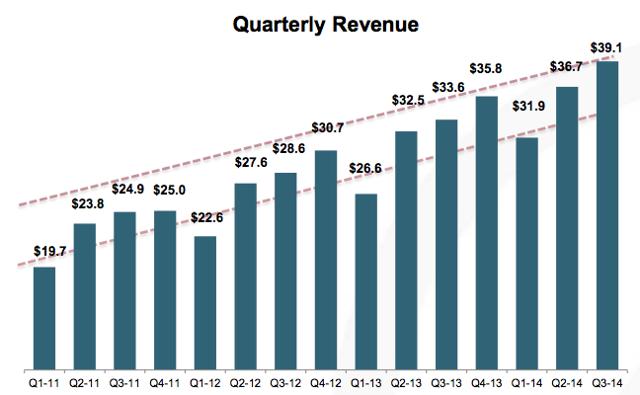 Monetization
Monetization of Control4's technology is significantly strengthening, as its strong revenue growth despite seasonal hiccups would imply. Gross Margins are also expanding significantly. However Control4's bottom line has not been impressive in the past years because of heavy reinvestments into SG&A and R&D in an effort to increase partnerships (helping to translate Control4 into a household name), efforts to widen the range of applications, advertisement, and the enhancement of software capabilities.

From the consolidated Income Statement retrieved from the SEC displayed above, we can see strong revenue figures, strong revenue growth figures, and healthy and improving 45%-50% gross margins. The bottom line is being impacted by the hefty operating expenses which are comprised of significant ongoing investments which are helping them grow their user base and enhance their product offerings to bring them closer to their growth model goals, but this lack of profitability has driven away many investors - which I believe is opening up an incredible window of opportunity to enter a long position with Control4.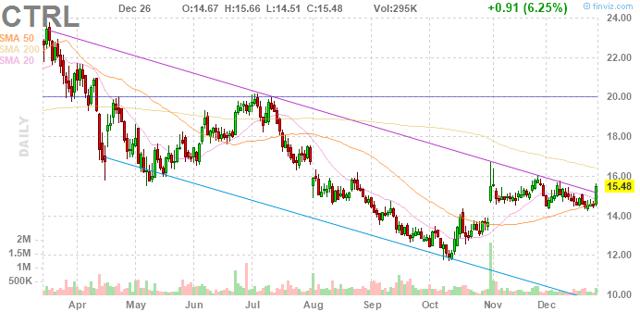 Weakness in shares of Control4 has opened up a significant long-term investment opportunity and the breakthrough looks to be in its early stages.

Major brokerage houses listed above have maintained their conviction and Price Objectives on Control4 despite its recent weakness. The average price target on shares of Control4 is approximately $26 a share, implying an 85% upside in the share price.
Disclosure: The author is long CTRL.