Background
Russia is the largest country in the world. In 2013 it was also the world's second largest oil producer, beaten only by Saudi Arabia and the world's second largest gas producer, beaten only by the United States (source: IEA's Key World Energy Statistics 2014). Still, a lot of the Russian production happens onshore, although there are endeavors to promote off-shore production. Many of them are in conjunction with Western operators and service companies, as Russian companies lack modern technology. Due to the recent events in the Ukraine, sanctions were imposed on many Russian companies. This fact, together with the recent fall in the oil price, may negatively affect the Russian economy, as hydrocarbon production is still the country's most important industry segment and a major source for foreign exchange income. Nevertheless, the dependency is bilateral. Europe still gets most of its gas from Russia and blockage can have devastating effects, as the events in the Ukraine n the last decade (not only last year) have shown. As Russia is not a democracy in the Western meaning of the word, the government has much direct and indirect influence on the oil industry and on its pricing policy. In this article I calculate production costs for the five most important Russian upstream companies: Gazprom (OTCPK:OGZPY), Lukoil (OTCPK:LUKOY), Novatek (NVTK.ME), Rosneft (OTCPK:RNFTF) and Surgutneftegaz (OTCPK:SGTPY).
Cost model
Oil is hardly ever produced as pure liquid. Normally it comes as a mixture with natural gas and gas condensate. Although I only consider companies here that mainly lift oil, they also produce significant amounts of gas. Hence, it does not make much sense to apply costs to the production of oil alone. To deal with this issue the concept of barrel oil equivalent - boe - has been perceived. 6000 cubic feet of gas at standard conditions are about one boe. All costs mentioned below refer to one boe, meaning that are the costs related to the production of 1 bbl of oil, 6000 scf of natural gas or a combination of both. Let's say the price for 1 barrel of oil is around $100 and the price for 1000 scf of gas is about $6. This means, revenue from 1 boe of oil is higher than revenue for 1 boe of gas ($100 versus $36). As there are also fields that only produce gas, this article tends to underestimate the costs of oil production.
Commonly, costs are divided into those that can directly be related to production (cost of sales) and those that cannot directly be related to output (overhead). However, many oil companies are also active in downstream and midstream or other economic sectors [e.g. ExxonMobil (NYSE:XOM) in chemical engineering]. Hence, I have divided sales, general and administration expenses (SG&A) by total revenues and multiplied it with the revenue of the E&P division to get SG&A for E&P. I did the same for any similar type of cost (marketing expenses, R&D) and for financial expenses. Depreciation of assets, on the other hand, can be directly linked to oil production.
Costs of sales are divided into 3 sub-categories:
Exploration costs
Lifting costs
Non-income related taxes
Exploration costs are costs related to all attempts to find hydrocarbons. This category includes cost for geological surveys and scientific studies as well as drilling costs.
Lifting costs are the costs associated with the operation of oil and gas wells to bring hydrocarbons to the surface after wells (facilities necessary for the production of oil) have been drilled. This figure includes labor costs, electricity costs and maintenance costs.
Non-income related taxes: as production of hydrocarbons is such a lucrative business, governments also want to have their shares. There exists an abundance of different model how the state can profit from hydrocarbon production (profit sharing, royalties, etc.).
It might be, that different companies use different categories for the same type of expenses, but eventually the sum of all costs should be their total cost for producing 1 boe.
The following figure shows the pattern of the cost model: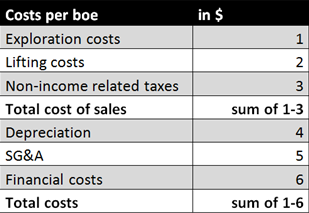 In a number of recent articles I have applied the same methodology on a number of oil companies from all over the world. The links to these articles can be found below:
Application on 5 Russian oil producers
As mentioned above, I have applied my model on the 5 largest Russian oil and gas producers. The first one is Gazprom. As its name indicates, the company is mainly active in the production of gas. It is the world's biggest producer of gas and de facto owned by the Russian government. Lukoil is the oil producer with the world's second biggest oil reserves, only beaten by ExxonMobil and larger than BP (NYSE:BP). Novatek is the second largest Russian gas producer and privately owned. Additionally, is also active in the downstream business. Rosneft is the biggest Russian oil producers and also owned by the government. It became the leading oil producer after acquiring assets of the former oil giant Yukos. In 2012, Rosneft bought TNK-BP. The last company investigated in this article is Surgutnefte. Most of its producing reservoirs are located in Western Siberia. Together, the five companies produced 6,933 million barrels of oil equivalent (19 million boepd) in 2013. All of them are listed on the Russian stock market and therefore are required to comply with international accounting laws. Apart from Lukoil, they all stated their results in Russian Ruble. As conversion factor RUB1 = USD0.0314 was used.
The results can be found in the table below:

(Source: own calculations based on 2013's ARs )
Liquids do not only mean classical oil, but also natural gas liquids - NGL.
Russia is different
Russian upstream companies show some peculiar aspects compared to most of the (Western) companies I have investigated so far. The most eye-catching one is the low price the enterprises could realize for their products. Gazprom only got $13.26 for each boe it sold at 14.6% liquids in its portfolio and Rosneft got only $43.21 for each boe at 86% liquids. The only company that got revenues comparable to the Western companies is Novatek with $24.46 per boe (or $4.08 per 1000 scf as it is merely a gas producer). The most used blend in Russia is Urals Crude, a blend that is generally priced very similar to Brent, the European (and world) standard. And indeed, Platts provides an average pricing of $107.38 for Urals Crude (CIF Rotterdam) in 2013. The riddle can be solved quite easily. Russian companies charge much higher prices for sales to "far abroad countries" (that is all not CIS states) than for domestic customers. For instance, Lukoil states prices for its different markets: Russian customers had to pay $49.35 per bbl, customers located in the CIS (commonwealth of independent states) had to pay $50.70 per bbl and customers in the remaining countries of Europe were forced to pay the regular price: $107.96 per bbl. So the realized price for them depends not only on the percentage liquids they produce, but also on the percentage of domestic sales. Gazprom, the starkest case sold more than half of its production in Russia. Hence, its very low average realized price per boe.
The next important finding is the immense high non-income related taxes the companies had to pay. As I have mentioned above, vast parts of the Russian government budget originate from oil and gas production taxes. The extreme case can be seen in Surgutnefte: although the company had to pay production taxes of RUB266,684 million, additional export duties of RUB354,398 million were imposed. This resulted in total non-income taxes per boe of $37.42, more than 78% of total costs. The situation is a bit better for Lukoil and Rosneft, but their contributions to the government are still high compared to all Western companies.
Nevertheless, production costs for the Russian companies investigated in this article are ridiculously low as soon as one ignores the non-income related taxes (always assumed that the report are in accordance with worldwide accounting standards). None of the five companies had costs of more than $15 per boe ignoring governmental share. The three main oil producers (liquid content around 85%) had costs between $10.13 and $14.79. These low production costs are also the reason why the Russian companies still could earn money at the low realized prices. They show that even in the 21st century there are still regions in the world where "cheap oil" is more than just a phrase. Perhaps Russian oil production costs can also serve as proxy for Middle East oil producers and allow some estimate how much they spend to produce one barrel of oil. However, Russia and most Middle East countries have one thing in common: the total dependence of their economies on hydrocarbons.
Disclosure: The author has no positions in any stocks mentioned, and no plans to initiate any positions within the next 72 hours.
The author wrote this article themselves, and it expresses their own opinions. The author is not receiving compensation for it (other than from Seeking Alpha). The author has no business relationship with any company whose stock is mentioned in this article.
Editor's Note: This article discusses one or more securities that do not trade on a major U.S. exchange. Please be aware of the risks associated with these stocks.