The solar industry has seen its ups and downs over the past decade. After a brutal period of bankruptcies and consolidations, the industry finally seems to be stabilizing. While the past 5-10 years have been characterized by overcapacity, largely due to the entrance of Chinese manufacturers, the supply and demand of solar panels is finally reaching somewhat of an equilibrium.
Despite the past issues plaguing the solar industry, solar adoption has had a relatively smooth exponential growth curve at around a 40% CAGR for the past 20 years. While this growth was not so impactful during the early days of the industry, solar is finally reaching a tipping point. Solar power generation is slated to reach 1% of total power generation in 2014, and although this number seems small, it must be kept in mind that solar is a nanotechnology (which grows at an exponential rate). With just a few more doublings, solar will grow to become a sizable portion of energy generation. While solar certainly holds immense promise, the future landscape of solar companies is more complex.
Solar's amazing growth thus far in the U.S. market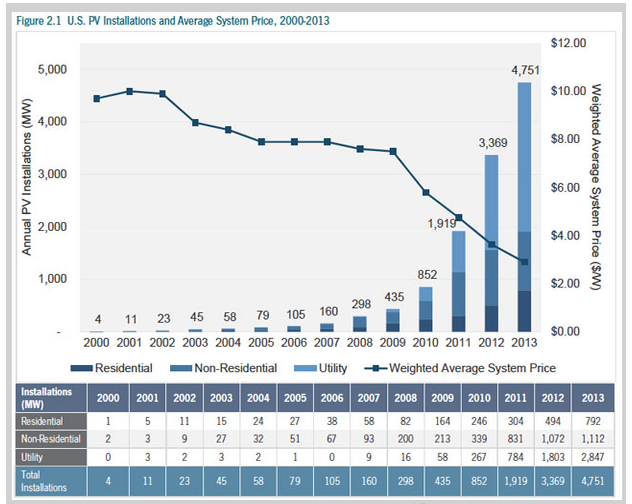 Source: GTM Research/SEIA
Supply Shortage
While the supply glut that has characterized the industry for the past few years has finally been alleviated, demand is still growing at a breakneck pace. In fact, some major Chinese firms have already noticed that demand is beginning to outstrip supply. Ironically, this means that just as the solar overcapacity is beginning to subside, a new problem of a solar panel shortage is likely to occur. This is not too surprising though, as the solar industry has been known to move in cycles. Even though there have been no indications of demand slowing down, the solar manufacturing industry does not seem to be preparing to meet this future demand.
There are only a few companies expanding their capacity enough to keep in line with the solar growth trend. SolarCity (SCTY), in particular, is one of the few companies making big moves in the solar manufacturing sector. The company is planning to complete a 1 GW solar production facility by 2017, which will be the largest solar plant in the U.S. by a factor of three. Asides from this major move by SolarCity, there have really been no other major solar manufacturers making such significant moves in order to meet future demand.
While major U.S. solar manufacturers like First Solar (NASDAQ:FSLR) and SunPower (NASDAQ:SPWR) are expanding capacity, they are not doing so on a large enough scale to offset the looming supply shortage. Much of the cautious temperament of the solar manufacturing industry can be attributed to the brutal period of oversupply that has plagued. Overcapacity has been such a painful experience for the solar industry that many cannot even contemplate an undercapacity.
The companies that have the foresight to recognize this impending supply shortage will win big in the future. With the numbers for solar adoption growing ever larger, it will become an increasingly monumental task for panel suppliers to keep up with such quick expansion. While solar capacity expansion had been extremely easy in the past given the small initial base of solar power generation, it will become exponentially more difficult for solar manufacturers to keep up with demand.
Solar Trade Wars
With the emergence of government-backed Chinese solar manufacturers in the early 2000s, the solar industry had effectively gone into overdrive. While solar adoption increased at a record pace during this time, many solar companies, namely U.S. solar manufacturers, had an extremely hard time keeping up with the low-cost Chinese panels. The U.S. response to this was to implement heavy tariffs on Chinese manufacturers. While the implementation of these trade barriers had certainly helped the U.S. solar manufacturing industry, the question of whether or not it helped with overall solar adoption is suspect.
The Department of Commerce recently announced another series of steep tariffs on Chinese manufacturers. There is little doubt that these solar trade wars between the U.S. and China will continue on into the future. While Chinese manufacturers will be negatively impacted by these tariffs, U.S. solar manufacturers will undoubtedly gain immensely from these policies. The major U.S. panel manufacturers (First Solar and SunPower) will not have to compete with the ultra-low cost Chinese panels. Not only will these companies gain in the short-term, but they may also be able to compete with Chinese manufacturers in the long-run due to the possibility of putting extra emphasis on research and development. Without direct Chinese competition, these U.S. firms will most likely devote an increasing amount of money on pushing the technological frontiers. We are already seeing this in the case of SunPower, which boasts the highest efficiency solar panels on the market.
These tariffs have become an extremely divisive issue among the solar community. While some argue that these tariffs are patently protectionist in nature, others argue that these tariffs level the playing field for U.S. companies against the government-subsidized Chinese companies. In fact, these tariffs may actually be healthy for the entire industry in the long run by allowing U.S. companies to improve on solar technologies, rather than constantly chasing after margins just to compete.
Outlook for Companies
A clear winner in all of this is SolarCity. SolarCity's downstream business, in addition to its huge solar manufacturing plans will be instrumental to its future success. Not only is the company well prepared for the future, but its management has been one of the few in the solar industry cognizant enough to predict a solar shortage. If a shortage does play out, and it very likely will, the company will stand to gain immensely.
U.S. companies like First Solar and SunPower will also be well-positioned for the future, largely as a result of the solar tariffs placed on Chinese companies. Without Chinese competition, these companies can consolidate the huge U.S. market and focus on technological innovation. One possible negative for these two solar powerhouses is that they are not expanding their capacity nearly fast enough to meet future demand. Many individuals, even in the solar industry, continually underestimate the power of exponential growth. If solar adoption continues to grow at a 40% CAGR, the solar industry as a whole is woefully unprepared to meet demand. Those that do will be awarded tremendously.
While the outlook for Chinese companies such as Trina Solar (NYSE:TSL) or Yingli (NYSE:YGE) are a bit more complex, these large Chinese companies will also likely experience great upside in the future. While large Chinese solar business have been severely damaged by the U.S. tariffs, much of this has already been accounted for in their valuations. Regardless of these tariffs, the major Chinese solar firms have proven themselves to be resilient and well-managed enough to adapt. In the case of increased future demand, these companies will likely have an easier time ramping up production capacity, due to governmental support, than their U.S. counterparts.
Conclusion
Despite all the potential obstacles facing the solar industry, its future is still extremely bright. Ray Kurzweil, a prominent futurist famous for his accurate predictions, has stated that solar will account for 100% of the world's energy generation by 2030. Ray Kurzweil quotes:
"Solar panels are coming down dramatically in cost per watt. And as a result of that, the total amount of solar energy is growing, not linearly, but exponentially. It's doubling every 2 years and has been for 20 years. And again, it's a very smooth curve. There's all these arguments, subsidies and political battles and companies going bankrupt, they're raising billions of dollars, but behind all that chaos is this very smooth progression."
If this were to be the case, then the solar industry may have some of the most enticing investment opportunities out there today. While this prediction is certainly on the optimistic side, there is no doubt that solar will play a huge role in the future. While the Guggenheim Solar ETF (NYSEARCA:TAN) could be a good choice for individuals wanting to invest in the entire industry, it is likely that U.S. solar companies (SolarCity in particular) will have the greatest potential for upside.
Disclosure: The author is long SCTY.
The author wrote this article themselves, and it expresses their own opinions. The author is not receiving compensation for it (other than from Seeking Alpha). The author has no business relationship with any company whose stock is mentioned in this article.