In an article I wrote last week about my Pareto Portfolio, one of the companies I highlighted and I am presently invested in is Dream Office REIT. This article is to inform my readers about, what I believe to be a great opportunity for 2015.
What It Is
Dream Office REIT (OTC:DRETF) is an unincorporated, open-ended real estate investment trust.
What It Does
The company invests in high-quality office properties in key markets across Canada.
How It Does It
Quite well, in fact. The company is focused on optimizing the performance, value and cash flow of its real estate portfolio, as well as diversifying the portfolio to mitigate risk. The company maintains a strong, conservative financial profile.
Two of the company's main objectives are:
1) "managing our business to provide growing cash flow and stable and sustainable returns through adapting our strategy and tactics to changes in the real estate industry and economy."
2) "provide predictable and sustainable cash distributions to unit holders and prudently manage distributions over time."
What It Pays You To Invest
Presently, Dream Office REIT pays a monthly distribution of $0.1866 (Canadian)/unit. At the current unit price of $24.87 as of December 29th, the yield is 9%.
Should You Invest?
Obviously, I can't answer that question for you, but the following information may help you to make a decision.
Dream's Portfolio
As of September 30, 2014, the REIT had ownership interests in 177 properties totaling approximately 24.3 million square feet of gross leaseable area. (Click here to see a complete list of the portfolio).
The table below provides us with a look at the results of Dream Office's growth and performance over the past five years.
(from Dream Office Dec. 2014 presentation)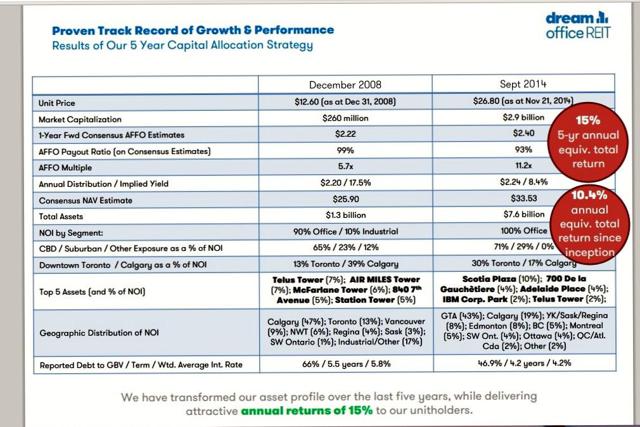 Note below:
AFFO has grown 17% over five years.
Asset base has grown significantly while reported debt/GBV has dropped almost 20%.
(From Dream Office Dec. 2014 presentation)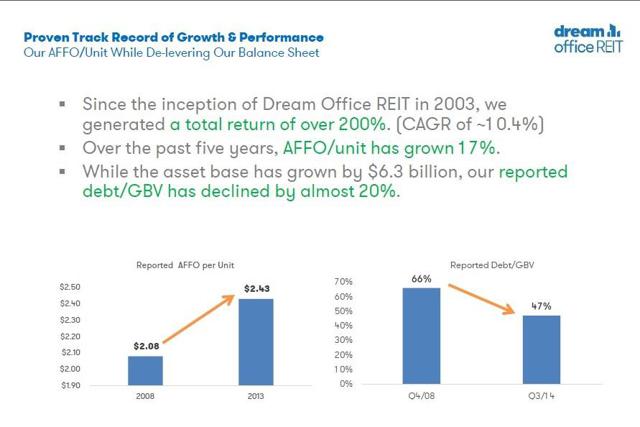 The company has been very adept at managing risk, as the chart below clearly shows.
(from Dream Office Dec. 2014 presentation)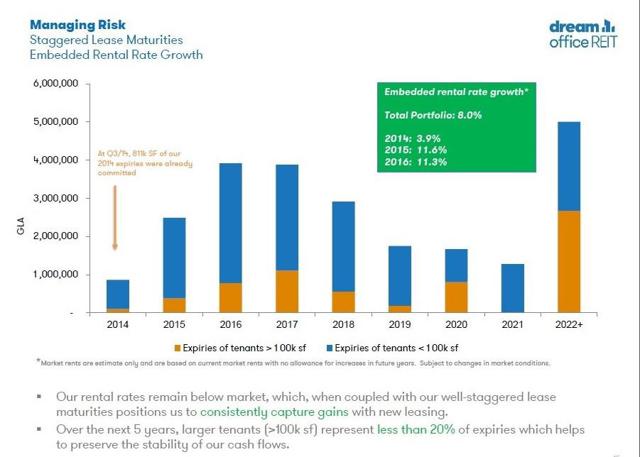 The company's rental rates are presently below market, allowing it to benefit from future rent increases which should accrue along with the staggered lease maturities. This is a strong positive for investors, both in terms of potential capital appreciation as well as increases in the dividend.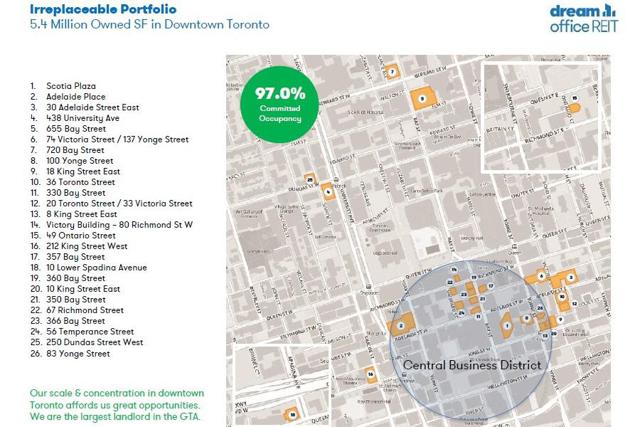 Dream Office is the largest landlord in the GTA. As the slide expresses. this is an irreplaceable portfolio of prime office space.
(from Cushman & Wakefield's Global Office Forecast 2015-2016)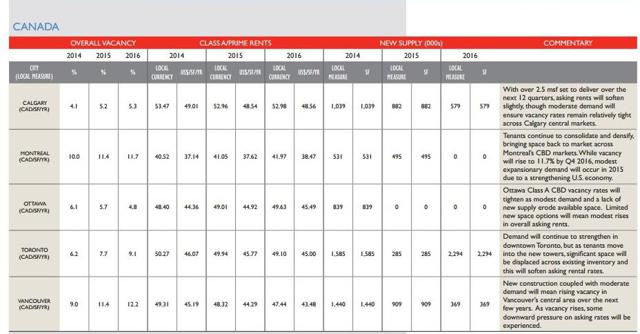 Overall, the economics in Canada remain strong. Cushman & Wakefield's Global Office Forecast for 2015 to 2016 states regarding Canada:
"The Canadian office markets continue along a path of recovery as the global economy, especially in the U.S., experiences stronger growth."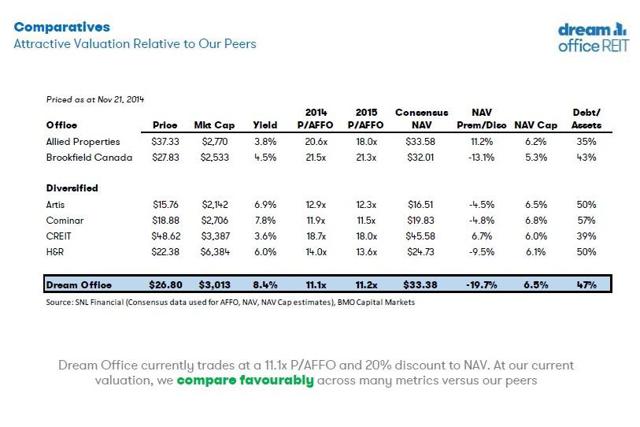 The above table clearly shows that based on its NAV of $33.38/share, as well as compared to its peers, Dream Office REIT is undervalued and provides both the highest yield and potential for significant capital appreciation.
Summary of the Opportunity
Dream Office REIT is currently generating cash yield of 9%.
Conservatively financed (in the view of management) with the current debt to GBV ratio approximately 47%.
A collection of hard-to-replicate assets; the portfolio quality is at the best in the company's history.
Based on their ability to meet tenant's needs as well as their relationships and contracts with tenants, management is optimistic that they can outperform any applicable benchmarks.
Management is confident that they can generate increased and new sources of income.
At the current valuation, portfolio, management team and strategy, Dream Office REIT provides a compelling investment opportunity.
Feel free to do your own research by visiting the company's website at dream.ca/office.
Have a great 2015!
Disclosure: The author has no positions in any stocks mentioned, and no plans to initiate any positions within the next 72 hours.
The author wrote this article themselves, and it expresses their own opinions. The author is not receiving compensation for it (other than from Seeking Alpha). The author has no business relationship with any company whose stock is mentioned in this article.