Over the past several years, gun manufacturers have seen their sales boom due to several factors, but it appears as though the golden age of gun purchases is fading. In 2013, more than 21 million applications were put through the National Instant Criminal Background Check System, which was almost 8% higher than 2012, and marked the 11th consecutive year the number increased. But in 2014, gun manufacturers saw a sizable decline in overall gun sales and background checks. This has caused a significant buildup in inventories, especially at competitors of Smith & Wesson.
Smith & Wesson (SWHC) is one of the world's leading producers of quality handguns, law enforcement products and firearm safety and security products. This 150-year old company also manufactures and markets Smith & Wesson handcuffs, and other specialized metal working products.
Recent Earnings Data
During the gun boom over the past two-plus years, Smith & Wesson has performed very well, and has posted a four-quarter average positive earnings surprise of 15.82%. But in the most recent quarter, management saw total revenues decline 21% year over year, due to waning sales and difficult comps. Specifically, handgun sales dropped 15%, and long gun sales declined 50% year over year.
While sales have begun to slump, inventories have begun to grow. While the inventory situation is not as bad for Smith & Wesson as it is for its competitors, it will negatively impact Smith & Wesson nonetheless. This is due to the fact that the competition, which has a large inventory, has begun to increase promotional activity (sales) in order to reduce its inventory, which is slowing sales at Smith & Wesson.
As you can see from the Price and Consensus table below, earnings expectations for Smith & Wesson are declining, and are expected to continue through 2015.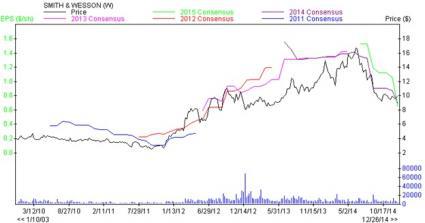 Declining Estimates
The table below shows how the Zacks Consensus Earnings Estimates has changed over the past 60 days for Smith & Wesson. As you can see, the revenue declines and inventory issues are negatively impacting Smith & Wesson's consensus estimates out through 2016.

Bottom Line
Declining demand, growing inventories, and competition discounts continue to pressure both the top and bottom lines for Smith & Wesson. Unfortunately, for Smith & Wesson, this pressure could negatively impact sales through the first half of 2015.
Other Stocks to Consider
If you are inclined to invest in the Leisure & Recreational Product segment, Black Diamond (BDE), Zacks Rank #1 (Strong Buy), or Polaris Industries (NYSE:PII), Zacks Rank #2 (Buy) are worth looking into.