By Taras Berezowsky
We've already seen shredded steel scrap prices jump sharply at the end of this year, so naturally we all want to know, what will happen to hot-rolled and cold-rolled coil prices in 2015?
Below is an excerpt from our recent report, "2015 Metal Buying Outlook: What Can We Expect for Base Metal and Steel Prices Over the Next 12 Months?"
MetalMiner's HRC/CRC Steel Price Outlook 2015
Despite a rising price trend for both HRC and CRC that began in June 2013, we noted back in January 2014 that the price increase for both forms of coil had started to lose some momentum and, indeed, prices have moved flat/down ever since.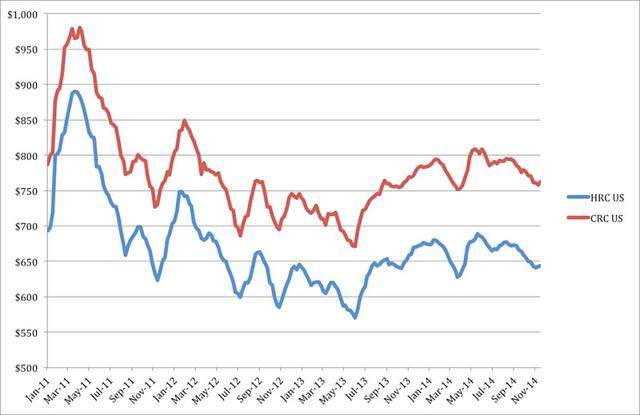 Source: MetalMiner IndX℠
As with other industrial metals, our view on steel prices is kind of neutral. Prices are showing some resilience, but they are not showing significant strength either. We don't see steel prices significantly rising in 2015 while commodity prices remain low.
At this point, buying organizations may not want to commit to large volumes. If prices rise above $700* per short ton for HRC, and $810* per short for CRC, we would suggest it might make sense to buy forward.