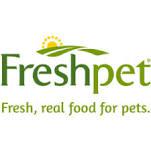 Specialty pet food company Freshpet (NASDAQ:FRPT) saw its shares gain 27% in their first day of trading on November 6th of this year. The Secaucus, New Jersey-based firm raised $156 million from its Initial Public Offering (NYSEARCA:IPO) and plans to apply those funds towards managing its debt and expanding its business. Let's examine Freshpet carefully and see some of the pros and cons of its business model.
Freshpet's Selling Points
Founded in 2006, Freshpet makes organic, fresh, refrigerated food for dogs and cats. The company is arguably perfectly positioned to benefit from rising pet ownership and a growing trend: the humanization of pets. According to a 2013-2014 survey from the American Pet Products Association, 68% of U.S. households now own a pet. As more pet owners pamper their furry friends more, they will seek to buy the best types of food for Fluffy and Fido. And Freshpet's premium food products are readily available to them in almost 1,600 Wal-Marts (NYSE:WMT), 1,200 Targets (NYSE:TGT), and almost 200 Whole Foods (WFM) stores to meet those needs.
Freshpet reported a 38% rise in net sales from last year to $39.7 million - a good growth rate jump for a pet food company. And with institutional investors like private equity firm MidOcean Partners LP and Tyson Foods Inc. (NYSE:TSN) backing Freshpet, the firm's got some big names to prop up its efforts.
Freshpet's Weaknesses
Freshpet's strengths, however, are countered by some big warning signs that are pertinent for any potential investor to know. For starters, the company's business revolves around perishable products. In order to make money, Freshpet can't rely on long-lasting pet food products - they have to sell their perishable foods to willing markets quickly.
Also, Freshpet foods are particularly expensive, as duly noted in a great piece from Bloomberg entitled "Would You Pay $10 a Day to Feed Your Dog?" Even the maintenance of the refrigerators needed to keep the pet food cool is expensive, as Kyle Stock from Bloomberg notes:
Running Freshpet isn't cheap either. The refrigerators take about 15 months to pay for themselves, according to the Securities and Exchange Commission filing. And stocking a supply chain of perishable meat is far trickier than peddling product that can sit around in a warehouse indefinitely.
According to the U.S. Census, there are about 230 companies in the dog and cat food business. And some brands, like Blue Buffalo and Nestle's (OTCPK:NSRGY) Purina, are either expanding into or being established on organic eats for pets - right in the backyard of Freshpet. Blue Buffalo specifically is now a billion-dollar business and is readying for its own IPO.
So essentially, if you purchase Freshpet shares today, you are paying nearly $16 a share at a $535 million market cap for a company that has produced $39.7 million in net sales and a $11.4 million net loss, with no guarantee that Freshpet can thrive in a fierce competitive climate with the "big dogs" of Purina and Blue Buffalo. The valuation numbers just don't seem to add up to a favorable outlook for the stock to me.
Also worthy of note is the fact that after the initial pop after Freshpet shares went public, the stock has declined over 16%.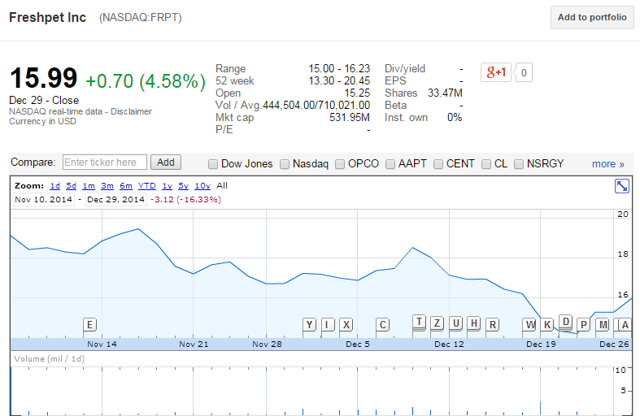 (Source: Google Finance)
The Main Takeaway
Although Freshpet has generated some good growth, widening losses and concerns over its competitive position give me pause. The company will have a tough time convincing consumers to pay nearly $10 a day to feed their pets when said consumers already can adequately feed their furry friends for about $1 a day. Unless Freshpet shows that its brand can compete with likes of Purina and Blue Buffalo and produces better financial results, this stock appears to be headed for the doghouse.
Disclosure: The author has no positions in any stocks mentioned, and no plans to initiate any positions within the next 72 hours.
The author wrote this article themselves, and it expresses their own opinions. The author is not receiving compensation for it (other than from Seeking Alpha). The author has no business relationship with any company whose stock is mentioned in this article.