The U.S. shale boom has come under threat due to the consistent fall in crude oil prices. And fracking was already controversial due to the environmental hazards -- the state of New York has banned the practice due to the environmental issues. The fall in crude prices, however, has really impacted companies with oil-heavy portfolios while companies with gas-heavy portfolios continue to grow production. The main reason behind the increase in production is that the demand for natural gas, natural gas liquids, and the components remains high.
Marcellus and Utica shale are natural gas rich areas and companies continue to invest in these natural gas rich areas to grow their production. These natural gas players have gained a lot from this boom in production. However, there are some other players that have been benefiting from this boom and have been relatively anonymous. First Energy (NYSE:FE) is one of these players. The company has been providing electricity to the facilities in the region and it has been growing impressively. Over the last year, the stock has gained about 22%.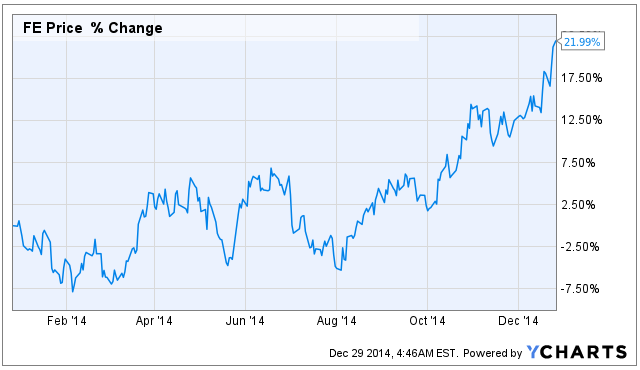 First Energy has changed its strategy and the company is now focusing on transmission and regulated distribution business. The company has become a major supplier to the oil and gas companies operating in these regions. Drilling is still done through the diesel generators, but the gas processing plants use electricity and their demand is constantly increasing. The process of separating liquids and the natural gas process needs a lot of electricity. As the investment in natural gas drilling has been increasing, the demand for electricity has also been increasing.
Since July 2011, First Energy's usage for shale-related activities has increased by 70 megawatts. By 2019, this region is expected to create further demand of about 1,100 megawatts due to the increased developments in the area. In order to capture this growth opportunity, the company is planning to invest in a number of transmission projects. First Energy is going to invest $100 million in new transmission projects to increase supply to the operators in the Marcellus shale.
Natural gas processing is a multi-stage process, and the rising demand for polyethylene and other feedstock components for the petrochemical industry have prompted the natural gas players to invest in cracker plants. These plants turn liquid ethane in polyethylene and other feedstock components. As the natural gas and natural gas liquids production continues to rise from the Marcellus shale, it is likely that these companies will want to build cracker plants in order to manufacture these feedstock components from liquids ethane and natural gas. As a result, demand for electricity will further rise as these cracker plants need substantial electricity to operate. First Energy will stand to benefit from this rise in demand, and the investment in better transmission will pay off for the company.
First Energy is currently serving 12 natural gas processing plants in Pennsylvania, Ohio, and West Virginia. The company previously announced a $4.2 billion project, which will run through 2017. Most of these investments are focused in these states and the Marcellus shale area. One of the planned cracker plants is the project by Royal Dutch Shell (NYSE:RDS.A) -- the company is going to build a plant in Monaca Beaver County and this facility will process over 100,000 barrels of liquid ethane every day. The plant will use between 300 and 400 megawatts of electricity.
The Bottom Line
A growth opportunity is present for First Energy and it is already making efforts to capture this opportunity. Timely investment in the transmission network will position the company nicely to provide electricity to the new natural gas processing plants as well as cracker plants. Despite the overall poor conditions of the energy industry, the demand for natural gas liquids and feedstock components remains high, which bodes well for the company.
Natural gas players will continue to grow production of natural gas, natural gas liquids and other feedstock components in order to meet the rising global demand for these products. As a result, demand for electricity will continue to grow. In my opinion, First Energy is well-positioned to grow and the company's investment is targeted at a high-growth area of its business mix. I believe that despite a healthy gain (22%) during the current year, First Energy will continue to grow and will have a solid 2015.
Disclaimer: This article is for informational purposes only and it should not be taken as an investment recommendation. Investing in stock markets involves a number of risks and readers/investors are encouraged to do their own due diligence and familiarize themselves with the risks involved.
Disclosure: The author has no positions in any stocks mentioned, and no plans to initiate any positions within the next 72 hours.
The author wrote this article themselves, and it expresses their own opinions. The author is not receiving compensation for it (other than from Seeking Alpha). The author has no business relationship with any company whose stock is mentioned in this article.