Crude oil prices have tanked remarkably in 2014 as the chart below will show us. In such circumstances, oil giant Exxon Mobil (NYSE:XOM) has lost 8% of its market capitalization so far this year.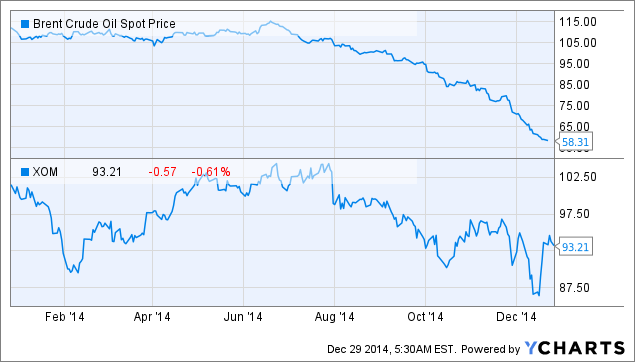 Brent Crude Oil Spot Price data by YCharts
Why 2015 might be a better year
But, 2015 might turn out differently for Exxon, as a resurgence in crude oil pricing and demand will act as a tailwind. According to Reuters:
"Crude oil prices are likely to bottom out in the first half of 2015, until a possible slowdown in U.S. shale production counters a supply glut exacerbated by OPEC's decision not to cut output, a Reuters monthly survey showed. The survey of 30 economists and analysts projected Brent to average $74.00 a barrel next year and $80.30 in 2016."
Thus, as the Brent crude oil spot pricing increases from less than $60 a barrel to the forecasted rates, Exxon should see a positive impact on its financials. In addition, positive demand conditions in the end market will also be a tailwind for Exxon. According to the EIA:
"Projected global oil-consumption-weighted real gross domestic product, which increased by an estimated 2.7% in 2013, is projected to grow by 2.7% and 2.9% in 2014 and 2015, respectively."
Considering these positive forecasts, I won't be surprised if Exxon turns in an improved performance in 2015. Moreover, to tap the improving oil demand, Exxon is doing the right thing by exploring more oil and bringing new wells online. In addition, Exxon is expanding its production base across several geographies, and is on track to add 300,000 net-equivalent barrels per day of production capacity this year. Now, geographical diversification and increasing production will improve the company's capability to serve increasing oil demand. Also, the company will be able to mitigate country-specific risks by diversifying its production base.
For example, in Malaysia, Exxon targets on upgrading the oil recovering project, which will be its first completed major UR project in the country. The project is leveraging water alternating gas injection process for sweeping the rest of the oil reserves for developing wells and enhancing overall recovery.
Now, by following such techniques, Exxon will be able to extract more oil at lower costs. As a result, the company will be able to improve its margin going forward.
The good thing is that Exxon is carrying out such improvements at other areas as well. For example, in Indonesia, its central processing facilities are near completion. It has also added a second well pad at the Banyu Urip project in Indonesia, delivering more than 10,000 barrels per day of early production. At present, Banyu Urip produces approximately 40,000 barrels per day, and is estimated to reach complete fuel capacity of nearly 165,000 barrels per day in 2015.
Why 2015 might be a weak year for Exxon
Hence, Exxon is doing the right thing by expanding production, as doing so will allow it to benefit from an improvement in oil pricing and demand. But, what is things continue going south? A section of analysts believe that Exxon's earnings will drop as much as 25% next year, and its bottom line will grow at a slower rate than that of the overall industry over the next five years.
Now, this is a big concern. If the oversupply in the oil market remains, Exxon might find it difficult to improve its performance. This looks like a possibility, as Saudi Arabia (the world's largest exporter of crude) is expected to continue increasing production. According to a news source from the Middle East:
"Saudi Oil Minister Ali Al-Naimi told reporters at the beginning of the week that Saudi Arabia will not cut oil output level even if non-OPEC countries do. "If they want to cut production they are welcome: We are not going to cut, certainly Saudi Arabia is not going to cut" he said, which points out that Saudi Arabia will insist on the oil prices that now hurt its own economy. Al-Naimi further added they will not step back even if the price decreases to $20 per barrel."
This aggressive stance might create pressure on Exxon's balance sheet. The company already has a weak current ratio of 0.89, while its debt of $21.8 billion is way greater than its cash position of $4.96 billion. Some might point out that Exxon's strong cash flow will help the company keep its business stable in difficult time, but investors should note that the company's operating cash has started dropping. Take a look at the following chart for example.
XOM Cash from Operations (NYSE:TTM) data by YCharts
Hence, if the oil market does not improve, Exxon's performance might weaken further. So, investors need to weigh the pros against the cons while investing in this oil major. The bulls might consider buying the stock if they expect the oil market to improve, but a deterioration might lead to another year of underperformance.
Disclosure: The author has no positions in any stocks mentioned, and no plans to initiate any positions within the next 72 hours.
The author wrote this article themselves, and it expresses their own opinions. The author is not receiving compensation for it (other than from Seeking Alpha). The author has no business relationship with any company whose stock is mentioned in this article.