One of the biggest losers last week was Transcept Pharmaceuticals (TSPT). The share price fell an astounding 27% during the week. The big question investors have been asking is why such a stark drop? An easy answer would be if the company announced information from the FDA about a possible rejection for Intermezzo. However this has not happened, which means it appears the sell off was due to investor concern.
One of the most interesting parts about this drop is Transcept received several upgrades prior to the slide. First, on May 23rd TheStreet upgraded the company from sell to hold after downgrading Transcept two months earlier. Also on May 23rd, Zacks upgraded Transcept to strong buy citing investor confidence Intermezzo will be approved. The most recent upgrade by Lazard Capital cited an expectation of approval for Intermezzo, and a $29 price target along with a buy rating.
With all this good news, the question is where have all the shareholders gone? It is quite perplexing as many expected a steady run up just as the first NDA saw. Maybe investors are not as confident this time around and are not willing to put money into Transcept while the rest of the market is booming? Which leads to another question; now that the June jobs report showed the economy is not recovering like everybody expected, will we see a run up before Thursday's action date as traders move funds around?
I don't have the answer to these questions, however one reason that may explain why the share price dropped late in the week may have to do with some criticism by a Gekkowire article, and TheStreet's Adam Feuerstein. In the Gekkowire article, the author pays particular attention to the fact that Transcept did not perform a patient use study for patients that wake up in the middle of the night and incorrectly dose. While I recommend reading the article as I think it is very well written and informative, I feel the patient use study argument is overblown.
For instance, the new packaging is very difficult to handle and a patient would certainly have to be fully aware of their surroundings in order to take a dose. Therefore, a patient would have to be aware of the time before dosing. Furthermore, the FDA cannot hold Transcept accountable for patients that incorrectly dose on purpose. If the FDA did this, every drug would have to be taken off the market as just about every drug has negative side effects if purposely taken incorrectly. Most importantly, I have been informed by an anonymous source familiar with the situation that the FDA is fine with the new packaging.
On the other hand, the highway driving study argument can go either way. The data can go either way because the FDA has not set any predetermined standards. However, the driving study shows Intermezzo is safe. First off, it is important to know in America the standard deviation of lateral position (SDLP) for driving under the influence is 4.2cm. As the study showed, the difference between Intermezzo and placebo when taken four hours before driving is 0.8cm; which is statistically significant, but in terms of effect size this number may not be important.
On the other hand, the three hour trial showed an SDLP of 1.5cm. This number carries a much higher effect size and it shows Intermezzo might possibly cause the driving impairment seen when Intermezzo is taken three hours before driving.
Of course this directly cycles back to what effect Intermezzo would have on patients who take the drug one or two hours prior to driving? And as I previously mentioned, the new packaging discussed at the initial CRL meeting meets FDA standards. Therefore, a patient would have to be fully conscious in order to dose within one or two hours of waking. And as already stated, if a patient willingly incorrectly doses, Transcept cannot be held accountable.
In his "Biotech Stock Mailbag", Mr. Feuerstein bluntly states he feels Intermezzo will be rejected. His reasons are the same as the above Gekkowire article, therefore I will not go into detail about this again. Along with this article, Mr. Feuerstein did an interview for TheStreet's "The Next Big Thing In Biotech" where he stated the same concerns in his Biotech Stock Mailbag. These two reports likely played a role in the drop in Transcept's share price on Friday, while the Gekkowire article likely played a role in the mid week share price drop.
The current question is where to go from here? Since the share price has fallen so far so fast, the company is beginning to look like a great buy. One must ask: can the share price fall any further? The answer is yes, the share price can fall further, and I must admit it is difficult to pick a buying opportunity as the company has been in a sell mode all last week.
Another intriguing aspect to the saga is Lazard Capital's upgrade. As Lazard is a very well known firm, it brings to mind the question: has Lazard been out researched? Since the firm set a $29 price target, it makes me wonder if they know something we don't know? One thing that is apparent to all of us is the fact that Transcept is grossly oversold right now and a continued decrease in share price would further compound this oversold status.
[Click to enlarge]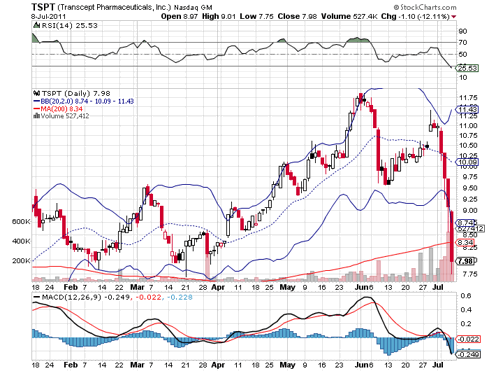 Disclosure: I have no positions in any stocks mentioned, but may initiate a long position in TSPT over the next 72 hours.