One major reason why share performance was so poor in the first decade of this century was due to PE compression: the multiple investors were willing to pay for a dollar of earnings (or cash flow, in many cases) declined steadily in from 2000 to 2010. The chart of WalMart Stores (NYSE:WMT) is a classic illustration of this principle.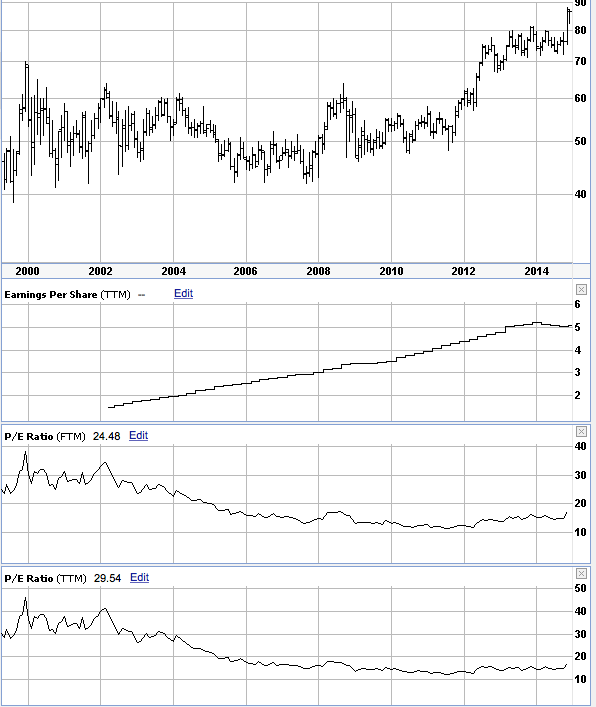 WalMart chart courtesy of: Etrade.
This compression occurred whether we look at trailing or forward earnings per share. However, notice also this PE compression in 2010 and the multiple investors are willing to pay for a dollar of earnings has now begun a cautious climb. Ironically, this is true even as WalMart starts to show some bottom line softness.
You don't know how frustrating it was teaching a college investments class after the turn of the century and trying to explain to students why WalMart earnings were rising steadily but share performance was so punk.
Lest you suspect this is due simply to the denominator (earnings) falling, rather than the overall multiple rising, let me show you a different Dow stock, Johnson & Johnson (NYSE:JNJ).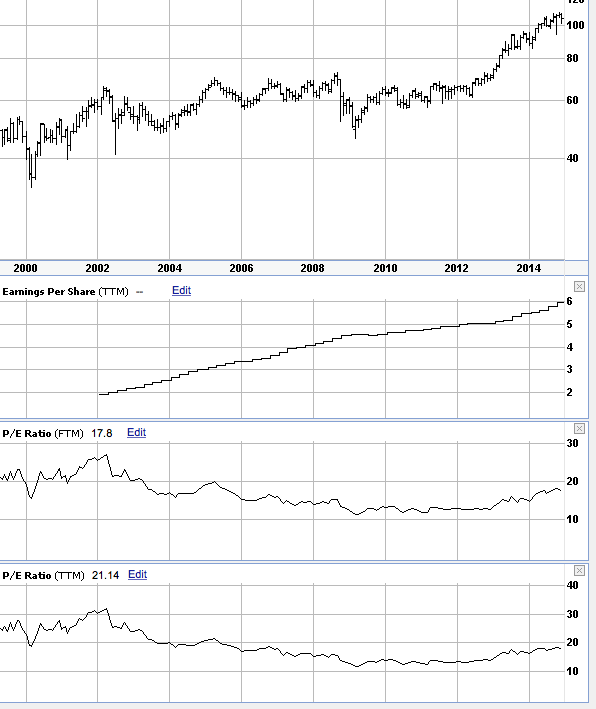 JNJ Chart courtesy of: Etrade.
Like its Dow thirty cousin, JNJ earnings rose steadily for years, but not until 2012, when PE expansion began in earnest, did the stock price finally break out of its ten year $50-$70 range.
How is this important to investors? Simple:
in the 2000s, comparing prevailing PE ratios with recent historical ranges made stocks look cheap when they were not: PE ratios continued to fall.
now the reverse may be true: stocks look expensive considering recent PE ratio ranges: but those ratios are expanding: stocks may have much further to go.
While I have chosen two blue chip representatives to illustrate this effect, investors should be aware that this is true for the broad market as a whole, represented for example by the S&P500 ETF (NYSEARCA:SPY).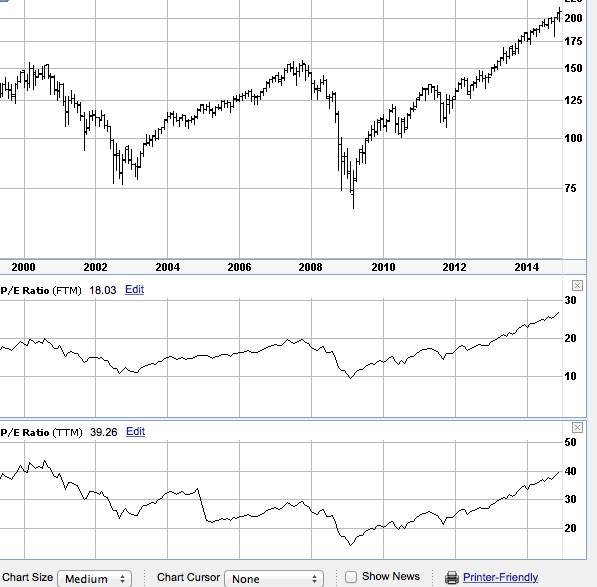 SPY chart courtesy of: Etrade.
If the multiple investors is willing to pay is expanding, this will be a powerful force propelling the market forward: a strong reason to believe, as I do, that we are at the early stages of a secular bull market.
Two questions immediately come to mind, which I will address in future articles.
why have PEs begun to expand, and
how long is this expansion likely to continue?
In the meantime i encourage readers to discuss (in the forums below) other leading firms for which this PE expansion has (or has not?) occurred.
Disclosure: The author is long XLK.
The author wrote this article themselves, and it expresses their own opinions. The author is not receiving compensation for it (other than from Seeking Alpha). The author has no business relationship with any company whose stock is mentioned in this article.