King Digital Entertainment (NSYE: KING) is a developer of mobile and web-based casual games that are distributed through platforms owned by Apple (NASDAQ: AAPL), Google (NASDAQ: GOOG), and Facebook (NASDAQ: FB). It is best known for its hit mobile game Candy Crush Saga and is the maker of many popular iOS and Android games.
All financial data reported herein is from Yahoo Finance and King Digital's own SEC Filings and Press Releases unless otherwise stated.
Company and Environment
King Digital Entertainment's successful recent launch of Candy Crush Soda Saga, the sequel to the company's popular Candy Crush Saga has positioned King well for 2015, as it continues to wean itself off of dependence from Candy Crush. Last quarter, non-Candy Crush applications accounted for 49% of gross bookings, up from about 41% the quarter before, as earnings continued to grow overall. According to App Annie, Candy Crush Soda Saga now sits at number 6 on the iOS App Store Top Grossing Apps and number 2 on the Google Play Store Top Grossing Apps. Candy Crush itself still sits atop both boards, at number 2 and number 4, respectively.
Aside from having 2 of the top 6 grossing apps in both the iOS and Google Play app stores, King currently has 5 of top 35 grossing iOS applications and 6 of the top 30 Android applications - far more than any other app publisher. These top grossing games have allowed King to diversify its revenue streams.
Additionally, King has stated that it has begun developing games that differ from its current Saga game-play style. The first of these new categories encompasses casual games that do not use the familiar puzzle-mechanic that is found in all of their games to date. The second category is unspecified, but will be a genre of game other than casual. Although there is no additional information about these new game types, King is expected to launch games in both of these new categories in 2015, which will further diversify its portfolio. The cross-promotional advantage King has in utilizing its existing 348 million monthly unique users will be beneficial in the initial launches of these new game types. The successful acquisition and incorporation of Singapore-based mobile gaming company Nonstop Games in August will also aid in the development of non-puzzle style games, particularly in the next year due to the $68 million in acquisition payments on the table from King based on 2015 performance.
Lastly, the macro-gaming environment will be another catalyst for King in 2015, as according to eMarketer, the mobile gaming market is expected to surpass the traditional console gaming market to reach $30.3 billion in annual revenues. King, being a leader in the mobile gaming market, is poised to benefit from this growth with the release of new titles.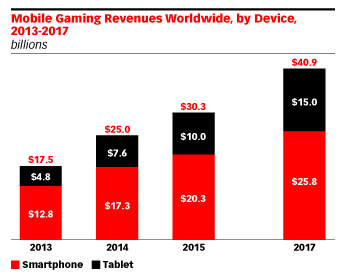 [Provided by eMarketer]
King Financial Analysis
We feel that one of the best things about King is that it has zero debt on its balance sheet. While debt is crucial to a young company's growth, King's high margins and strong free cash flow and cash reserves allow King to expand without taking on unnecessary debt, which will ultimately trickle down to the bottom line. Cash reserves of almost $1 billion have allowed King to repurchase shares at low prices as it announced in November with its $150 million stock repurchase which will take place in early 2015. It also allows King to return money to shareholders through special dividends, as it did this past October. Although some critique King for expending cash in a special dividend at such an early stage in its life as a publicly traded entity, we believe that these two instances exemplify the shareholder friendly nature of management and the strong free cash flow that King produces.
We also feel that King is strongly undervalued compared to its peers, namely Zynga (NASDAQ: ZNGA), Glu Mobile (NASDAQ: GLUU), and Electronic Arts (NASDAQ: EA). Zynga, the maker of games like Farmville, Words with Friends, and Mafia Wars, has yet to turn a profit and trades at a forward price/earnings ratio of 89. We believe this is extremely expensive for a company whose revenue has been steadily declining as the popularity of the aforementioned titles have declined and forced the company to rely on its other franchises.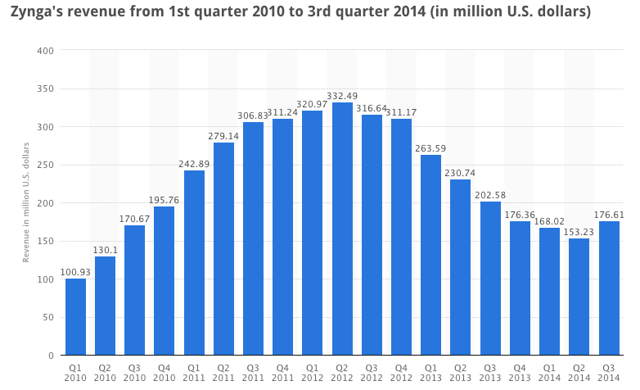 [Provided by Statista]
While the recent launch of Zynga's Looney Tunes Dash! Has caused a stir in the stock price, we are skeptical about the staying power of the game. Although reviews show that it has been well received, one review put it well - "Pretty fun… but honestly, it's just another run-of-the-mill runner with a Looney Tunes wrapper." Only time will tell how this game and other Zynga releases will perform in 2015, but a high P/E ratio and a negative 5-year PEG ratio leave plenty of room for P/E compression.
Glu Mobile, although more reasonably valued with a TTM P/E of 113.89 and a Forward P/E of 18.64 has seen recent success with its popular game Kim Kardashian: Hollywood, due in part to the partnership with the mega-star for which it's named- a partnership trend we believe will see more use in the industry going forward. Although Glu has a relatively clean balance sheet, it is important to account for the price you are paying for future growth. Glu currently has a five-year PEG ratio of 3.77, a value we are not willing to pay for a company with much more attractive peers.
Lastly, we will take a look at Electronic Arts , which develops console as well as mobile games. We believe that Electronic Arts is a strong and reliable stock, but its recent three month 34%+ run up has caused the stock to be overvalued. The stock currently has a forward P/E of 20.48. Although the five-year PEG ratio sits at a modest 1.4, we find King's price to earnings, debt situation, and substantially higher profit and operating margins far more favorable.
Technical Analysis
While KS Capital does not primarily invest based on technical factors, there are a few technical points of note for King. Short interest in King remains high at 20.1%. While a positive catalyst in the near term such as an earnings beat in February could cause a short squeeze, hoping for a short squeeze is not a viable investment thesis and it is always important to be wary of short interest in an equity one is investing in. King has also seen some odd options activity in recent weeks, with nearly 14.5 calls being traded for every put in the past 50 sessions and with the January $20.54 call being one of the heaviest traded. This would seem to indicate a bullish sentiment for the stock, particularly in the near-term, as traders hope to continue the stocks recent rally.
Conclusion
King Digital Entertainment's growth prospects combined with its low valuation compared to peers and its strong margins and operating cash flow cause the stock to be undervalued at current prices. KS Capital has a conservative 2015 price target on King of $22/share, equating to a 37.5% return in 12 months.
Disclosure: The author has no positions in any stocks mentioned, and no plans to initiate any positions within the next 72 hours.
The author wrote this article themselves, and it expresses their own opinions. The author is not receiving compensation for it (other than from Seeking Alpha). The author has no business relationship with any company whose stock is mentioned in this article.