EP Energy (NYSE:EPE) is an E&P company operating primarily in Eagle Ford and Wolfcamp basins. The company was brought public at the beginning of 2014 by Apollo Global Management LLC, which controls approximately 60% of outstanding shares. Since its January IPO the stock is down 40%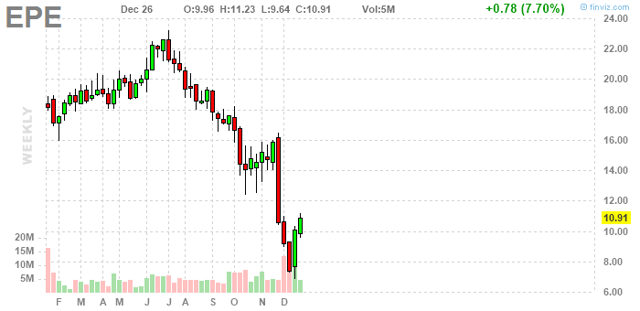 The company has been shifting its focus to oil production lately. In April 2014, EPE purchased 37,000 net acres in Southern Midland adjacent to its existing Wolfcamp shale position for $152 million, while closing on a sale of 78,000 net acres of natural gas producing properties Arklatex in May for $150 million. The production as of Q3 2014 had the following structure as compared to the end of 2013:

There is a pronounced shift over the past several quarters with oil/NGL production increasing by more than 50%, while natural gas production decreasing by more than 30%. The table above shows average production for nine months of 2014. The company averaged 57.1 Mbbls of oil per day in Q3 2014 as compared to 53 Mbbls for nine months. A total of 270-280 wells are slated to be completed in 2014 mostly in Eagle Ford and Wolfcamp resulting in total capital expenses of $2 billion. Q4 average oil production should average 60 thousand barrels per day, while 2014 annual average production approximately 55 thousand.
The good
EP Energy has the best oil production hedge profile for 2015 among all publicly traded shale-focused E&P companies.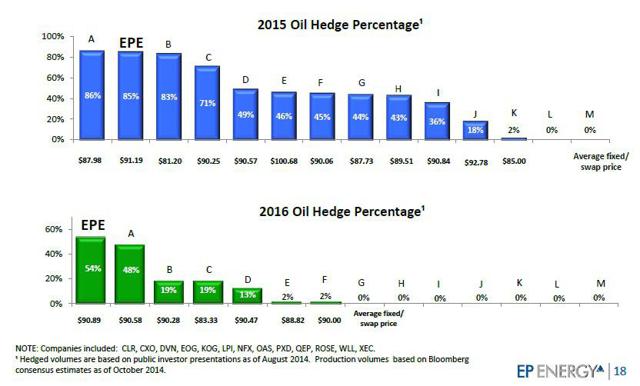 The company has 57.5 Mbbls/d of oil hedged for 2015 at average prices around $90 per barrel.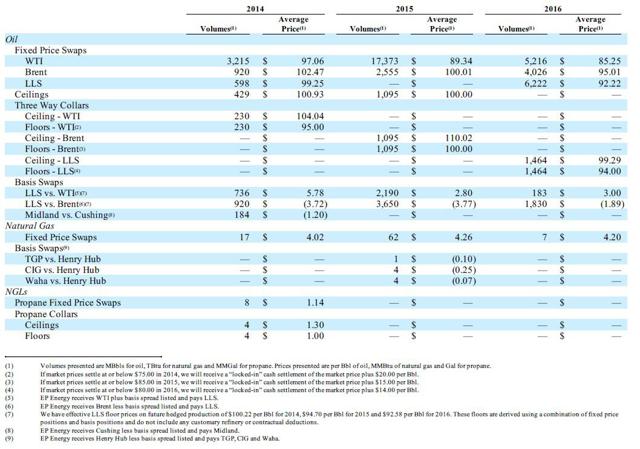 Based on Q3 2014 production levels this amount of hedge covers 100% of entire production. I suspect 2015 production levels will be somewhat higher but there is no official guidance on this matter as of yet. However, given company's sales differentials of $7 to WTI, EPE will fetch approximately $83 per barrel no matter how low oil price drops in 2015.
Natural gas production is completely unhedged, but it looks increasingly likely that production will continue its natural decline as EPE has no plans to direct capital into Haynesville properties until natural gas prices are substantially higher. The company felt natural gas prices were too low when they were trading at $4 per mcf let alone when they are $3 as of this writing.
The company generates over 88% of revenue from oil/liquids, therefore plunging natgas prices will have a muted effect on the sales.
The bad
EP Energy is heavily levered. Total long-term debt at the end of Q3 was $4.375 billion. Additionally, the company is running a working capital deficit of approximately $300 million and borrowed additional $235 million in October. Long-term debt had the following structure as of September 30th, 2014:

EBITDA for the first nine months of 2014 was $1.05 billion which does not compare favorably to overall debt. If not for the hedge profile, EPE would have a difficult time covering its interest expenses in 2015 from operating cash flows. The company has almost $1.9 billion available under its $2.75 billion revolver, which does not mature until May 2017. EPE borrowed $235 million in October bringing outstanding borrowings under the revolver to $865 million. The next redetermination date is April, 2015 and the borrowing base has a high probability of being revised downward.
Conclusion
The company has an excellent oil price risk management in place and will have no problem surviving the current commodity price dip. Hedges extend well into 2016 providing an excellent cushion against a backdrop of falling oil prices. However, huge debt load presents a major risk for potential investors. In my personal opinion, EPE should switch its focus from aggressive growth to accelerated debt reduction in order to withstand the current downturn and emerge as a leaner company once the cyclical industry issues are behind us.
Disclosure: The author has no positions in any stocks mentioned, and no plans to initiate any positions within the next 72 hours.
The author wrote this article themselves, and it expresses their own opinions. The author is not receiving compensation for it (other than from Seeking Alpha). The author has no business relationship with any company whose stock is mentioned in this article.