About a week ago, I discussed the impact of lower oil prices on Linn Energy (LINE) (LNCO). In that article, I noted that Linn Energy was starting to recover, up 30% over 2 days due to the closing of several major transactions, a large reduction of debt, and rumors of lower capital spending for 2015. However, this brief rally was snuffed out almost as fast as it started. The main culprit, in my opinion, are lower natural gas prices.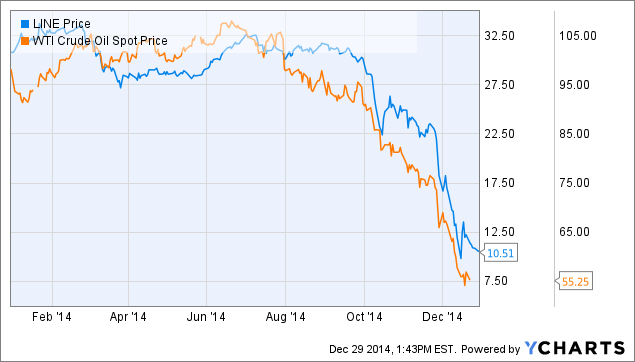 LINE data by YCharts
A look at natural gas
Over the past few days, natural gas prices have been extremely volatile. The main concerns here are a forecasted mild winter and larger than expected increases in natural gas inventories.
So far, December 2014 has been one of the warmest on record, keeping demand for natural gas low for uses such as home heating and power consumption. In addition, natural gas inventories have risen faster than anticipated, thanks to robust supply growth from the Marcellus Shale, while the most recent net drawdown came in below consensus estimates.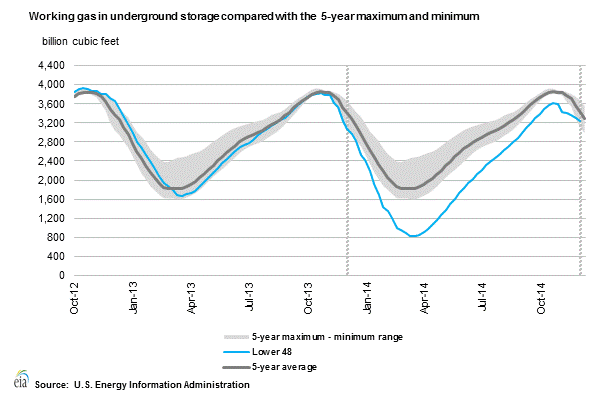 This double whammy has caused natural gas prices to fall as much as 33%, from $4.00 per MCF to ~$3.00 per MCF.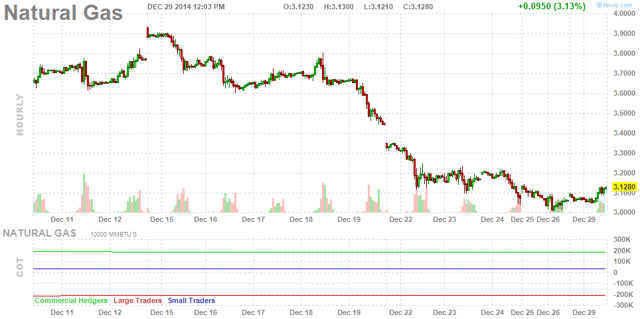 How will lower natural gas prices impact DCF for 2015?
Getting back to the topic of Linn Energy, my earlier estimates for 2015 DCF assumed flat natural gas prices compared to 2014, so above $3.50 per MCF. However, what if natural gas stays at $3.00 per MCF for an extended period?
Thankfully, Linn Energy has around 90% to 100% of its 2015 expected natural gas production hedged at well above market prices at $5.12 per MCF. Assuming 95% hedged and $3.00 per MCF, the net impact to DCF would be under $5M. In other words, no big deal.
However, given the decline in natural gas prices, natural gas liquids, or NGLs, could also take a hit. Various components, such as propane and Butane have fallen along with oil prices, while ethane supply far exceeds demand in the US. For 2015, Linn Energy is expected to have around 10% of production be NGLs, down from ~16% for 2014.
A large fall in NGL prices would have an outsized impact on Linn Energy. This is due to the company does not hedging its NGL production as the market for those derivatives is not well established. I estimate that a $1.00 per BBL fall in NGL prices would result in a ~$5M hit to DCF for Linn Energy. Currently, the market is valuing NGLs at ~$25 per BBL, implying a $40M hit.
Furthermore, ethane rejection, basically when margins for extracting ethane turn negative, could become a problem at current prices. This may lead to lower NGL volumes in 2015.
The economics for ethane production should improve as demand for the product increases with new petrochemical infrastructure being built. Major new plants are set to be up and running by 2H 2015. That being said, it is often easier to burn off excess ethane rather than go through with the cost of extracting it.
Is the distribution going to be cut?
As I have noted on each of articles on Linn Energy, I think the distribution is going to be cut. This is hardly a ground-breaking view given the current 27.50% yield.
My initial projections call for a 30% reduction at WTI $65 per BBL. This was adjusted to a 40% when WTI crude oil fell to $55 per BBL. With the recent fall in natural gas and NGLs prices, I think Linn Energy could see its DCF fall to just over half of the current distribution, implying a need for ~50% reduction.
Do note that Linn Energy could boost DCF just by lowering maintenance capex to bare-bone levels. Furthermore, LOE and G&A per BOE costs are surely to decline, which will boost margins. However, unless energy prices recover, the current distribution appears to be VERY unsustainable.
Conclusion
There is little doubt that the dramatic fall in global crude oil prices has crushed Linn Energy, sending shares lower by 65% so far in Q4. Lower natural gas and NGL prices will not help the cause in any way.
However, I do think Linn Energy is way oversold. The distribution, if cut in half, still offers a 13% yield. Furthermore, Linn Energy has now fallen well below its 2009 lows. The current oil price situation is much more mundane (supply growth outstripping demand growth) versus the near-depression environment back then.
Disclaimer: The opinions in this article are for informational purposes only and should not be construed as a recommendation to buy or sell the stocks mentioned. Please do your own due diligence before making any investment decision.
Disclosure: The author has no positions in any stocks mentioned, and no plans to initiate any positions within the next 72 hours.
The author wrote this article themselves, and it expresses their own opinions. The author is not receiving compensation for it (other than from Seeking Alpha). The author has no business relationship with any company whose stock is mentioned in this article.