In mid-November Morgan Stanley (NYSE:MS) analyst James Faucette downgraded BlackBerry (BBRY) to "Underweight" with a $7 price target. Faucette looked askance on FY16 projections, which included incremental revenue of $250 million and $100 million from software and messaging, respectively. At the time, analysts estimated the company would generate FY16 revenue of $3.8 billion. Factoring in CEO John Chen's revenue estimates of $500 million for software and $850 million for services, this implied a bogey of $2.45 billion in revenue from handsets/other.
The Morgan Stanley downgrade caused BBRY to drop 5% in one day, and came less than a week after Chen announced an expected 50% decline in service revenue in FY16. The following chart shows broad assumptions around FY16 projected revenue prior to Q3 earnings: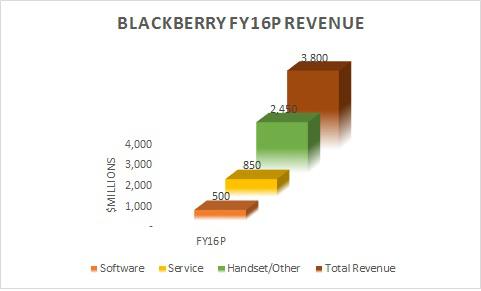 Another Morgan Stanley Downgrade
BlackBerry announced Q3 earnings on December 19th with some hits and misses. Revenue of $793 million was down 34% Y/Y and below analysts' expectations of $935.66 million. However, non-GAAP EPS of $0.01 beat expectations of -$0.05 and cash flow (adjusting for items not part of normal operations) was $43 million. After the earnings report Morgan Stanley downgraded the stock again, with a $7 price target:
On Friday, BlackBerry CEO John Chen said that it takes six to nine months to convince enterprises to adopt software, Morgan Stanley analyst James Faucette wrote. Meanwhile, BlackBerry has not yet started to try to convince its EZPass license holders to convert to paying customers, Faucette quoted Chen as saying. Under the EZPass program, companies have made free reservations to buy BlackBerry's new software starting on February 1, 2015 , Faucette stated. Chen's comments indicate that BlackBerry's software revenue will not start increasing until the second half of its fiscal 2016, making its goal of generating $500M of software revenue in fiscal 2016 unrealistic, the analyst contended. He kept a $7 price target and Underweight rating on the shares.
The Morgan Stanley downgrade was in effect, the second such downgrade in a month's time. However, Morgan Stanley is wrong about BlackBerry for the following reasons:
John Chen's $500MM Software Projection Easier To Achieve
As a rationale for its downgrade, Morgan Stanley cited the fact that it takes about six to nine months to convince enterprises to adopt software; therefore, Chen's $500MM software revenue will not start increasing until the second half of FY16. As the EZ Pass program is shut down in February, BlackBerry expects to convert enough of its 5.1 million EZ Pass customers to fee paying to double its software revenue from $250MM to $500MM. The fact is the EZ Pass program has been in effect for some time now. EZ Pass customers totaled 1.2MM, 3.4MM and 5.1MM at the end of Q1, Q2 and Q3, respectively. That said, customers have had more than enough time to decide if they want to upgrade to BlackBerry's BES12 enterprise solutions platform.
Second, to reach the $250 million incremental revenue bogey BlackBerry needed a 100% upgrade of 3.4 million EZ Pass clients at the $6 per month subscription level. At 5.1 million EZ Pass clients, BlackBerry only needs 68% to upgrade to the $6 per month plan. That said, the company is even considering shutting down EZ Pass earlier than expected given the overwhelming success of the program.
BlackBerry's Book Value Worth $6 - $8/Share
Morgan Stanley's $7 per share estimate appears low. Based on book value alone BlackBerry is worth from $6 - $8 per share. The following table illustrates BlackBerry's book value, assuming $528.1 million diluted shares outstanding and $3.3 billion in net assets: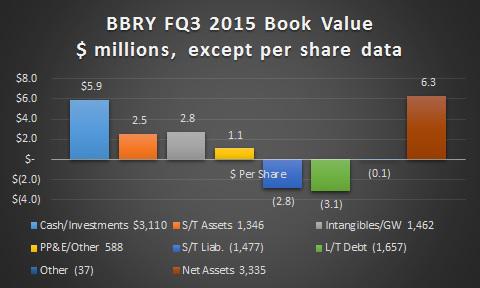 The company has about $1.5 billion in intangibles and goodwill, which includes acquired technology, intellectual property and goodwill. However, Achilles Research values the company's patent portfolio at $2.5 billion, which is in the range of Citron's value of $1 billion to $3 billion. By simply marking to market the company's patent portfolio, the book value would be worth about $8 per share: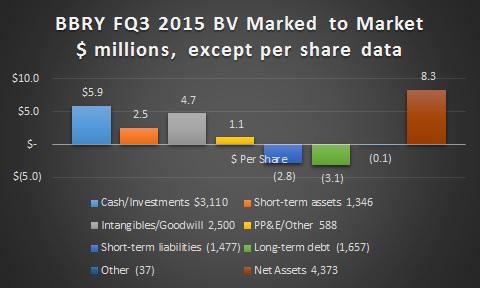 BlackBerry's FY16 Estimated Revenue Lowered
Since the company's Q3 earnings report, analysts have lowered the company's FY16 revenue expectations from $3.79 billion to $3.35 billion; revenue estimates were lowered by about $450MM. That said, if service revenue and revenue from handsets/other come close to previous estimates, the company could miss its $500MM software bogey and still meet FY16 revenue estimates.
Conclusion
Based on book value of $6 - $8 per share and a lower FY16 revenue bogey, Morgan Stanley is wrong about BlackBerry.
Disclosure: The author is long BBRY.
The author wrote this article themselves, and it expresses their own opinions. The author is not receiving compensation for it (other than from Seeking Alpha). The author has no business relationship with any company whose stock is mentioned in this article.