Okay. We'll admit it. We like cheeseburgers. And according to its recent 10-K, Luby's, Inc. (NYSE:LUB) is a multi-branded company in the restaurant industry with its primary brands including Luby's Cafeteria, Fuddruckers, and Cheeseburgers In Paradise. We're off to a good start already.

Source: Company Filings
We particularly have our eyes on Luby's brand restaurant Fuddruckers--not just because the name sounds like some kind of secret swearword, but because of the magic that is this: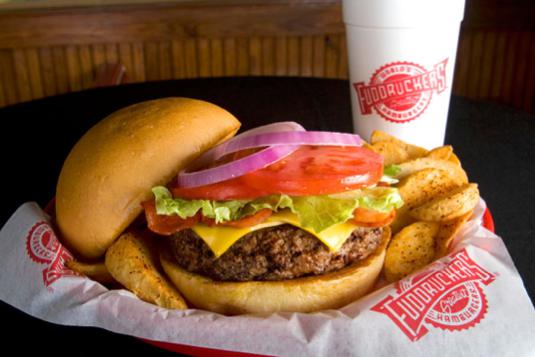 Cheeseburger at Fuddruckers. Source: Yelp.
Awesome. So, as of August 27, 2014, according to its 10-K, LUB operated 174 restaurants throughout the United States, including 51 franchisees operating 110 Fuddruckers restaurants. Surely, we think, with all those restaurants, and all those cheeseburgers, LUB can generate a profit?
Then again... Perhaps not.
The first thing we want to note about LUB is its sluggish revenue growth and flatlining earnings. Even in the past, when it enjoyed some revenue growth, it has consistently failed to turn much of a profit. LUB's currently net income stands at $-3.02M. We think the chart below reads like a heart attack. Somebody call it.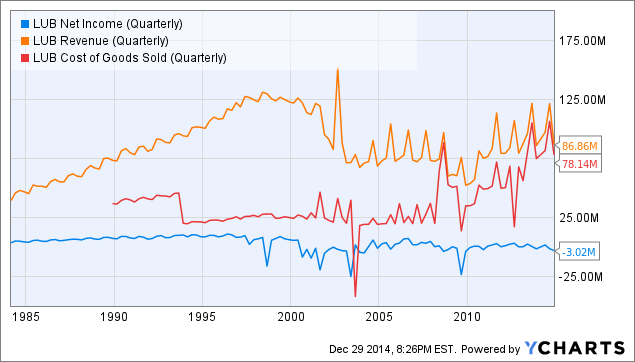 Source: YCharts
Next, we want to look at LUB's operating and profit margin--and if it's not healthy, we want to at least check it for signs of life and improvement. Unfortunately, there are few signs of life for LUB: for over a decade, LUB's operating margins are either "bad" or "worse."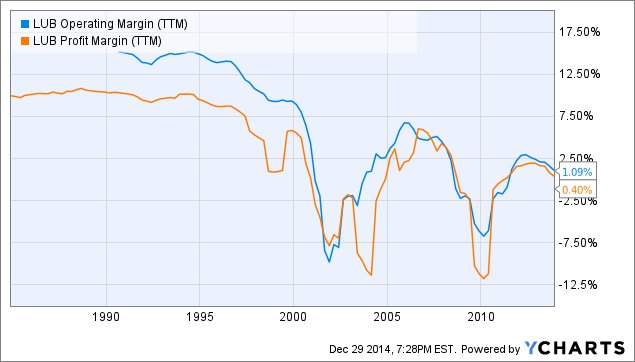 Source: YCharts
LUB's ROA and ROE, at 0.63% and 0.88%, respectively, have also reached a point of desperation.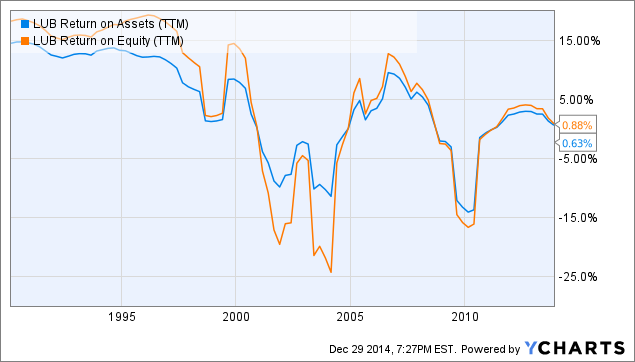 Source: YCharts
Does anyone remember a quarter when LUB had positive, healthy EPS? In this century? With a history of normalized diluted EPS with decimal places only dogs can hear and a current normalized diluted EPS of -0.10, we call this chart the "torpedo."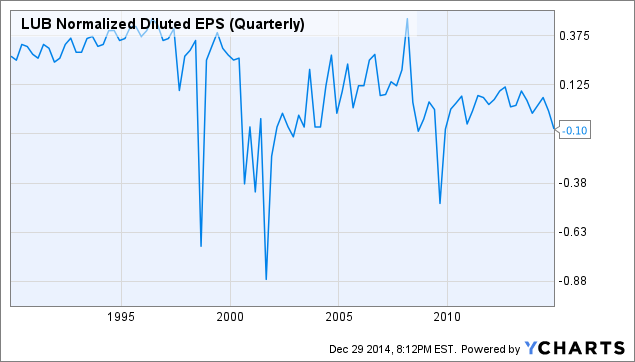 Source: YCharts
Finally, for the last several years, LUB's long term debt has been increasing, and LUB's free cash flow has plummeted to $-25.75M.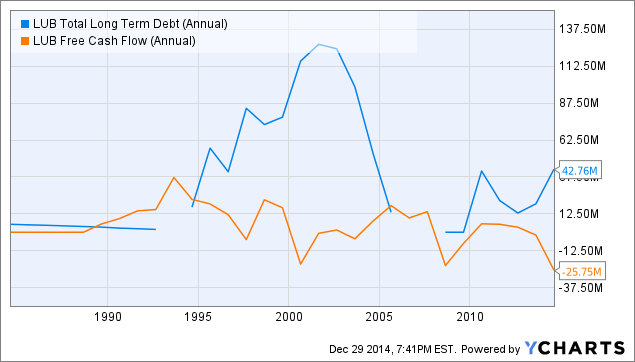 Source: YCharts
There are better burger joints out there. Below, we've compared LUB to some of its peers in the restaurant industry. Guess which one underperforms them all?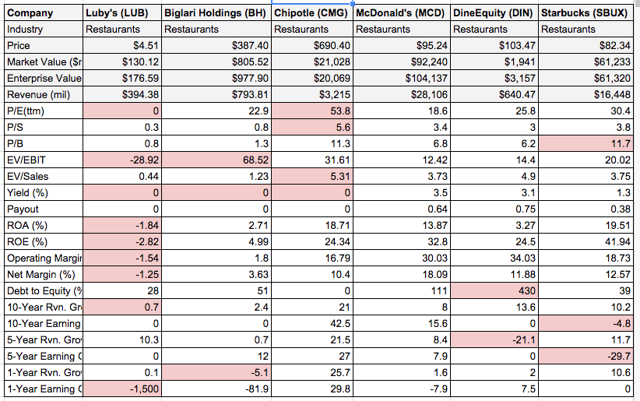 Source: Gurufocus and Author's Compilation
If you guessed LUB, you might want to get tested, because you just might be psychic. We're not picky--really, we're not. Yet with negative ROA, negative ROE, negative earnings, negative EPS, negative 1-year earning growth, negative operating margin, negative net margin, negative FCF, increasing debt, increasing COGS, and no yield, we think investors should hold out for something better. Investors: give Luby's a miss.
Disclosure: The author has no positions in any stocks mentioned, and no plans to initiate any positions within the next 72 hours.
The author wrote this article themselves, and it expresses their own opinions. The author is not receiving compensation for it (other than from Seeking Alpha). The author has no business relationship with any company whose stock is mentioned in this article.