With its acquisition of the remaining 55% of Alliance Boots GmbH it does not already own set to close this Wednesday, Walgreen (WAG) will soon become a significantly larger player in the European pharmacy and drugstore markets. The transaction will allow Walgreen to become a firm that operates more than 11,000 stores worldwide and controls Alliance Boots' European drug distribution business. Walgreen's shares have recovered the ground they lost in August after the company decided against pursuing a tax inversion strategy. The company expects synergies from the acquisition to reach "at least $650 million" in 2015. Analysts have recently increased their long-term growth estimates for Walgreen due to this transaction and this article uses the DRAG framework to determine whether further upside potential exists for the company's share price over the next 52 weeks.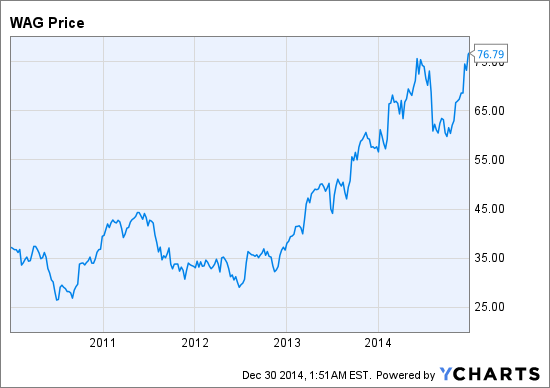 Please click here to read my article which outlines the DRAG analysis framework in more detail.
To summarize, the four variables used in a DRAG (dividend and risk adjusted growth) analysis are as follows (each company is ranked from 0 to 3 in each category):
1) How cyclical is the industry in which Walgreen operates?
2) How strong is Walgreen's competitive position within this industry?
3) How risky is Walgreen's balance sheet?
4) What is Walgreen's dividend yield and dividend growth history?
The premise is that a company that operates in a non-cyclical industry with a strong competitive position and a clean balance sheet that pays an attractive dividend should trade at a higher earnings multiple than a company without these attributes, even if the lower quality company has higher projected future earnings growth. After adjusting for these variables, it becomes easier to compare companies in different sectors with different levels of future growth potential.
Walgreen DRAG Analysis:
Walgreen Industry Analysis

Industry Beta

0.99

Stock Beta

1.34

10 Year EPS Std Dev

18.6%

Industry Score

2/3
In spite of a decade of fairly consistent profitability, Walgreen's share price has exhibited above average volatility in recent years. Trying to determine the economic sensitivity of Walgreen's industry is challenging because there is no sector which easily encompasses the firm. This academic research website includes Walgreen in the Retail (Specialty Lines) industry, in which the average stock possesses volatility equal to the broader market. However, Walgreen's beta has increased consistently during the last five years: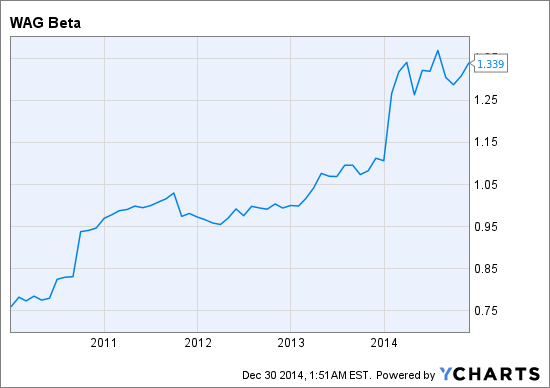 However, the company's standard deviation of annual earnings is less than 20% and its sales increased in 2008 and 2009 during the financial crisis. Both the drugstore and pharmaceutical distribution segments of the business do not appear particularly cyclical, which allows Walgreen to obtain an above average score in this portion of the analysis despite an elevated beta.
Walgreen Competitive Position Analysis

Gross Margin

28.2%

Operating Margin

5.5%

Return on Assets

5.2%

Return on Invested Capital

7.5%

Competitive Position Score

1/3
Walgreen's margins are already narrow and will likely not significantly improve after its acquisition of the remainder of Boots Alliance as the drug distribution industry is a particularly competitive one with notoriously low margins. CVS Health (NYSE:CVS) generates a better operating margin than Walgreen, despite a significantly lower gross margin. In addition, Walgreen's efficiency ratios are not trending in a promising direction: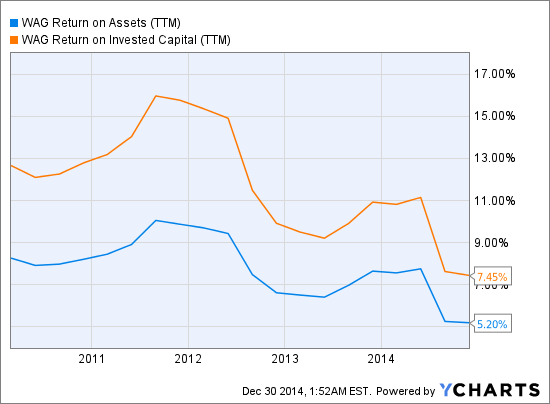 Shareholders of this firm are hopeful that the synergies caused by the Alliance Boots acquisition will help reverse this trend. However, based on Walgreen's current numbers, its competitive position appears weak and does not warrant an average score in this section of the DRAG framework.
Walgreen Balance Sheet Analysis

Debt to Equity Ratio

0.22

Current Ratio

1.38

Interest Coverage

24.2

Balance Sheet Score

1.5/3
Although the above numbers make Walgreen appear to be a conservatively managed company, its leverage has increased in the weeks after its fiscal 2014 ended. The company recently raised $2 billion in European debt after raising $8 billion in the United States. Walgreen predicts that its interest expense will be equal to approximately $140-$150 million per quarter moving forward. Despite these large bond issuances, the firm's debt to equity ratio will likely remain below 0.50 moving forward. Its cash balance as of August 31st was an impressive $2.6 billion, but this will likely be reduced significantly after the transaction has been completed. While investors should keep an eye on Walgreen's balance sheet because of this acquisition, its financial position does not appear particularly risky at this point, especially given the non-economically sensitive nature of its business.
Walgreen Dividend Analysis

Current Yield

1.8%

Payout Ratio

64.1%

1 Year Dividend Growth

7.1%

3 Year Dividend Growth

50.0%

Dividend Score

1/3
Walgreen has delivered consistent dividend increases to its shareholders going back more than a decade, but the stock currently yields less than 2%. The company's payout ratio appears high, but its free cash flow tends to surpass its earnings per share, suggesting that management could continue to implement significant annual increases to its quarterly payout.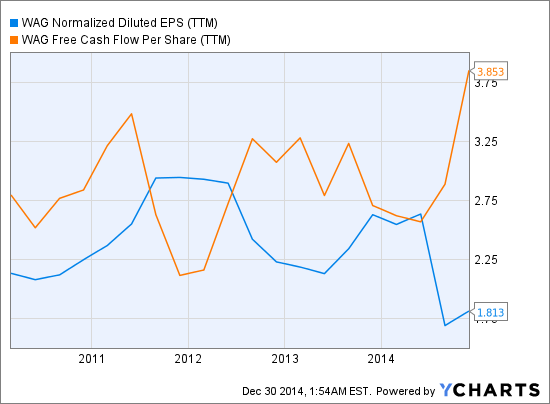 However, the acquisition of the remainder of Boots Alliance will likely slow near-term dividend growth as the firm looks to repay some of the debt used to fund the transaction. Dividend growth investors can consider adding shares of Walgreen to income portfolios, but they are unlikely to see the dividend grow 50% over the coming three years (as it has since 2011).
Walgreen DRAG Analysis

Total DRAG Score

5.5

/4 = Average DRAG Score

1.375

x Projected LT EPS Growth Rate

12.17%

x Projected 2016 EPS

$4.42

= Walgreen Target Price

$73.96
The analyst community expects that synergies derived from the imminent transaction will lead to significant earnings growth for Walgreen, especially in its fiscal 2016. However, over the long term, analysts expect annualized earnings growth to stabilize around 12%: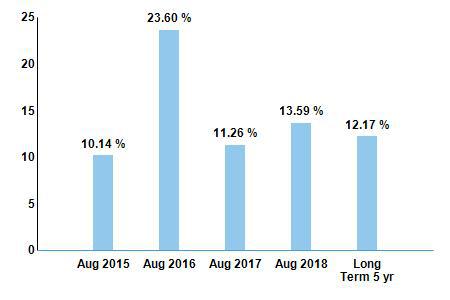 Based on the above earnings growth forecast, shares in Walgreen currently appear slightly overvalued. Its business is defensive in nature and the firm has rewarded investors with impressive dividend growth in recent years. However, the company's efficiency ratios are disappointing and its balance sheet has become less conservative thanks to the debt used to finance its Boots Alliance acquisition. As the stock is currently trading well above its five-year historical valuation average, suggesting it is overvalued by a mere 3-5% does not appear unreasonable.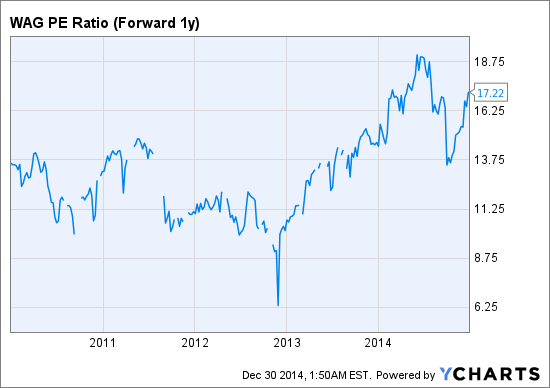 The DRAG model advises that investors who currently own shares of Walgreen should likely continue to hold them, but investors looking to add a new position in the company would likely be wise to wait for a modest pullback in the share price. At the very least, patience will allow for greater opportunity to investigate the consolidated firm's financial statements. Until then, remaining on the sidelines seems to be the best course of action.
Disclosure: The author has no positions in any stocks mentioned, and no plans to initiate any positions within the next 72 hours.
The author wrote this article themselves, and it expresses their own opinions. The author is not receiving compensation for it (other than from Seeking Alpha). The author has no business relationship with any company whose stock is mentioned in this article.