Notwithstanding the fact that the past decade was full of extraordinary shale gas discoveries, the era of shale exploration in North America is far from having run its course.
A week ago, Range Resources (NYSE:RRC) extended its peers' earlier success in the relatively new deep Utica/Point Pleasant dry gas play. Range announced the result of its first test, the Sportsman's Club #11H well, located in Washington County, Pennsylvania. The well achieved an average 24-hour rate of 59 MMcf per day flowing against simulated pipeline pressure and conditions (Range did not provide the choke data). This is the strongest 24-hour rate reported so far in the entire Marcellus/Utica area and is one of the most prolific onshore gas well (based on the 24-hour production test) ever drilled in North America.
While the dry gas Utica/Point Pleasant potential has been identified by the industry several years ago, the play remains in an early stage of its life cycle. The total number of test wells drilled in the Utica's dry gas window is still miniscule - slightly over a dozen in total - and is dwarfed by the number of wells completed in the Utica's wet gas and condensate windows.
Well results in the dry gas window so far have exceeded most optimistic expectations and suggest that the deep Utica, in its most productive areas, may rival Marcellus's sweet spots in terms of drilling economics and will substantially extend the region's already formidable discovered resource base.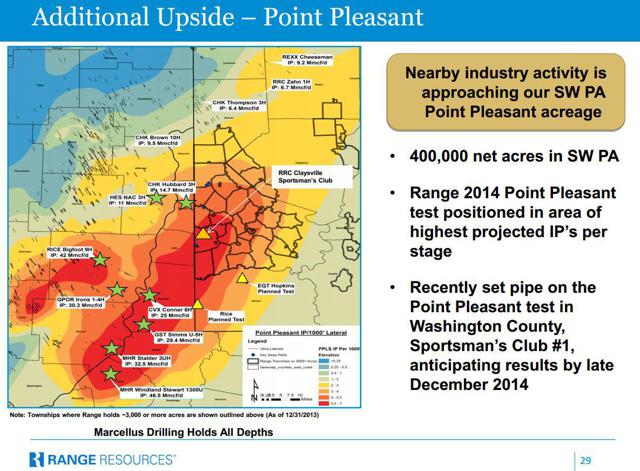 (Source: Range Resources, December 2014)
The Sportsman's Club #11H Results
Range's Sportsman's Club #11H well is the deepest test drilled to-date in the Utica/Point Pleasant play. The well was drilled and cased to a true vertical depth of 11,693 feet with a 5,420-foot horizontal lateral completed with 32 frac stages. Range's report points to a strongly over-pressured formation, with the company's initial calculations indicating a 0.88 psi/foot pressure gradient. The overpressuring contributes to the extraordinary initial production rate that equates to a 10.9 MMcf/d per 1,000 foot of lateral.
The well will remain shut-in for approximately 90 days while production facilities are being completed. Afterwards, Range plans to place the well on production under a managed-pressure restricted flow program.
Range believes that the Sportsman's Club #11H result confirms the company's geological interpretation. Range has ~400,000 net acres under lease in the Southwest Pennsylvania area which it considers prospective for the Utica/Point Pleasant play. The success of the Utica evaluation enhances the value of the company's position in Southwestern Pennsylvania and has material significance for the stock.
Two Additional Industry Test Results Anticipated
Two additional deep Utica test results in Southwest Pennsylvania area, one by EQT Corporation (NYSE:EQT) and one by Rice Energy (NYSE:RICE), may become available in the near future.
EQT is currently drilling its Hopkins deep Utica well in Green County in Southwest Pennsylvania. The well is located almost 2,000 feet downdip from Range's Sportsman's Club well and is expected to cost in the $12-$17 million range. In the event of success, EQT may drill up to four additional delineation deep Utica wells next year.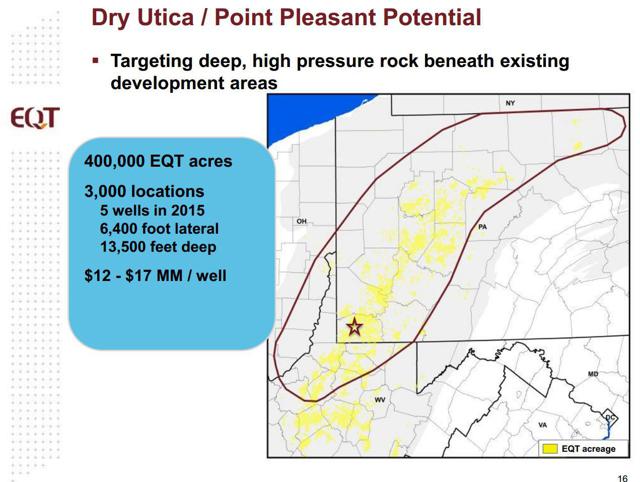 Rice Energy is another operator planning a deep Utica test in Green County of Pennsylvania in 2015 that is designed to test the formation's productivity on the company's significant lease position in the area.
Drilling Economics Are Promising Despite The High Well Cost
To illustrate Utica's truly exciting productive potential, it may be instructive to look at the performance of Rice Energy's Bigfoot #9H dry gas Utica well in Belmont County, Ohio. The well tested in June of this year with an initial rate of ~42 MMcf/d from a ~7,000-foot lateral with 40 frac stages and was placed into sales during the second quarter.
The Bigfoot's performance is beating initial expectations. The well is producing on a restricted choke program at a flat rate of ~14 MMcfe/d. As of early November, in about five months, the Bigfoot had cumulatively produced approximately 2.0 Bcfe. Most importantly, the well's average pressure decline had been approximately 11 psi/d, which is better than the initial 12.5 psi/d "High Case" model and may indicate a higher production trajectory over time (slide below). Rice's updated High Case for the well suggests cumulative production from the well over the first 18 months online of ~7.3 Bcf. This would put the well at par with some of the best wells drilled in the Marcellus dry gas sweet spot in Susquehanna County of Pennsylvania.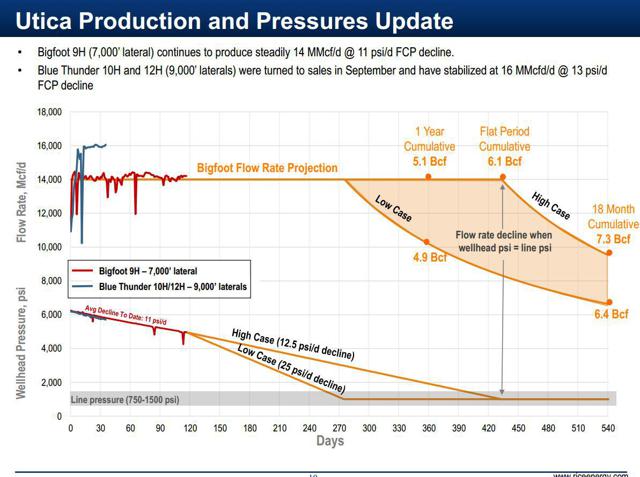 (Source: Rice Energy, November 2014)
In September, Rice turned in line two additional dry gas Utica wells, the Blue Thunder 10H and 12H, both in Belmont County, that are showing early performance consistent with the Bigfoot 9H. The Blue Thunder wells have 9,000-foot laterals and were drilled with a "tight" spacing of 500 feet apart to help determine the optimal spacing pattern for future development in the Utica. After 55 days, the wells were producing at a stabilized rate of 16 MMcfe/d each under the company's restricted choke program, with an average casing pressure decline of approximately 13 psi/d, consistent with the 12.5 psi/d early decline rate in the case of the Bigfoot.
Based on the early performance of its first three Utica wells, Rice established a type curve for dry gas window wells. A type well with an 8,000-foot lateral is expected to have an EUR of 20 Bcf and completed cost of $12 million. Assuming $4.00/MMBtu NYMEX gas price and $0.70/Mcf out-of-basin transportation cost, the well would yield a 55% IRR with an undiscounted payout period of 19 months. The NPV-10% is ~$10 million per well. Rice's Utica "type well" would still be economically viable at $3.50/MMBtu gas price.
Of note, the Bigfoot well is currently outperforming Rice's type curve.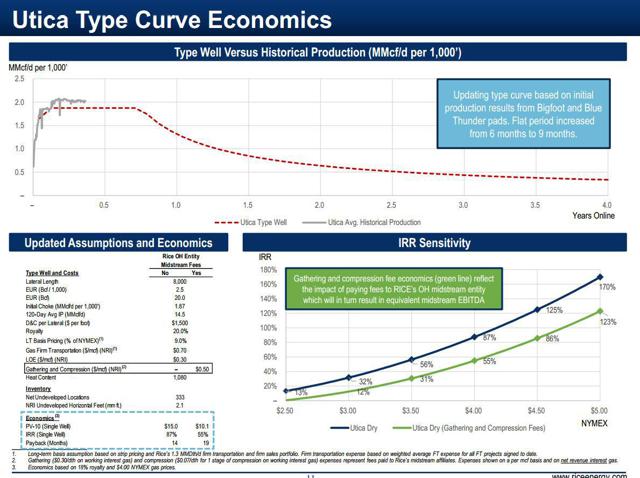 (Source: Rice Energy, November 2014)
Notwithstanding the extraordinary IP rate, it is still premature to conclude that Range Resources' Sportsman's Club well is economically viable - longer production and pressure drawdown history would be needed to derive any return estimate. Given the formation's depth and overpressuring, the exceptionally high initial rate is not necessarily indicative of the well's EUR potential. The production performance bar is set very high: gathering and transportation costs in the Marcellus/Utica area are significant and deep Utica wells are expensive to drill and complete.
Sweet Spots And The Choice Of The Landing Zone Are Key
Given the high drilling and completion cost in the deep Utica and competitive capital allocation, it appears that only limited sweet spots within the play's dry gas window will work from a drilling return standpoint. Range's map at the top of this note may provide an idea of the approximate contours of the sweet spot that spans Southwest Pennsylvania, West Virginia panhandle and the adjacent area in Ohio. What makes the deep Utica play promising is the massive extent of this sweet spot. If validated with additional drilling results and well performance, this sweet spot could potentially yield several thousand future drilling locations.
The porosity cross-section charts below highlight the significant variability in the rock's petrophysical characteristics depending on location. The charts also highlight that the formation is thick and has a highly complex structure. Therefore, the choice of the landing zone and completion design may be significant drivers of well productivity. Given that operators have just initiated their evaluation programs, upside may come from drilling inventory high-grading and the play-specific technical learning curve.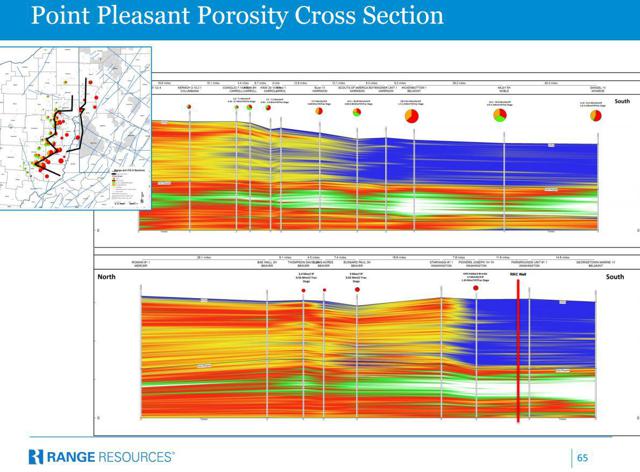 (Source: Range Resources, December 2014)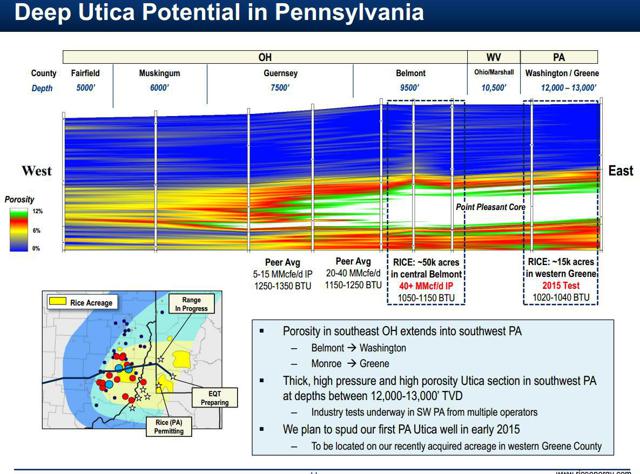 (Source: Rice Energy, September 2014)
Deep Utica May Also Prove Prolific In Northeast Pennsylvania
Utica's dry gas potential is not limited to area shown on Range's map above that spans Eastern Ohio, West Virginia panhandle and Southwest Pennsylvania where the majority of successful tests have been drilled to date. Few months ago, Royal Dutch Shell (NYSE:RDS.A) (NYSE:RDS.B) made public the results of its first two deep Utica exploration tests, the Neal and Gee wells, located in Northeast Pennsylvania, in Tioga County, over hundred miles to the northeast from Range Resoures' Sportsman's Club well. I estimate that the wells were drilled to a true vertical depth of approximately 11,500 feet. Both wells had been on production for a significant period of time and are prolific producers.
The Gee had been on production for nearly one year, and had an initial flowback rate of 11.2 MMcf/d from a ~3,100-foot lateral, which equates to ~3.6 MMcf/d per 1,000 feet of lateral length.
The Neal began production in February of 2014, and had an observed peak flowback rate of 26.5 MMcf/d from a ~4,200-foot lateral, which equates to ~6.3 MMcf/day per 1,000 feet of lateral length.
Shell did not provide any information with regard to the wells' cumulative production, pressure metrics or completed cost. The company commented, however, that both wells were high-pressure wells and their "results are comparable to the best publicly announced thus far in the emerging Southeast Ohio Utica dry gas play." Shell was awaiting results from four additional Utica wells drilled in Tioga County.
What Stocks Benefit Most From Range's Announcement?
The most significant read-across from Range Resources' deep Utica test in Washington County of Pennsylvania would be to the following stocks:
Southwestern Energy (NYSE:SWN)
Chevron (NYSE:CVX)
Rice Energy
EQT Corporation
Chesapeake Energy (NYSE:CHK)
XTO/Exxon Mobil (NYSE:XOM)
In Conclusion…
Deep dry gas Utica play will not have significant impact on operator's production volumes in the Marcellus/Utica area (takeaway capacity determines production volumes). However, the presence of another prolific zone in the stack will extend the productive life of the acreage.
The addition of the deep Utica drilling inventory should provide greater certainty to infrastructure developers in the region and have a positive impact on its development.
Stock valuations will have moderate positive uplifts as Utica gas should support the "higher for longer" production expectation.
Disclaimer: Opinions expressed herein by the author are not an investment recommendation and are not meant to be relied upon in investment decisions. The author is not acting in an investment advisor capacity. This is not an investment research report. The author's opinions expressed herein address only select aspects of potential investment in securities of the companies mentioned and cannot be a substitute for comprehensive investment analysis. Any analysis presented herein is illustrative in nature, limited in scope, based on an incomplete set of information, and has limitations to its accuracy. The author recommends that potential and existing investors conduct thorough investment research of their own, including detailed review of the companies' SEC filings, and consult a qualified investment advisor. The information upon which this material is based was obtained from sources believed to be reliable, but has not been independently verified. Therefore, the author cannot guarantee its accuracy. Any opinions or estimates constitute the author's best judgment as of the date of publication, and are subject to change without notice.
Disclosure: The author has no positions in any stocks mentioned, and no plans to initiate any positions within the next 72 hours.
The author wrote this article themselves, and it expresses their own opinions. The author is not receiving compensation for it (other than from Seeking Alpha). The author has no business relationship with any company whose stock is mentioned in this article.