Quad/Graphics, Inc. (NYSE:QUAD) is a global provider of print and related multichannel solutions to over 8,000 customers generating $4.8B in sales in the last 12-months. QUAD is the second largest print provider in the Western Hemisphere generating 90% of its revenue in the US. QUAD serves a variety of industry from publishing, retail, telecom, financial services, and healthcare, to name a few. Much of QUAD's products are geared toward advertisements, labeling, and packaging.
The printing and labeling industry is highly fragmented as the largest 400 printers represent about 55% of the North American market. The industry is in a state of consolidation and many companies are forced to compete on price. The biggest cost drivers companies face are: postal rates, paper prices, and ink prices.
Industry inputs costs should remain stable in the coming years as fuel prices are at four year lows and not expected to increase much over the next 18-months. Oil prices are a main cost driver for postage rates and ink & dye costs (the two largest manufacturing costs for QUAD). Paper (approximately 30% of manufacturing costs) has seen little change in price over the past year and a half. Pictured below is a chart with the 50-day and 200-day moving average of the softwood pulp price index. As you can see, soft pulp prices have flattened out, and 2015 prices are expected to remain constant. Low pulp and oil prices should provide a benefit to paper and print producers as much of the variable cost will not see dramatic increase over the next 12- to 18-months.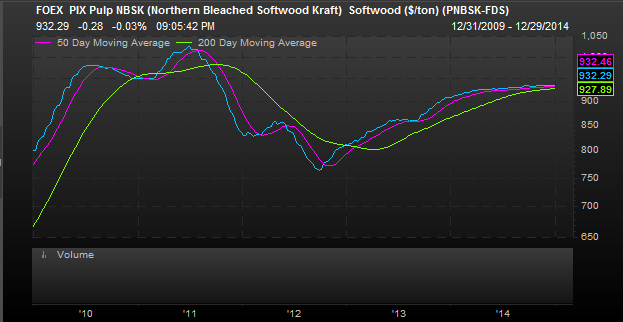 QUAD is actively seeking acquisitions that can be easily integrated into their current employee and IT structure, expand & retain its client base, and increase its financial metrics. QUAD has closed over 25 deals in the past 10-years, 2 of which were in the past 12 months. QUAD has strong free cash flow, generating over $200M for the past 3 years. QUAD has a Debt/EBITDA ratio of 2.84 and an interest coverage ratio of 6.2x. QUAD has the free cash flow and access to capital to continue its strategic acquisition strategy.
QUAD will be riding economic tailwinds as US Corporate Profits have increased approximately 10% since the first quarter of 2014. With US corporate profits increasing, businesses will have the ability to use QUAD's advertising and packaging services. QUAD's products in catalogs, direct mailers, in-store marketing, and magazine publishing are likely to see the largest increase in demand.
QUAD is down 14.87% year to date (December 29, 2014), making now a strategic entry point. I believe that with QUAD's continued strategic acquisition strategy, an increase in advertisement spend, and lower input costs, QUAD is primed for outperformance in 2015. I have used two valuation methodologies: a capitalization of dividends and a comparable company analysis.
Below is a capitalization of trailing twelve month dividends: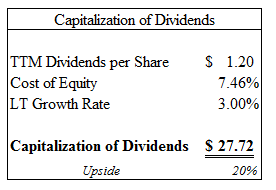 In my comparable company analysis, I benchmarked QUAD against similarly sized and profitable printing, labeling, and specialty advertisement companies. As you can see, QUAD trades at a significant discount to peers.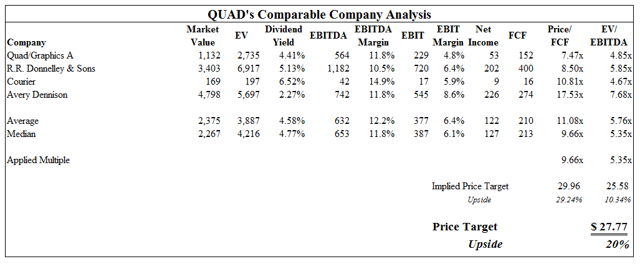 Both of the valuation methodologies: capitalization of trailing twelve month dividends and comparable company analysis presented a 20% upside, as such I select a price target of $27.75 or 19.72% upside. QUAD offers investors a great stock to realize capital appreciation from its stable revenue stream and low input costs should keep margins stable if not expanding. QUAD also offers a 5.18% dividend yield for income generation.
Disclosure: The author has no positions in any stocks mentioned, and no plans to initiate any positions within the next 72 hours.
The author wrote this article themselves, and it expresses their own opinions. The author is not receiving compensation for it (other than from Seeking Alpha). The author has no business relationship with any company whose stock is mentioned in this article.