After positive reactions to analysis performed on HollyFrontier (NYSE:HFC), Northern Tier (NYSE:NTI), and Western Refining (NYSE:WNR), I've decided to continue to profile each smid cap refiner. Next up: Delek US (NYSE:DK). This small cap refiner's shares have been battered over the past few months, and I currently believe shares look very undervalued.
Background
Delek US is a fairly new entity, though its former parent company, Delek Group, is an Israeli conglomerate that used Delek US to invest in US refining and marketing businesses. Delek US was formed in 2001 and came public in 2006. Surprisingly, Delek began its life with the acquisition of MAPCO Express-a company owning 198 retail gas stations for $162.5 million. Over the next several years, Delek made acquisitions to expand its empire to include marketing, refining, and logistics assets.
At present, refining usually accounts for over 75% of Delek's earnings. In 2013, refining drove $386.2 million in pretax profits compared to $45.2 million in retail, and $23.8 million from logistics. Let's take a look at each segment.
The Tyler refinery
Ultimately, the most transformational acquisitions Delek made were in the refining space. In 2005, the company acquired La Gloria Oil and Gas for $68.1 million, which has since become known as the Tyler refinery.
Located in Tyler, Texas, this refinery has approximately 60,000 bpd of refining capacity, though a major expansion is underway to increase its capacity to 75,000 bpd. Tyler is located in the US PADD 3 Gulf Coast region, and the refinery has a Nelson Complexity Factor of 9.5. The Nelson Complexity Factor measures the complexity of a refiner, and its ability to add value. 9.5 is about par for the course in the US, so it isn't a particularly complex refinery.
The refinery runs a crude slate primarily from WTI crude (88.5%), though it also runs some East Texas crude (11.5%). The slate is practically 100% sweet, and Tyler produces primarily 93 and 87 octane gasoline, diesel, and jet fuel.
In Q3 of 2014, the refinery produced about 64,431 bpd of throughput volume driving crack spread of about $19.05 per barrel. Delek benefitted greatly from its access to cheap Midland crude. While production currently remains robust in the region, I suspect this dynamic could change the longer WTI prices remain depressed, with some production eventually coming offline.
Tyler's margin profile can be pretty volatile - for instance, the refinery achieved a margin of $14.04 in 2013 compared to a margin of $20.39 in 2012. Though clearly a profitable refinery, I do not anticipate margins to be as strong in 2015 as they were in 2014 ($18.37 YTD) or 2012.
All things considered, the Tyler refinery is the primary contributor to drive profitability. Given its huge capacity expansion, favorable access to cheaper Texas crudes, and low cost position, I expect this phenomenon to continue going forward. It should be noted that weak oil prices would likely impair crude production and possibly limit the margin opportunity at Tyler.
The El Dorado refinery
Located in Arkansas, the El Dorado refinery accounts for over 90% of the refining capacity in the state. The refinery can process 100,000 bpd of crude, though for the past few years operable capacity has been closer to 80,000 bpd. Like Tyler, El Dorado is located in the PADD 3 Gulf Coast region. It carries a Nelson Complexity Factor of 9.0.
Interestingly, the refinery has oscillated its crude slate between sweet and sour over the last few years. In 2011, the refinery ran a slate consisting of 78.4% sour crude, but it switched over to 50% sweet in 2013.
Not surprisingly, the majority of El Dorado's production comes from domestic inland crude sources, so this refinery also benefits greatly when Midland crude trades at a discount to WTI. Therefore, both of Delek's refineries could see profits fall if supply contracts in response to lower crude prices.
In general, El Dorado carries a significantly lower contribution margin than Tyler. YTD, the spread has been about $9.88 compared to $8.97 in 2013 and $12.56 in 2012. While the spread was strong in Q3, I anticipate some contraction in 2015 consistent with Tyler.
Retail
The former platform upon which Delek US was built, retail isn't the greatest business there is. In fact, the actual business of selling gasoline is pretty terrible. Prices are highly transparent, customers have practically no brand loyalty, and the only money that can really be made is from the convenience store rather than the gasoline.

Source: DK 2013 10-K report
Delek currently operates over 360 retail outlets, which contributed a profit of $48 million in 2013 and $45 million in 2012. If there's anything beneficial about this large footprint it is that it provides perhaps a more reliable cash stream than refining, as well as an outlet for refinery throughput. Further, Delek has invested heavily into creating larger store formats throughout its main regions (Tennessee and Alabama), which are driving strong same-store sales growth (2.5% in Q3; 3.4% YTD).
Overall, Delek's retail strategy is pretty simple. It plans to keep opening up bigger c-stores with more comprehensive product offerings in order to keep driving growth in its merchandise sales. I do not think there is anything revolutionary going on here, and I anticipate this segment can continue to generate $40 million to $50 million in annual pretax profits.
Logistics
Like virtually every other refiner, Delek has its own logistics MLP aptly named Delek Logistics (NYSE:DKL). Delek US owns 62% of DKL and about 97% of its 2% GP interest, thus, the company is fully consolidated within Delek US.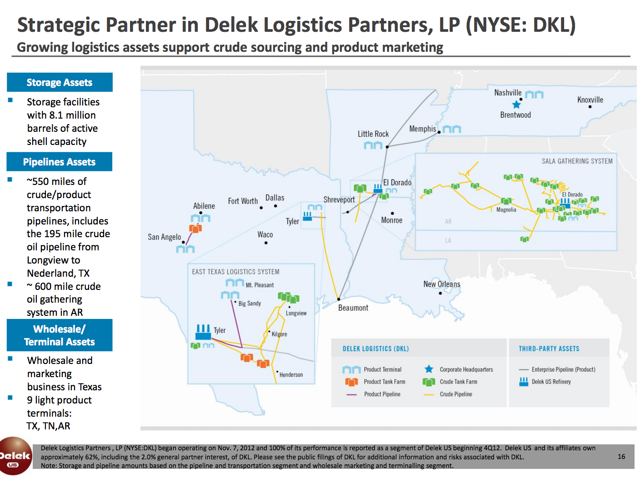 Source: DK Investor Deck
DKL operates 550 miles of crude transport products and has a 600 mile+ crude gathering system in Arkansas. DKL owns and operates considerable crude tank farms so it is able to store large amounts of crude.
DKL currently pays a distribution of $0.49 per unit. DKL is notoriously conservative with its distributions to the point where it maintained a 1.35x coverage ratio in 2013. Coverage in 2014 has fluctuated between 1.42x and 2.02x, and with its transportation contracts long-term and fixed, I think the distribution will continue to grow in the coming years.
Valuation
Without question, Delek trades at a discount to its peers. Delek is valued at roughly 6.3x operating income versus a peer median of 7.6x and 4.6x NTM EBITDA versus a peer median of 5.3x. I think there are a few reasons for the discount.
For one, Delek has been slow to embrace the need to quickly drop down its logistics assets in DKL. There is at least another $5 million to $10 million in EBITDA that can be generated by further dropdowns, but like Western, Delek has been slow to implement these changes.
Additionally, the Israel-based Delek Group formerly primarily owned Delek. Over the past few years, Delek Group has unloaded its stake in DK and no longer is the controlling shareholder. I think the selling pressure simply depressed shares.
Another factor weighing on the valuation is likely Delek's adoration of the retail business. Retail is marked by low ROICs, and the company has spent a large amount of cash on renovations and remodels over the past few years-projects that may not create much shareholder value.
Still, this discount is wide relative to peers. If you slap a median refining multiple of 5.7x EV/EBITDA we get an enterprise value of ~ $2.28 billion and a market cap of $2.19 billion. This leaves us with about 31% upside, or a price target of about $36. Combined with a current quarterly yield of about 2.2%, and we get a roughly 33% total return profile. Delek has also declared $0.10 special dividends about 4x per year in 2013 and 2014, adding an additional $0.40/share in cash returns.
Lots of large shareholders suggest I might be conservative
After reviewing Delek and its strategy, I feel pretty comfortable that shares are only slightly overvalued. However, I can't shake the image of Delek's shareholder list.

Source: Yahoo Finance
With 3 hedge funds owning ~5% each, I can't help but think there could be a major activist push for a transformational change. These investors may see a way to force value creation, perhaps the acquisition of additional refining or logistics assets.
All things considered, I do not believe that Delek US looks like a particularly unique situation. As I've noticed previously, the smid cap refining space generally looks undervalued, and Delek is no exception. However, I see some risk to the consensus figure of $400 million in EBITDA, so shares may realistically trade to $32-$33. Also, I simply do not like the management team as much as I like Northern Tier's management and HollyFrontier's management team, so I would opt for one of those firms.
Disclosure: The author has no positions in any stocks mentioned, and no plans to initiate any positions within the next 72 hours.
The author wrote this article themselves, and it expresses their own opinions. The author is not receiving compensation for it (other than from Seeking Alpha). The author has no business relationship with any company whose stock is mentioned in this article.