In Part 4, we examine:
Oil production exposure
Oil producing sovereign budgets
Foreign, EM and BRIC dollar debt exposure
More EM and BRIC dollar carry trade
Production Exposure
Charles Hugh Smith: "Supply can be turned off easily enough, but it can't be expanded as easily. Existing production declines without constant injections of capital and expertise. Oil fields need huge investments of capital to maintain high production."
Chart below courtesy of Charles Hugh Smith. A common sense guide to the economics behind production level declines which have been known to cause squirrely market reactions.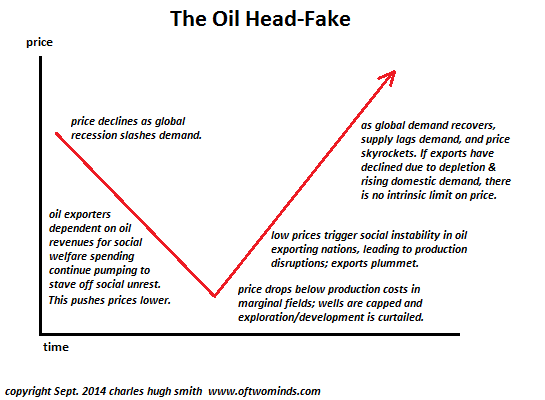 From part 2, Wolf Richter: "oil companies have hedged... few are fully exposed, at least not yet, some of their production is already exposed, in the future more and more of their production will be exposed."
Ali al-Naimi, the Saudi oil minister, "It is not in the interest of Opec producers to cut their production, whatever the price is. Whether it goes down to $20, $40, $50, $60, it is irrelevant." Chart below shows average production costs $/bbl: OPEC $32; Global $42; Non OPEC $55.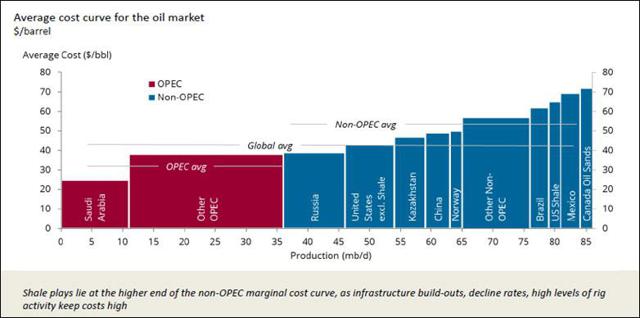 If the Saudis maintain their current production levels (cost $6 bbl) at current market price ($57 bbl), additional higher priced production will be exposed. This includes all oil producing sovereigns, read Russia, Venezuela and all non swing OPEC nations. Depending on the duration and "pain" level tolerance, eventually those ventures found to be least profitable, will be curtailed and/or shutdown. A prolonged production exposure will eventually lead to production declines; unwarranted "peak" claims and speculative price increases. Again, amply demonstrating that price has nothing to do with how much oil remains in the ground; and can only affect a production squeeze at the field or refinery level. Hubbert's unprovable theory, it's subsequent perversion by oil market insiders, and the societal disservice it performs was discussed at length here, here, here and here. Moving West... Chart below shows sovereign budget breakeven prices in $/bbl.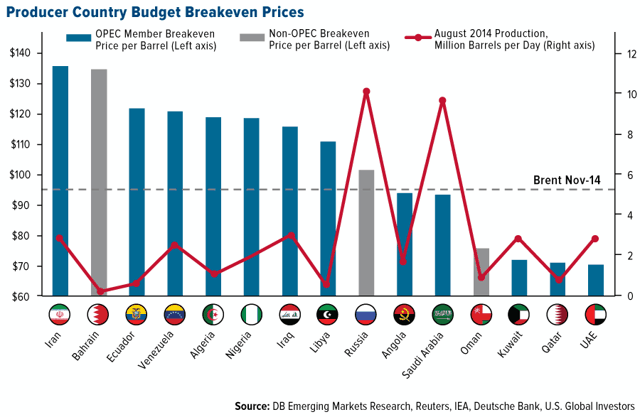 To fund their domestic budget gaps (see chart above) oil producing sovereigns will be forced to sell assets, HQLA dollar assets like bonds, and may have less domestic currency on hand to buy like assets. The CBR (Russian Central Bank) is already in rescue mode and potentially taking wrong way risk. The CBR will replace $50 billion in low risk assets (US Treasuries) with high risk leveraged debt from domestic companies like Rosneft (OTCPK:RNFTF). If the loans default or require restructuring, the timing will dictate costs which the CBR will have to bear, and could leave them out in the cold, like this. We will revisit this later.
BRIC dollar debt exposure and carry trade
12/07/2014 The Telegraph: "BIS said dollar loans to Chinese banks and companies are rising at annual rate of 47%. They have jumped to $1.1 trillion from almost nothing five years ago. Cross border dollar credit has ballooned to $456 billion in Brazil, and $381 billion in Mexico. External debt has reached $715 billion in Russia, mostly in dollars. some 70% of GDP in Russia." Just like in Dr. Zhivago, sleigh rides are fun this time of year in Russia.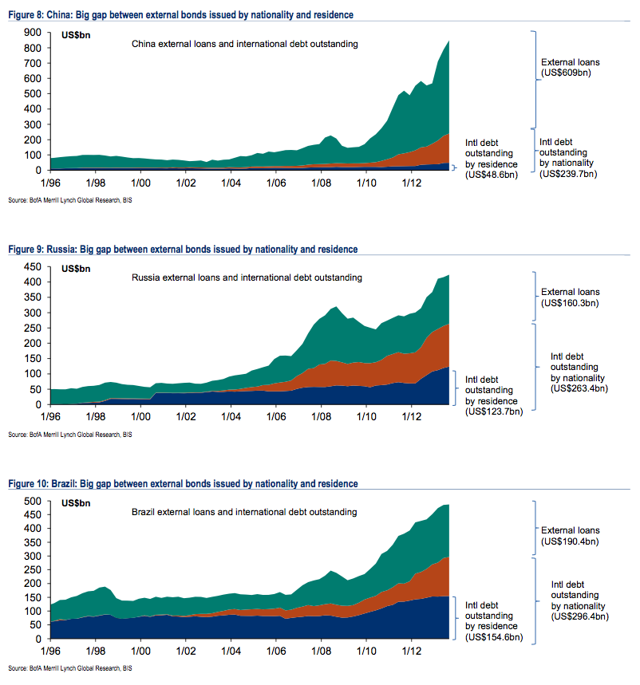 Charts above courtesy of BofA via FT Alphaville. External debt in billions of dollars for China ($850); Russia ($423); Brazil ($485) and India ($245) So what? Note the large gap between external debt issued by nationality and residence, the total gap for BRIC is $540 billion. This gap represents the potential carry trade in dollar denominated overseas bonds issued by BRIC corporations and non financial companies. Overseas bond borrowing/lending by corporations and non financial companies is surrogate financial intermediation. So what? Read on.
Foreign dollar debt exposure
As mentioned in part 3 - "Just the US dollar EM corporate debt: $5.7 trillion, split between $3.1 trillion in bank loans and $2.6 trillion in bonds." Below, dollar denominated credit to all foreign non bank borrowers totaling est. $9 trillion.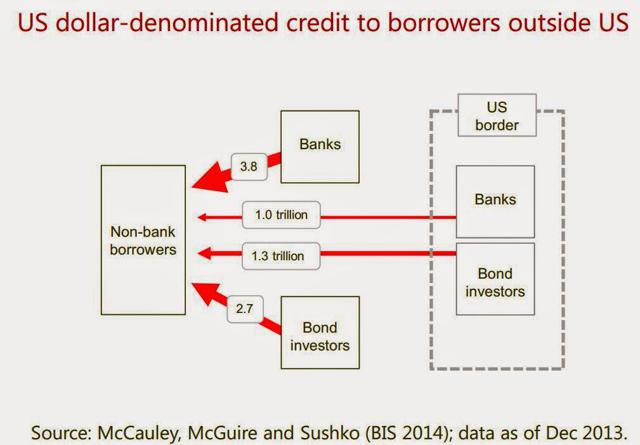 Below US dollar credit to non banks outside the US by counterparty totaling $9 trillion.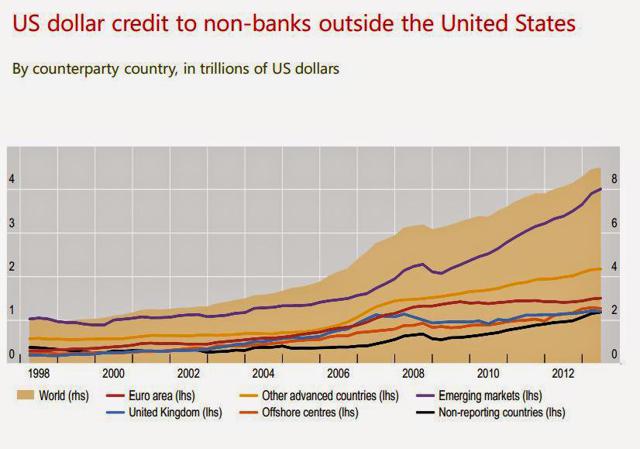 Below US dollar credit to non banks outside the US by outstanding stock (loan, bond) totaling $9 trillion.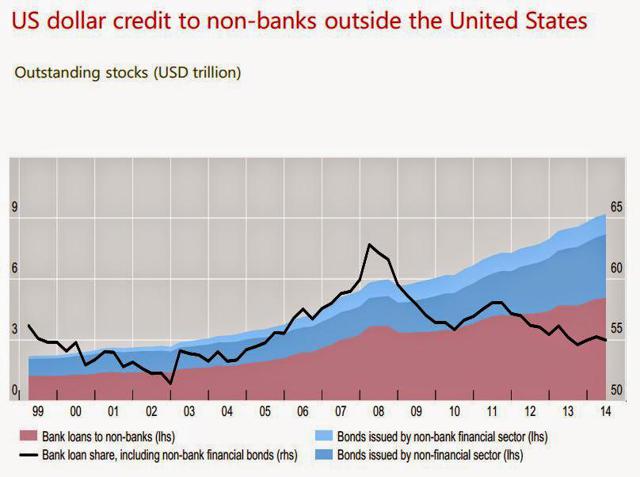 Above, three ways to $9 trillion. If enough "players" within a sovereign nation engage in speculative currency arbitrage e.g. play a large carry trade between their domestic currency and another, when they issue foreign currency (dollar is this case) debt; regardless of where the investment is made, onshore or offshore, this activity exposes their currency and domestic debt to risk. From the BIS Quarterly Report December 2014: "To the extent that these flows are driven by financial operations rather than real activities, they could give rise to financial stability concerns. More than a quantum of fragility underlies the current elevated mood in financial markets."
We brought up cognitive dissonance and the "unknown known" in Part 1, with a primary example being Hitler and Third Reich Germany. The current arbitrage activity replicates "surrogate" practices by German industrial companies which obfuscated their exposure levels during the 1920s leading up to the 1929 debt trauma (chart below).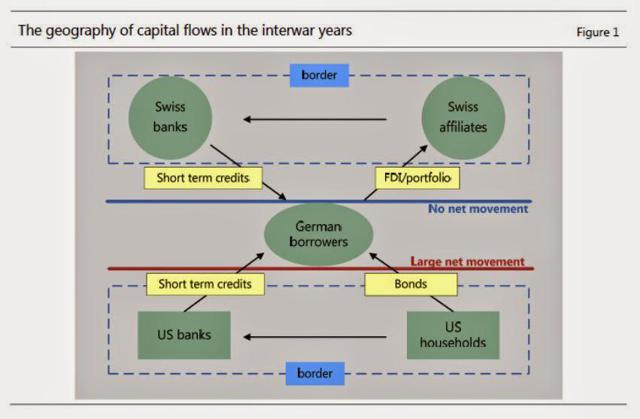 Charles Hugh Smith: "The collapse in collateral and income is not limited to oil exporters with marginally high costs - everyone with a stake in the interconnected global financial system will suffer losses as the financialized oil trade unwinds violently and unpredictably."
Alex, I'll take "out of left field" for $500... Trebek queries: In the past, this "unknown known" has led to amplified market risks with unpredictable, violent and uncontrollable unwinds leading to global crisis. Answer: Surrogate financial intermediation. Many of those engaging in said activity (est. $540 billion) are non financial institutions and are not regulated as such. The true exposure of their positions (debt, off balance sheet, and leverage) is not captured in balance of payments or flow of funds metrics and as such is unknown. This isn't your or my first goat roping, and much like Germany, we will revisit this later. Here and in parts 1, 2 and 3, the table was set and as Allan Quatermain said.
In Part 5 our journey continues with:
More foreign dollar carry trade
Oil and gas leveraged debt
Structured Finance, Private Securitization, Syndicated Lending
CDOs, CLOs and Cov-Lite
Market Plays
These global economic policy developments could effect numerous markets, sectors, indexes, commodities, Forex, bonds, mutual funds, ETF's and stocks.
(NYSEARCA:DIA), (NYSEARCA:SPY), (NYSEARCA:IWM), (NASDAQ:QQQ), (NYSEARCA:IEF), (NYSEARCA:UDN), (NYSEARCA:UUP), (NYSEARCA:UUPT),(NYSEARCA:UDNT), (NYSE:FXY), (NYSEARCA:FXE), (NYSEARCA:HYG), (NYSEARCA:JNK), (NYSEARCA:LQD),(NYSEARCA:CORP), (NYSEARCA:EMB), (NYSEARCA:BKF), (NYSE:APA), (NYSE:ECA), (HTE),(OTCPK:LVLEF), (OTCQX:MDLNF) (OTCPK:OGZPY), (OTCPK:PBEGF), (NASDAQ:PEIX),(OTC:PENYF),(NYSE:SLCA), (NYSEMKT:TPLM), (NYSE:TRP), (NYSEARCA:UNG), (NYSEARCA:USO), (ZAZA), (BHI), (NASDAQ:CRZO), (NYSE:D), (NYSE:EXC), (NYSE:F), (NYSE:FCX), (NYSE:KMI), (LINE), (LNCO), (NASDAQ:MXWL), (NYSE:PSX), (SCTY), (NYSE:SLB), (NYSE:VLO), (OTCPK:AAGLF), (OTC:AFRNY), (OTC:ATPAQ), (NYSE:BPZ), (NYSE:CHK), (NYSE:CLB), (NYSE:CPE), (NYSEMKT:EOX), (NYSE:EPL), (NYSE:EQU), (EXXI), (NYSEARCA:FCG), (OTCPK:GMXRQ), (NYSE:HK), (NYSE:HNR), (MHR), (NYSE:MMR), (NYSE:OAS), (NASDAQ:PDCE), (PVA), (NYSE:QEP), (NYSE:REN), (NYSE:SN), (SYRG), (NYSE:UNT)
Disclosure: The author has no positions in any stocks mentioned, and no plans to initiate any positions within the next 72 hours.
The author wrote this article themselves, and it expresses their own opinions. The author is not receiving compensation for it (other than from Seeking Alpha). The author has no business relationship with any company whose stock is mentioned in this article.
Editor's Note: This article covers one or more stocks trading at less than $1 per share and/or with less than a $100 million market cap. Please be aware of the risks associated with these stocks.