Changing Forecasts to bring Changing Fortunes
While December has been warmer than usual, the end of the year will welcome an arctic blast that will submit a significant portion of the United States to temperatures 25 to 40 degrees lower than normal. The Weather Channel and NOAA both present models which forecast a significant cold front moving south through the states with notable wide spread lows experienced by Tuesday night.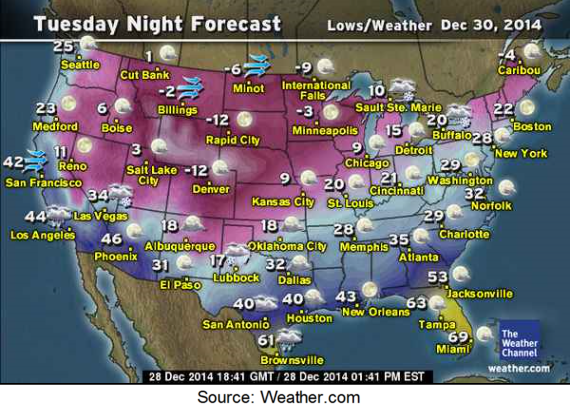 Current models are predicting this weather pattern to be in place largely through January 7th, and possibly extending longer with following blasts of cold air. Obviously this is not a Polar Vortex event, but is resulting in temperatures materially below normal in many of the mid-western and Ohio Valley states. While the impact on the Energy Information Administration(NYSEMKT:EIA) natural gas inventory report will not be known until its release on January 8th, NG Bears and Bulls alike will react in this week's market to reposition their portfolios or risk exposure to longer term upward pressures.
A New Window of Opportunity Opens
Natural Gas prices have been crippled with the convergence of higher production and lower demand in December falling from a high of $4.65 per mmBTU in November to breaking below $3.00 per mmBTU in last Friday's trading. Futures touched $2.973, the lowest intraday price since September 26, 2012. Trading volume was more than 50 percent below the 100-day average for the afternoon hours, which logically reflect the reduced number of traders in the holiday week. This represented the fifth straight weekly decline in Natural Gas futures pricing and has greatly "tightened the spring" as some traders return to work with significant changes in the forecast being front and center.
For some of the larger oil/nat gas producers, the collapse of NG futures pricing has added insult to injury following the downhill race for oil prices. As oil traders began seeing a perceived floor in the price of a barrel of oil, the bottom falls out from under the price of natural gas. On top of this, year-end tax selling added to the downward pressures on many company's stock prices.
Recently published comments from Morgan Stanley note "gas prices have the potential to rebound early in 2015 as forecasts point to the likelihood of colder weather." This could be the stimulus that brings managed money back into the market for NG backed assets.
When we look at exchange traded funds such as VelocityShares 3x Long Natural Gas (NYSEARCA:UGAZ), the impact of the recent plummeting NG futures pricing is clearly visible (chart below).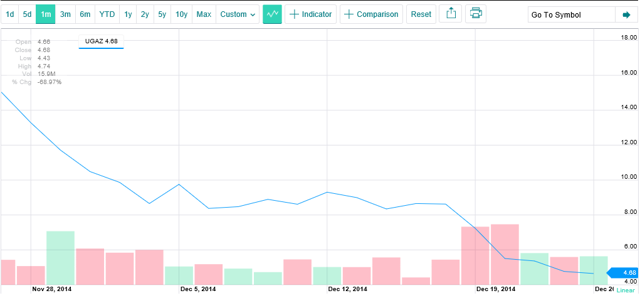 While UGAZ is likely too volatile for many investors, it represents one the greatest potential opportunities for benefiting from the atmospheric paradigm shift that the natural gas market will likely experience in next 5-10 trading days. An earlier example of this opportunity was seen in October as weather forecasts changed into a colder November - sending the price of NG futures from around $4/mmBTU to the $4.5/mmBTU level. This moved the price of this leveraged fund significantly as noted in the chart below: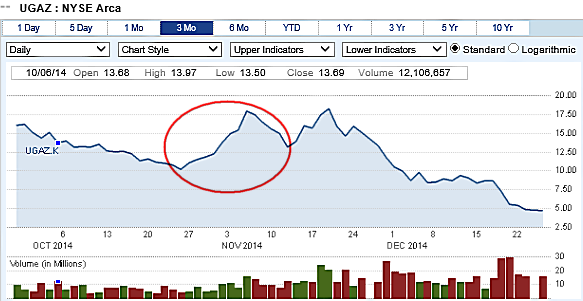 Likewise, many oil and gas companies have seen similar decreases in the value of their stocks. The situation creates an opportunity for investors to capture an entry point that holds strong potential returns with lower downside risk. A good example of this opportunity can be seen in the chart of Range Resources (NYSE:RRC).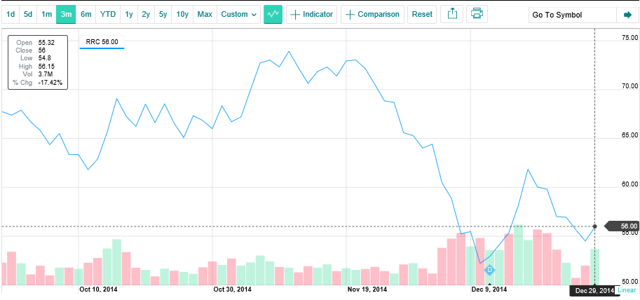 The decline in share price between November 19th and December 9th aligns with the oil market collapse of $80/barrel to around $60/barrel. Then we see the impact from December 17th to December 26th of the fall of natural gas prices. Essentially we have seen the price of RRC drop from $73 to $56 in a matter of a month, or 24%. Analysts at Barclays and Howard Weil have recently reaffirmed Range Resources with upgrades on the stock, and analysts average targets are currently at $80.22 (source Yahoo Finance), representing a 43% upside on a company seen as continuing to grow their production and reserves in this competitive market.
Bitter-Sweet Success
According to the Energy Information Administration, U.S. gas production may climb 5.5 percent this year to a record 74.26 billion cubic feet a day. The growth in supply and weather patterns which are milder than the 2013-2014 winter represents a serious risk to NG futures pricing, and to the companies associated with exploration and production. In particular, gas producing companies invested in the Marcellus and Utica shale have bitter-sweet success as their production continues to contribute to record daily production rates, but at prices which begin to threaten their financial stability. The chart below highlights the changing landscape of supply growth in the U.S.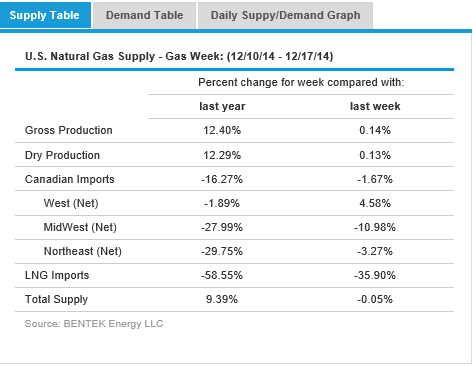 At first glance, it appears that there is a simple shift from offshore sourcing to U.S. production; however, lack of availability of additional storage facilities forces producers to accept lower prices where production has ramped rapidly. Quite often such ramps in production are accompanied by constrained pipeline capacity while new lines are built to get that capacity to storage facilities and markets where the demand can consume this new production.
Even as prices have fallen to new lows, companies are not sitting still. Many companies have already begun to adapt capital investment plans for 2015 to reflect the change in market prices - preserving capital and meeting capital commitments required in loan agreements. Although these actions by themselves will not change the supply/demand imbalance, it will contribute to a more reasonable growth pattern. Unfortunately for some companies, their weak balance sheets and loan commitments will result in bankruptcy and untimely sales to more stable companies. The chart below shows the magnitude of impact the last month's trading has impacted the shares of Range Resources Corporation versus smaller companies such as Halcon Resources (NYSE:HK) , Magnum Hunter Resources (MHR), and Sandridge Energy (NYSE:SD) as investors shift away from the risks each of these firms face .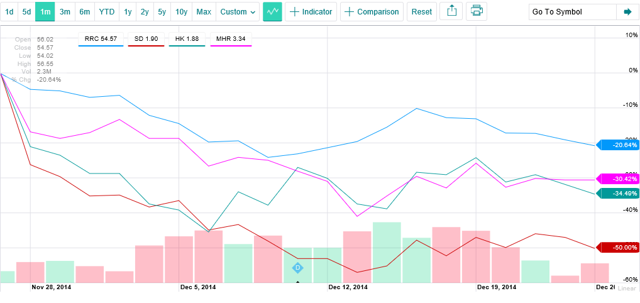 Investors cannot simply look at the chart above and assume the smaller firms such as Magnum Hunter Resources are too weak to be of interest - each company is at different points in their management's strategy, but the macro factors of the market can "pound down" these stocks regardless of the gems they hold as a part of their production portfolio.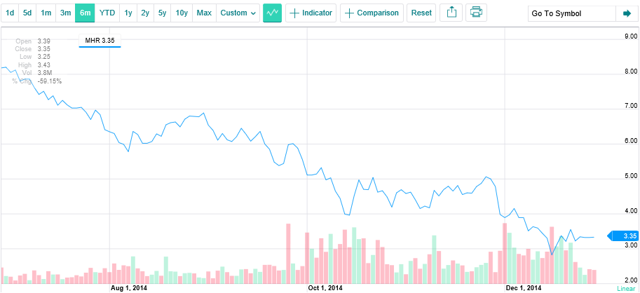 Magnum Hunter has faced the decreasing patience of investors over the last 6 months as the price fell from $8 per share to just under $3 per share recently as management has worked to pay down debt via sales of oil assets and focus on NG production. This shift away from oil lessened the real impact of decreasing oil prices, but the market treated the stock as though its revenues were largely dependent on oil. Fortunately for MHR, as NG pricing has fallen management has communicated a partnership in which they will initiate a pipeline MLP in early 2015, confirmed year end production levels, and are favorable on significantly increased reserves based on 2014 developments. As recently as today, Topeka Capital noted MHR as a "takeout candidate" requiring significant premium pricing to current depressed levels. A buyout price at the market price of six months ago represents a 139% gain compared to recent prices.
Conclusion
As with most things in life, timing is critical - upside opportunities are seldom guaranteed, but general market factors at year end such as tax selling, weather outlook, "window dressing" by mutual funds, etc., sometimes converge and create opportunities for "quick wins" and entry positions for longer term investments. These factors seem apparent as the natural gas market may have reached an "oversold" status going into the holiday season with many investors just wanting to be out of the market to avoid more downward risk while they are enjoying being away from the trading desk. Investors must assess if these opportunities are suitable for their risk level and window for return. While this article has focused on just a few of the opportunities recently created by the changing macro factors, other companies being impacted and representing potential for strong returns in the long run include names such as Encana Corp. (ECA), QEP Resources (QEP), Ultra Petroleum (UPL), Chesapeake Energy (NYSE:CHK) and WPX Energy (WPX). Returns are never guaranteed, but the recent convergence of a variety of factors has created a wide variety of options that investors should move quickly to capture for a Happy New Year.
Disclosure: The author is long SD, MHR, UGAZ, HERO.
The author wrote this article themselves, and it expresses their own opinions. The author is not receiving compensation for it (other than from Seeking Alpha). The author has no business relationship with any company whose stock is mentioned in this article.
Additional disclosure: This article is in no way a recommendation to buy or sell any stock mentioned. This article is provide insight to opportunities arising from the volatility within the North American natural gas market. Statistics and references included from noted sites/media. Each investor should perform their own research and invest relative to their level of risk tolerance. Author has direct investments in MHR, SD, UGAZ and indirect fund ownership in all other noted stocks/funds.