The cloud. The cloud. There is plenty of hype surrounding what some consider the latest disruptive technology. Never mind the numerous security issues. The new solution to the increasing cost of storage is to place everything in the cloud. Consumer and enterprise-level data are expected to be stored someplace off-site and in the cloud. If it were not for the weekly reports of hackers breaking into corporate and government systems, cloud computing solutions would be an appealing idea.
If the economy should ever begin to recover, demand for data storage is bound to increase. Demand comes from the digitalization of content: records, music, videos, etc. S&P estimates that the storage software market will grow at a single digit rate in the next twelve months and that hardware will experience even lower levels of growth.
According to AMI-Partners' recent report, "U.S. SMB Cloud Playbook," the market for hosted storage will increase by 11% yearly (CAGR) through 2015, to $270 million. We expect consolidation in the storage market. Oracle Corp. (NYSE:ORCL) recently entered into an agreement to purchase Pillar Data Systems, a company controlled by Larry Ellison. Pillar offers both storage area network and network attached storage solutions. NetApp Inc. (NASDAQ:NTAP) acquired the external storage systems business of LSI Corporation (NASDAQ:LSI-OLD).
To determine if this sub-sector offered opportunity to investors, we selected four companies for analysis.
EMC Corporation (EMC) develops, delivers and supports the information technology industry's range of information infrastructure and virtual infrastructure technologies and solutions. It operates in two business segments: EMC's Information Infrastructure business and the EMC's VMware Virtual Infrastructure business. EMC's Information Infrastructure business provides a foundation for customers to manage and secure their quantities of information, automate their data center operations, reduce power and cooling costs, and information for business agility and advantage. EMC's VMware Virtual Infrastructure business is the provider of virtual infrastructure software solutions from the desktop to the data center and to the cloud. As of July 22, 2009, EMC had acquired approximately 94.2% interest in Data Domain, Inc. (Data Domain). In November 2010, the company acquired Bedford, Massachusetts-based Bus-Tech, Inc. In April 2011, it acquired NetWitness Corporation.
Imation Corp. (IMN) is a global developer and marketer of branded products that enable people to capture, save and enjoy digital information. The company's portfolio of recordable optical media, magnetic tape media, flash products and consumer electronic products and accessories reaches customers in approximately 100 countries through its global distribution network. Its global brand portfolio includes the Imation brand, the Memorex brand, and the XtremeMac brand. Imation is also the exclusive licensee of the TDK Life on Record brand. Imation operates in two market categories: removable data storage products and accessories and audio and video consumer electronic products and accessories (electronic products). In March 2011, the company acquired ENCRYPTX Corporation. In June 2011, the company acquired MXI Security from Memory Experts International, Inc.
NetApp, Inc. is a provider of storage and data management solutions. The company offers solutions for storing, managing, protecting and archiving business data. NetApp's products and services are designed to meet the requirements and service levels of large enterprises and their business applications. The company offers storage solutions that incorporate its unified storage platform and the functionality of its data and storage resource management software. NetApp markets and sells its storage data management solutions directly through its worldwide sales force and indirectly through channel partners, such as value-added resellers, systems integrators, distributors, original equipment manufacturers and strategic business partners. On May 13, 2010, the company completed the acquisition of Bycast Inc. In January 2011, the company acquired Akorri Networks, Inc. In May 2011, the company purchased external storage systems business from LSI Corporation.
Quantum Corporation (NYSE:QTM) is a global storage company specializing in backup, recovery and archive solutions. Quantum provides an integrated range of disk, tape and software solutions supported by its sales and service organization. The company divides its products into three categories: disk systems and data management software, tape automation systems, and devices and media. The devices and media category includes removable disk drives, standalone tape drives and media products. The company works with a network of distributors, value-added resellers (VARs), direct marketing resellers, original equipment manufacturers (OEMs) and other suppliers to solve customers' data protection, retention and management challenges. The company offers a range of solutions in the data storage market providing performance and value to organizations of all sizes. On June 13, 2011, the company acquired Pancetera Software, Inc. (Pancetera).
Imation is losing money hand-over-fist and reports sales down about 13% for the trailing twelve months. Analysts forecast a slow recovery over several years. The company stopped paying a dividend in 2008 after losing money in 2007 and in each year thereafter. Imation manages to keep its doors open by generating positive free cash. Gross margin for the trailing months is positive at 15.5% but below the company's five year average of 17.7%. Operating margins are negative. Sales and earnings are seriously impaired. Our sales growth estimate is 2.6%.
Quantum is barely profitable today with reported EPS of just $0.02 for the trailing twelve months. Analysts are very optimistic and estimate EPS of $0.20 for the current year and then another slowdown to $0.25 two years out. Free cash is strong relative to EPS and that is encouraging. Gross margins are strong and above their five year average. Operating margins show improvement though they are paltry. Sales have declined over the past twelve months and reflect a downward trend. We project sales to decline at the rate of -7%. Both net income and EPS are down very substantially. Again, analysts are optimistic about a recovery and forecast a 3-5 year growth rate of 17.5%
EMC is doing very well with solid earnings for the past twelve months and impressive analyst forecasts for this year and next. Gross margins are high and above five year averages. Operating margins are healthy and also above the average. Sales growth of 20% during this downturn and the nascent recovery are indicative of future growth for earnings. We are more conservative in our forecast of sales growth and are looking at sales growing more like 10%-11%.
NetApp is also a strong contender with earnings of $1.87 in this period and growing strongly for the remainder of FY11. NetApp's strength is that its free cash of $3.05 exceeds EPS. This provides support going forward. Like EMC, NetApp reports very strong and expanding gross and net margins. We think sales growth at these levels is unsustainable and will trend down to about 16%.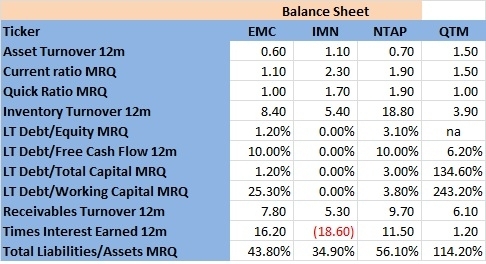 Balance sheets for each of these companies, with the exception of Quantum, are strong. The companies have little or no long-term debt and sufficient working capital to meet their immediate needs. Quantum is different. Long-term debt exceeds total capital and liabilities exceed assets.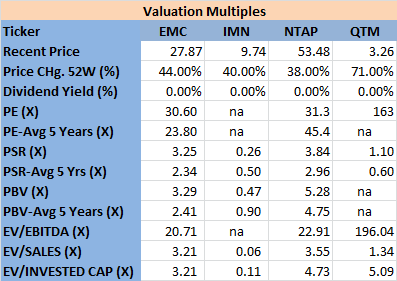 All of our target companies have increased in market value over the past twelve months at rates vastly greater than the market's expansion. EMC trades with a PE of 30.6X, about twice that of the markets and with a forward PE of about 19X. The market is giving EMC a PEG ratio of about 1.85X when using the long term growth rate estimate. On the other common valuation models, EMC seems valued at a premium. We think EMC is overvalued by about 10%-20%.
Imation is losing money and has for several years so that valuation on a PE basis is impossible. However, it is selling at a very low multiple to sales. It also sells at very low multiples of book. These low multiples may be deceptive. On a price to free cash basis, the company sells at a reasonable 6.7X free cash. At these very low levels of valuation, we see potential for substantial price appreciation. Imation may be a golden nugget waiting to be discovered or a trap for the unwary.
NetApp is another company generously rewarded by the market. Similar to EMC, NetApp sells at a premium to the market on all metrics. By our estimate, NetApp is overvalued by 7%-25%.
Quantum had the biggest price gain this year, appreciating about 71% over the past twelve months. This gives the company an astronomical PE of 163X trailing earnings and 16X forward earnings. The PSR is reasonable though it is nearly twice that of its five year average. Quantum has negative equity in the past twelve months and for the past several years; not good for an investor. Since we see sales continuing to decline and unacceptable debt levels, we would not consider any estimate we may make reliable.
Of the four companies highlighted here, we believe that EMC and NetApp are clear market leaders. We also believe the market is pricing these companies at levels unjustified by today's macroeconomic environment. We would stay away from Quantum though it is possible the company can become an acquisition target. Even as a target, the company is richly valued. Imation is interesting. Its numbers are not good but there may be an underlying value not recognized by the market. Since so much of its product line is directed to the end-consumer, it may take some time before its value is unlocked or it may take an acquirer.
Disclosure: I have no positions in any stocks mentioned, and no plans to initiate any positions within the next 72 hours.