Background
SFX Entertainment's (NASDAQ:SFXE) story is now well known: maverick and unconventional CEO, Robert Sillerman, has been rolling up electronic music concert and festival brands into a single global platform. A platform whose scale could attract company sponsors interested in gaining the attention of the difficult to capture millennial consumer. Along the way, Sillerman has also acquired an electronic music site and ticket service intending to create a one-stop multi-media experience for the EMC (Electronic Music Community).
More recently, as author Alpha Exposure noted in his piece: SFX Entertainment: The Music's About To Stop, SFXE has been unable to meet the expectations of the market, underperforming consensus estimates for several quarters in a row. In the company's most recent 3Q14 report, the trend was no different. In fact, shareholders seem to be running low on patience with the company, sending shares down to an almost 52 week low just a few days after results were announced.
The story that remains to be told is whether SFXE is truly creating a sustainable enterprise or as some have called it - a house of cards.
The EBITDA story
In this analyst's opinion, the true genius of Sillerman's stewardship is his ability to get investors to pay up for the future of SFXE in the present, particularly when it comes to how investors should interpret EBITDA.
As most investors recognize, EBITDA is a tricky beast. Since it is a non-GAAP figure, management has a lot of discretion with what can get piled into it. Let's take a look at SFXE's reported EBITDA figures to see if we can spot any aggressive accounting.
Fig. 1
| | | | | | | |
| --- | --- | --- | --- | --- | --- | --- |
| In millions | 3Q14 | 2Q14 | 1Q14 | 4Q13 | 3Q13 | 2Q13 |
| Proforma adjusted EBITDA |   |   |   |   |   |   |
| Consolidated net loss | 2,814 | -43,634 | -63,506 | -40,543 | -33,195 | -24,884 |
| Interest expense | 6,158 | 5,688 | 6,599 | 6,230 | 5,285 | 4,272 |
| Income tax provision | -15,169 | 7,329 | -3,281 | -1,182 | -76 | 2 |
| Depreciation & Amortization | 10,366 | 16,739 | 14,661 | 11,717 | 5,284 | 4,635 |
| Other (income)/expense | -14,683 | -10,684 | 18,356 | 4,909 | -396 | 99 |
| Equity based compensation expense | 10,568 | 9,627 | 10,085 | 10,119 | 8,688 | 8,989 |
| EBITDA of the company | 54 | -14,935 | -17,086 | -8,750 | -14,410 | -6,887 |
|   |   |   |   |   |   |   |
| EBITDA of acquisitions | 185 | -71 | 1,238 | -1,584 | 3,365 | 2,655 |
| Adjustment to reflect proportionate EBITDA of equity investments | 2,767 | 1,501 | 0 | 0 | 12,802 | -659 |
| Adjustments | 11,945 | 3,260 | 3,969 | 13,925 | 15,769 | 6,996 |
| Total - Pro Forma Adjusted EBITDA (after Investment) | 25,951* | -10,245 | -11,879 | 3,591 | 17,526 | 2,105 |
Source: SFXE's company press releases
*Adjusted for $11m of investments reported on 3Q14 conference call
There is a lot going on here so let's break the important pieces down.
EBITDA of the company: This is basically your vanilla EBITDA or unadjusted EBITDA. Essentially you are adding back to net income the standard line items such as depreciation, amortization, and interest that are required. On a side note, I'm not a huge fan of adding back "equity based compensation expense", but it does seem to be the standard when calculating EBITDA. My reasoning is that this expense is real to the business (and definitely for SFXE which has been diluting its stock pretty significantly as currency for acquisitions) even if it is not an immediate cash outlay.
EBITDA of acquisitions: This figure is essentially the EBITDA of recently acquired companies as if they were part of the company during the reporting period.
Adjustment to reflect proportionate EBITDA of equity investments: As the line item sounds, it is the proportion of EBITDA from companies that SFXE owns a minority interest in and can't consolidate.
Adjustments: This line item covers non-recurring expenses, cost savings, insurance recoveries related to cancelled festivals and adjustments related to content expenses.
In breaking down the Pro forma adjusted EBITDA that the company presents as its key valuation metric, there are many areas that investors should be cautious with. The question that comes to my immediate mind is: what if anything is truly non-recurring? With no explicit breakout of adjustments in "EBITDA of acquisitions" down to "Adjustments" in Fig. 1, an investor must take it on faith that management has applied the appropriate critical eye to items that have been deemed not to impact the future performance of the company.
It should also be noted that while it is fine to include the proportionate level of EBITDA from equity investments in terms of valuing a company; readers should recognize that it cannot be counted similarly as adding to operating cash flows - at least not completely. The cash flows from equity investments would only provide cash to the parent company so long as the investee distributes its earnings as dividends. An issue to keep in mind as we examine SFXE's cash flows in this next section.
The cash flow story
A glance at the company's cash flow statement would shock any reasonable investor. SFXE reported a net use of cash from operations for the 9M14 of $26.9m and an outflow of $143.2m from investing activity. Cash drained from investing was mainly the result of the $135m in cash used for acquisitions.
The net result of this spending spree was the raising of $300.2m of new second lien secured notes due in 2019; the proceeds of which were used to plug the cash outflows from operations and investing. The notes were completed in two offerings: $220m on February 4th, and then a follow on offering of $75m on September 24th, where Sillerman himself bought up $10m of the notes in a private placement.
The key concern here is that if cash burn and SFXE's acquisition spree continue at the same pace in the future, the company will be wholly reliant on the capital markets to continue its operations. A precarious proposition considering that the capital markets can be fickle and may shut out companies where investor confidence has begun to wane.
The company mentions as much under its "Future capital requirements" section where it indicates that under its current business plan internally generated cash flows and working capital may not be sufficient to fund its plan and meet debt-related obligations.
The dilution issue
A good example of how Sillerman has been able to parlay future value of SFXE shares into more present value is through his use of stock as currency in his roll-up of EMC assets. Take for instance the recent Alda Holding B.V. deal where SFXE paid EUR 1.35m in cash and 2m shares of common stock for 50% of the company. At a stock price of $4.28, SFXE paid approx. $9.7m for half the company, valuing the entire Alda enterprise at $19.3m if it tried to acquire the entire thing. The key element to recognize is that almost 90% of the purchase price was in stock, and that excluding the use of equity in this deal, SFXE would have had to come with another $8.56m in cash to acquire its equity stake.
Sillerman has used this strategy across the board for many of his acquisitions, and while he should be commended for his ability to save precious cash through this strategy, it has hit existing shareholders with considerable dilution. In fact, through September 30th 2014 shares outstanding have increased by approx. 16% from the end of 2013. YoY weight average shares have advanced 56% from the 9M13 to 9M14 when measured on a diluted basis.
With more people to split the final pie with, even if SFXE eventually meets some of Wall Street's loftier targets, patient SFXE shareholders may not be well rewarded anyway.
Why I haven't yet bolted for the door
Despite the concerns I have raised here, I believe SFXE is creating true value that is on the cusp of showing up in the results. Now that we've gone through the red flags, let's discuss some of the positives.
It really shouldn't be a surprise that SFXE's numbers are volatile or don't always meet consensus expectations. Sillerman has been upfront about his strategy of investing in the present for the future as well as recognizing monies when they become more tangible rather than when it is convenient. I respect this conviction even though sometimes it will throw shares into a tail spin from time to time.
Let's reflect back on what Sillerman and management have said in the past:
Sillerman on revenue and expense recognition for marketing sponsorships:
"…I believe correctly, not to include that revenue now because to do so would require us making an estimate of potential future expenses if any against that … we're going to [report] [ph] facts and only facts, and the facts we would [report] [ph] will be growth in events, growth in attendance, growth in per capita expenditure, substantial investments from people like T-Mobile, the Syco deal, the Corona deal, the Clear Channel deal, and the others, and we'll be as specific and [report it] [ph] when we know the facts definitively and when the best possible reason for presenting that information exists, it will not be stock market driven."
Source: 1Q14 conference call transcript
Sillerman on the difficulty of predicting the timing of cash flows from sponsorships and marketing partnerships:
"My knowledge and awareness is of the revenue and the budgets associated with marketing partnerships, and there is not one that we have negotiated, not one that is one year in duration, they are all asking for - and we now have agreed to do multi-year deals that makes the accounting therefore much more complicated as not only other program that extend, but allocation of expenses or not a single period. So, whereas we said we would be very specific, we cannot give you a number or percentage of EBITDA as a rule and never will be able to from a sponsorship…"
Source: 1Q14 conference call transcript
Rosenstein on expensing investments that led to reported EBITDA of $15m in 3Q14:
"So as Bob said, had we not expensed these pro-forma adjusted EBITDA would have been $26 million in the quarter. This conservative accounting approach has been our practice in 2014 and year-to-date in 2014 we've expensed roughly $17 million in incremental platform and corporate overhead expenses."
Source: 3Q14 conference call transcript
I like the conservativeness of management's approach and believe that it will lead to surprise upside when investments begin to give way to operational synergies, and sponsorship revenue from both guaranteed EBITDA and performance related EBITDA begins to poor in. But I'm not interested in just rhetoric; I want to see that these investments are at least beginning to pay off in SFXE's numbers.
A closer view of Live events
Fig. 2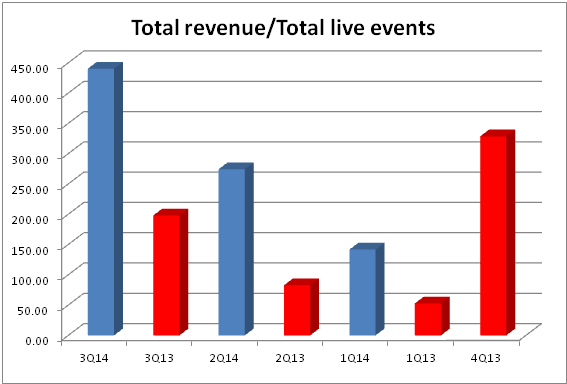 Source: SEC filings, Author's calculations
Fig. 3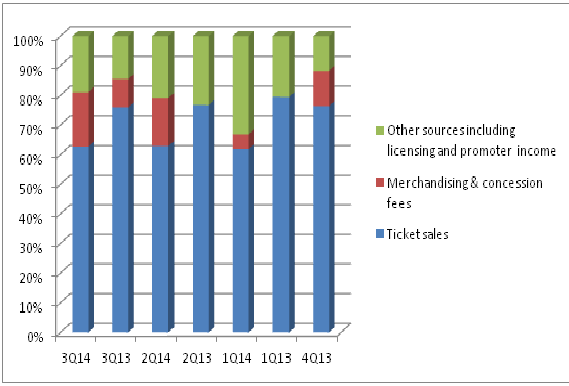 Source: SEC filings, Author's calculations
Fig. 4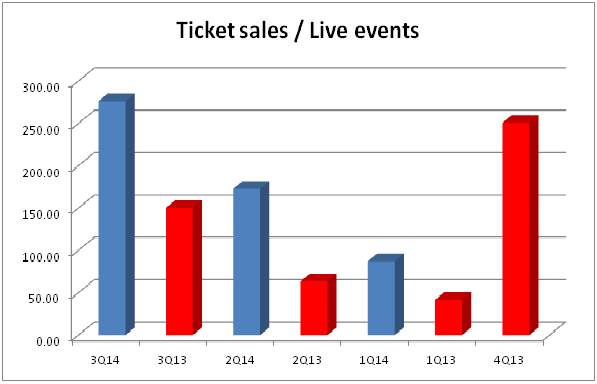 Source: SEC filings, Author's calculations
Fig. 5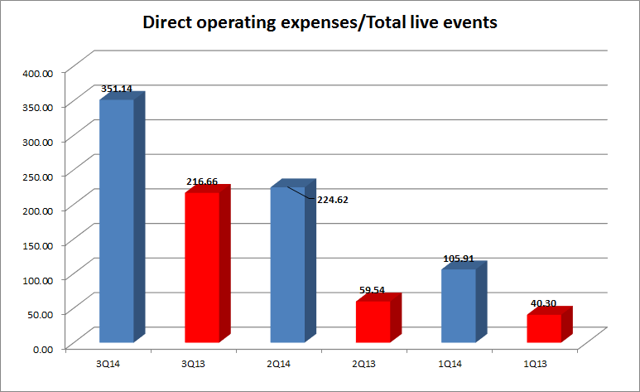 Source: SEC filings, Author's calculations
These four figures break down SFXE's Live events business in detail and demonstrate the momentum the business is building. Let's review each figure one by one.
Figure 2: On average, in the 3Q14 each live event that SFXE put on generated $440,350 up 122% from the 3Q13. Over the last three quarters in fact, the average total revenue per live event more than doubled QoQ with the highest increase occurring in the 2Q14 from the previous comparable period of 231%.
Figure 3: This figure demonstrates the composition of revenues on a QoQ basis. As can be seen in Fig. 3, SFXE has been able to diversify its revenue stream from Live events over time. For instance, in the 3Q14 merchandising and concession fees increased by 514% from the 3Q13; a nice demonstration of how SFXE's investments in such things as radio frequency ID bracelets is impacting revenues.
Figure 4: Avg. ticket sales per live event have also been on the upswing. In the 3Q14, ticket sales averaged $276,400 up 84% QoQ. Again, the most significant uptick came in the 2Q14 when QoQ avg. ticket sales rose by 172% to $172,810 per live event. The graph is a solid representation of how SFXE has been able to increase the audience at Live events by making them longer and expanding venues.
Figure 5: Direct operating expenses/Total live events seems to be slowing. In the 3Q14, the metric rose 62.1% QoQ to $351.1k per live event, a slow down from the second quarter when it rose 277% from the previous comparable quarter.
On the Platform side, SFXE has also demonstrated tremendous growth, but I'm holding off on an analysis of this business because of the company's intention to transform into a B2C music site as well as the difficulty in predicting when sponsorship revenues should be recognized. This transformation will make previous period comparisons irrelevant, meanwhile the timing of sponsorship revenues can be challenging to predict so QoQ comparisons at this point have little value.
A brief word on liquidity
I'll be watching CFO carefully in the coming quarters to see if Sillerman and SFXE can translate their penchant for EBITDA into real cash flow. In the meantime, however, I'm not too concerned about the company continuing as a going concern. The company's key debt obligation is its 9.625% second lien senior secured notes due in 2019. With $83m of cash on the balance sheet and $30m in availability on its revolver, the company seems to have the liquidity to meet annual interest payments of around $28.4m and fund its operations. Especially if the focus of 2015 is to consolidate and develop what the company has, while ratcheting back the cash spent on acquisitions.
Taking a shot at valuation
In order to value SFXE, we'll need a forward value for EBITDA. I conservatively pieced one together focusing on what has been reported and the strongest likelihood that the company would achieve its goals. When I couldn't place a value to an item, I left it as a "?" so we could identify potential upside surprises in the estimate.
Fig. 6
| | | |
| --- | --- | --- |
| Next 12 months EBITDA |   | Assumptions |
| Proforma EBITDA | $14,951 | 3Q14 EBITDA with no increases for additional growth through attendance, merchandising, or otherwise. |
| Investments expected to roll off | $11,000 | 3Q14 conference call: "...approximate pro-forma EBITDA was after spending $11m on investment that has not been capitalized as that been - EBITDA would have been $26m." |
| QMA unrecognized | $54,500 | 3Q14 conference call: "So one could simplistically say that of the amount that was in place in the end of September, that there is a remainder of approximately $54.5m yet to be earned in the foreseeable nine months." |
| Rock in Rio held again in September 2015 | $8,000 | 3Q14 conference call: "Actually as Bob just said, it was - a year ago, it was north of $8m for our share." |
| EBITDA from live events for Q414, Q115, Q215 | ? | EBITDA for live events in the next three quarters haven't been included in this estimate. |
| New partnerships expected to hit books in next 12 months | ? | 3Q14 conference call: "Yet in the quarter we replaced the revenue over $2 from $1 with new agreements that were not included in the QMA and that will hit our books over the next 12 months. So we enter Q4 with an even more robust pipeline of guaranteed EBITDA." |
| Performance benchmarks for QMA | ? | There is a performance related element to SFXE's QMAs, which have not been recognized yet by the company. |
| Tomorrowland event | ? | 3Q14 conference call: EBITDA estimate for Tomorrowland performance was based on last year's single day event versus this year's two day event. |
| Clear Channel radio program | ? | 3Q14 conference call: Accounting for revenues for the radio program will begin in the 4Q14. |
| Beatport | ? | 3Q14 conference call: Beatport B2C site launches in the 4Q14. |
| EBITDA | $88,451 |   |
Source: 3Q14 conference call, SFXE 3Q14 press release
The key elements of this estimate are based on figures that SFXE has performed in the past or announced in conference calls. There are also a lot of possibilities for upside; events in my opinion that have a high chance to add to EBITDA. For instance, the contribution for a two-day Tomorrowland festival versus last year's one day has a strong practical chance of being higher when results are fully tallied.
Fig. 7
| | | | | | | | | | | |
| --- | --- | --- | --- | --- | --- | --- | --- | --- | --- | --- |
| Multiples |   | 4x | 5x | 6x | 7x | 8x | 9x | 10x | 11x | 12x |
| Minority interest | 74,011 |   |   |   |   |   |   |   |   |   |
| Net debt | 212,222 |   |   |   |   |   |   |   |   |   |
| Current market cap | 399,400 |   |   |   |   |   |   |   |   |   |
| EV | 611,622 | 353,804 | 442,255 | 530,706 | 619,157 | 707,608 | 796,059 | 884,510 | 972,961 | 1,061,412 |
| Equity |   | 141,582 | 230,033 | 318,484 | 406,935 | 495,386 | 583,837 | 672,288 | 760,739 | 849,190 |
| Per share |   | 1.56 | 2.54 | 3.52 | 4.49 | 5.47 | 6.45 | 7.42 | 8.40 | 9.38 |
| Est. EBITDA | 88,451 |   |   |   |   |   |   |   |   |   |
Source: Author's calculations, SEC filings
Fig. 8
| | | |
| --- | --- | --- |
|   | EV/EBITDA | EV/S |
| Live Nation | 11.0 | 0.87 |
| Clear Channel Outdoor | 10.8 | 2.80 |
| Madison Square Garden | 17.1 | 3.49 |
| Average | 13.0 | 2.4 |
| Median | 11.0 | 2.8 |
|   |   |   |
| SFXE | EV | EV |
| Average | 1,147,431 | 867,181 |
| Median | 975,528 | 1,017,232 |
|   | Market cap | Market cap |
| Average | 935,209 | 654,959 |
| Median | 763,306 | 805,010 |
Source: Author's calculations
Based on a comps analysis, SFXE looks undervalued against its peers. Currently, SFXE, after raising debt this past year, is trading between 6x to 7x significantly below where its peers are trading. A quick look at Fig. 8 and we can see that SFXE's peers trade on average around 13x EV-to-EBITDA or at a median of 11x. Meanwhile, on an EV-to-Sales basis, SFXE is trading at 1.69x, while peers trade at an average of 2.4x or a median of 2.8x.
In sum
It has been a challenging year for SFXE investors. Delivery against Wall Street's great expectations has been nothing but poor causing the stock to whipsaw downwards each time the entertainment company announced earnings. At least part of the fault lies in Sillerman himself, a grand promoter whose track record and ability to sell a story to investors set the bar too high for the timing of EBITDA gains promised, particularly for the Qualified Marketing Arrangements (QMA). But there are plausible signs that the company is not a collapsing house of cards.
SFXE continues to demonstrate momentum in its Live events business improving both the amount and quality of revenues in its events. The upward trajectory of Direct operating expenses-to-total live events slowed considerably (see Fig. 5) providing tangible evidence that the company is making inroads in consolidating low margin events and that the investments in festivals is paying off. A check on the company's liquidity indicates to me that it still has room to maneuver so long as management delivers on its promise that its acquisition program and heavy investments are over.
And it is in this later area that I see the potential for the next twelve months. Management has stated that the company has completed its major acquisitions and has noted that they are now turning their attention to extracting synergies from the platform they have built. Most importantly, Sillerman indicated in the last 3Q14 conference call that the company completed "substantial work on many of the QMAs…but none of that has hit the income statement yet." With spending coming down and sponsorship EBITDA to be finally recognized, SFXE has an opportunity to surprise on the upside.
In a simplistic way, investors need to see the financial figures flaunted by management show up in the reported numbers. When this begins to happen, SFXE investors have a good chance to see multiple expansion occur, and while I don't believe that SFXE will trade inline with its comps in the next year it seems feasible that the company trade closer to 10x EV/Adj. EBITDA or at $7.42 per share according to Fig. 7. This would be a 68% gain from the company's current share price of $4.41. Not to mention that the company has a good chance to exceed my EBITDA expectations from a number of announced and likely events ranging from improvements in its Live events business, recognizing EBITDA from performance targets in its QMAs, to new partnership arrangements that were announced in the 3Q14. A more specific list was provided in Fig. 6.
As an investor, I'll be keeping my eyes out on cash flow from operations and dilution, but liquidity is strong and dilution should slow with less acquisitions. And while I have questions on the items that get jammed into EBITDA, I don't see any reason to doubt - for now - Sillerman and management's current accounting. After all, they have been pretty upfront about their expense and revenue recognition policies sticking to a more conservative approach on areas that could have been easily manipulated.
For now, I do see a team that is managing for the long-term and trying to create a sustainable business. A house of cards it is not, so I'll be hanging onto my SFXE shares through the next several quarters to see whether management can deliver the tremendous results they have been promising. There are definitely hints that the turning point is now truly around the corner and valuations suggest that the wait will be worthwhile.
Disclosure: The author is long SFXE.
The author wrote this article themselves, and it expresses their own opinions. The author is not receiving compensation for it (other than from Seeking Alpha). The author has no business relationship with any company whose stock is mentioned in this article.