Overview
RetailMeNot (NASDAQ:SALE) is a technology company offering digital coupons through its web site and mobile apps. Revenues are primarily derived from commissions paid by retailers whenever a sale is made as a result of a buyer utilizing a coupon. The company has contracts with over 10,000 paid retailers. Note: Data referenced in this article is as of December 26, 2014 unless otherwise stated.
Fundamental Analysis
As some readers may wonder why SALE's stock has been trending down over the past year, the company has been buffeted by a change to Google's search algorithm in May that negatively affected its visibility in search results. A Bloomberg article goes into more detail about this issue.
The big question is whether this is a temporary setback or a long-term negative for the company. During the third quarter ended September 30, 2014, SALE saw its revenue dip to $56.5 million from $59.5 million in the second quarter ended June 30, 2014. SALE has seen algorithm changes in the past so if one has faith that its technology team can adapt and recover the lost traffic, this situation presents a buying opportunity. Similar to newspapers and the yellow pages, some believe there is a long-term secular trend where coupons are migrating from a paper to digital format either on the Internet or on smartphones.
Financials
SALE has a solid balance sheet with $215.7 million in cash versus $61.1 million in total liabilities as of September 30, 2014. As a result, net excess cash is $154.6 million or $2.81 per share.
SALE is currently valued at an enterprise value to EBITDA multiple of 10.6x for the trailing twelve months ended September 30, 2014. Enterprise value is calculated at $665.1 million based on a market value of $819.7 million less $154.6 million in net excess cash. EBITDA of $63.0 million is calculated based on income from operations plus depreciation and amortization for the trailing twelve months ended September 30, 2014.
SALE does generate free cash flow as it is not a particularly capital intensive business. The following exhibits are SALE's cash flow statements for the years ended December 31, 2011 through 2013 as well as YTD figures for the nine months ended September 30, 2014.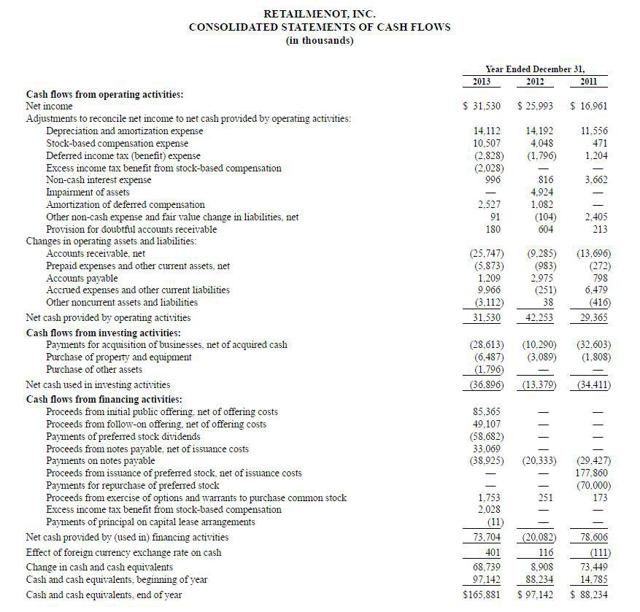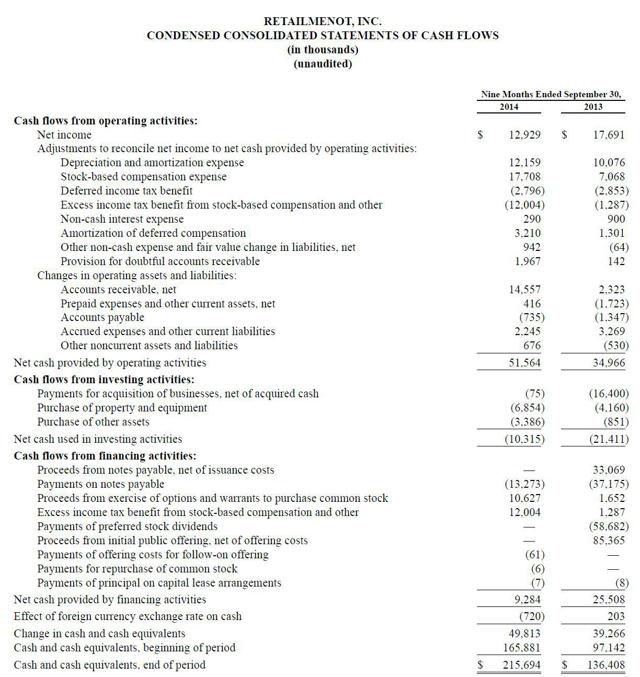 It is interesting to note that competitor, Coupons.com, has had negative operating cash flow during the years ended December 31, 2011 through 2013 and yet has a higher enterprise value of approximately $1,246.5 million (market capitalization of $1,383.3 million less $136.8 million of excess cash).
Technical Analysis
SALE's 52 week low and high are $13.29 and $48.73, respectively. Shares have been in a downtrend trend since February due to the expiration of a lockup after its initial public offering, concerns over Google's search algorithm changes, and SALE's disappointing guidance after reporting its third quarter results. The 50 day moving average is $15.67 and 200 day moving average is $22.55 providing resistance at these levels. Admittedly, the chart doesn't look pretty so scaling in would be recommended for risk averse investors.
Potential Catalysts
The fourth quarter is typically a seasonally stronger period for SALE, which correlates with the winter holiday shopping period. Analyst average estimates for revenue during the quarter ended December 31, 2014 are currently pegged at $86.1 million (source: Yahoo! Finance). The stock could run up in anticipation of fourth quarter results as it did last year. At the very least, tax loss selling should abate once 2014 ends.
There are also three different hedge funds/investors that have disclosed greater than 5% ownership of SALE's shares since October:
12 West Capital Management filed that it owned 5.3% of the company's stock on October 27, 2014.
Scopia Capital Management filed that it owned 11.7% of the company's stock on November 10, 2014.
Zhengxu He filed that he owned 7.6% of the company's stock on November 10, 2014. There is minimal information about Zhengxu He and whether this is for an institutional or personal account.
These investors could be setting the stage to take a more activist role, either publicly or behind the scenes, if SALE's stock continues to underperform.
It should be noted that SALE has a significant short interest with 5.8 million shares shorted as of December 15, 2014 equating to 10.5% of diluted shares. With the recent accumulation of shares by the previously mentioned hedge funds/investors, a short squeeze could materialize if the stock can manage a rally.
In addition, the company is searching for a new CFO after the previous one decided to step down at the end of November. Although the timing raises some question marks, this situation could end up being a positive catalyst if the new CFO can better optimize the company's expense structure given that expenses grew at a faster rate than revenues during the most recent quarter.
Recommendation
Buy 1/3 of intended position at current levels. Wait until next earnings report to assess whether to buy more shares.
Risk Factors
As mentioned previously, SALE generates a significant portion of its traffic from searches on Google so any additional changes made by Google to its algorithms could adversely affect its visibility to users of its coupons.
SALE also faces competition from other companies that could encroach on its turf. Within its 10-K, the company lists Coupons.com (NASDAQ:COUP), Groupon (NASDAQ:GRPN), Google (NASDAQ:GOOG), and PayPal/eBay (NASDAQ:EBAY) as other firms also offering digital coupons.
Disclosure: The author is long SALE.
The author wrote this article themselves, and it expresses their own opinions. The author is not receiving compensation for it. The author has no business relationship with any company whose stock is mentioned in this article.