This week's Barron's includes the publication's "Quarterly Guide To Mutual Funds," and I noticed something interesting on the "leaders and laggards" list. It seems as if both the best performance and worst performance for funds in the telecommunications sector are run by the same company: iShares.
Barron's
reports that the iShares Dow Jones US Telecommunications Sector Fund (NYSEARCA:
IYZ
) was the best fund in the sector, returning 4.82% for the quarter, while the iShares S&P North American Technology-Multimedia Networking Fund (NYSEARCA:
IGN
) lost 9.57%.
The thing is, though, Barron's isn't comparing apples to oranges. The IYZ ETF is certainly a telecommunications fund, but IGN is really more of a technology fund – and tech hasn't exactly turned in stellar performance lately.
Before I get into some of the specific holdings of these ETFs, let me make a general suggestion to the
Barron's
editorial team. I don't think ETFs belong on a list that compares mutual funds. They may provide a decent benchmarking reference, but what's most valuable about a list like this is to see which fund managers are making the best decisions, not which baskets of passive indexed holdings performed best. For example, in the "science and technology" sector, the best fund performance came from the Buffalo Science & Technology Fund – up about 3%. One reason is that this actively managed fund included stocks like Forest Labs (NYSE:
FRX
) and Gilead Sciences (NASDAQ:
GILD
) – healthcare stocks you generally won't find in an average tech fund. These nuances get lost when mixing mutual funds and passive ETFs.
Anyway, looking at IYZ, you can see that its core holdings includes what you'd expect in a telecom ETF: Mostly telecommunications companies like Verizon (NYSE:
VZ
), AT&T (NYSE:
T
), etc.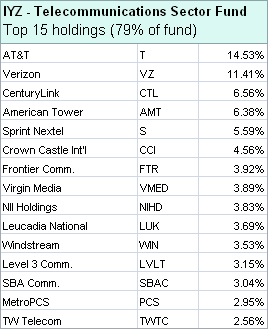 As for IGN, do you see any telecommunications companies on this list?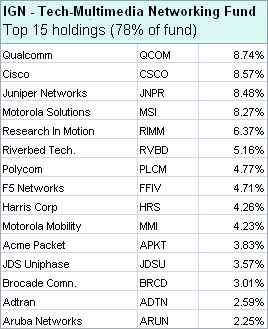 Well, sort of … maybe, but you'd have to use your imagination. You've got a lot of companies that make communication equipment on this list, but are Cisco (NASDAQ:
CSCO
) and Juniper (NYSE:
JNPR
) really telecommunications companies? And if Research In Motion (RIMM) is going to be on this list, shouldn't Apple (NASDAQ:
AAPL
) be there too? Speaking of RIMM, this one stock was a disaster this quarter – down 49%. CSCO was no picnic for its shareholders either, dipping 9% in the second quarter.
In my recent article on the new
SKYY
cloud computing ETF, I showed how the smaller stocks in that fund outperformed the larger ones. Could that be what happened to the IGN ETF this quarter? To a certain extent, yes. As an example, what if you happened to buy the IGN ETF at the beginning of the quarter, while simultaneously shorting the top five stocks in the fund? Here's a chart that shows the performance of this strategy.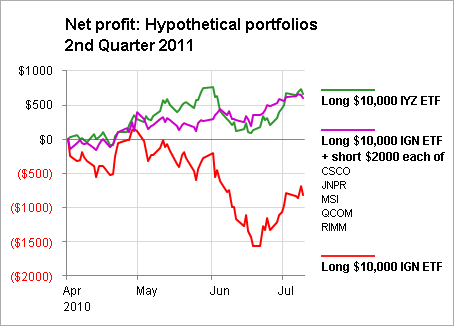 As you can see, this trade would not have turned in amazing performance, but it would have kept up with the "real" IYZ telecom ETF.
IGN and IYZ are completely different types of funds, so I think the way Barron's compared them is misleading. The IGN Multimedia Networking Fund fund may have been a good idea at the time it was launched, but it doesn't really reflect "networking" or "multimedia" as much as it used to. IYZ, on the other hand, includes the traditional telecom stocks you'd expect to find in a fund in that category and has a pretty decent yield of about 2.45%. Plus you don't have to worry stocks like RIMM and CSCO, which really aren't telecom stocks at all -- at least in my view.