Our Manitowoc (NYSE:MTW) story got spun on its head Monday; Carl Icahn now owns nearly 8% of the company and wants a split up of its crane and food equipment businesses. This comes after Relational Investors took an 8.5% stake in the crane/food equipment company over the summer. But in October, Relational announced it was abandoning all its activist campaigns due to founder Ralph Whitworth's medical issues. At the time of Relational's abandoned campaign a couple months ago, we noted:
Bulls have to remain hopeful that there's a possibility for another activist to step in and takeover. We're also not fans of the cyclicality in this market, where if the market correction-dip-pullback-sell-off-etcetera continues then the MTW sell-off will follow.

There's value in the company if it can attract a new activist and the long-term opportunity to grow its crane business thanks to the ever rise in energy infrastructure. But we believe the near-term pressure could continue.
Well, Icahn has rode in on his black stallion. But the one issue is that since we said this back in October, shares are up 28%.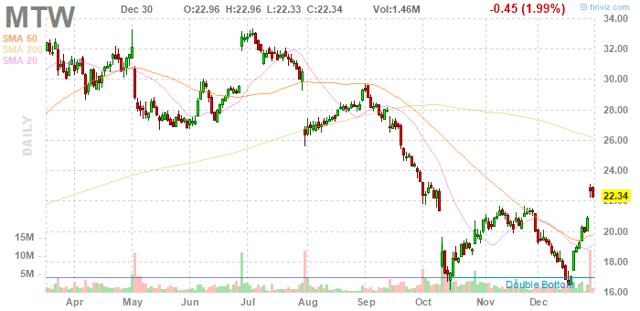 Manitowoc was defending its combined crane/food equipment business model to Relational when its shares were in the high $20s. Now, with its shares in the low $20s, it might be ready to reconsider.
Even though Manitowoc's stock price has taken a beating of late, management will likely keep fighting to keep the company together. It believes the food equipment business is necessary to offset the volatility in the crane business.
When we last covered Manitowoc, the oil and gas market was in a boom and the demand for cranes in this market looked to be a big positive. Now, with the oil and gas industry in flux given the decline in price prices (read: less demand for cranes in the oil and gas industry), there's even more reason to defend Manitowoc's structure, as it needs its food equipment business now more than ever.
Recall that Manitowoc spent nearly $3 billion just over five years ago to buy the food equipment company Enodis. The move was in reaction to the increasing cyclicality of the crane business.
Why we still don't like Manitowoc
I would argue that the two businesses don't really offer any synergies. Sure, it provides some cushion from cyclicality, but the argument can be made that maybe the conglomerate structure is leading the market to undervalue Manitowoc's food equipment business. But with the company trading at 18x forward earnings, it's hard to argue anything is being undervalued.
Manitowoc's food equipment business is heavily tied to the restaurant market (where restaurants account for over two-thirds of that segment's sales). We don't like the increasing volatility in this market, where consumers are becoming more fickle and less loyal. What's more is that the food equipment part of Manitowoc's business carries most of the debt given the Enodis buyout.
Then there's the volatile crane business that will be even more volatile over the next year if oil prices remain depressed. On a standalone basis, Manitowoc's crane business would be a pure play on the U.S. infrastructure market. However, spinning it off in the current environment will be tough. And finding a buyer is unlikely, where major players like Caterpillar (NYSE:CAT) aren't interested in the crane business (think: CAT has a network of dealers that sell new equipment, but the majority of crane business is done to rental companies).
In a quick back-of-the-envelope calculation, we think the company is already trading near fair value. Although the crane/food equipment business is more of a 60/40 revenue split, the food equipment business is higher margin and generates just over half of the operating earnings. Assuming Manitowoc can generate $1.50 in EPS for 2015, and using an 18x earnings multiple for its food equipment business and 12x for the cranes, the combined value is only around $23/share.
Where we stand
Its 11x forward EV/EBITDA is still at multi-year highs and the sum-of-the-parts valuation isn't compelling. We like to own stocks that one - have a catalyst and two - if that catalyst doesn't work out the downside is limited as it has a sound business model (read: would you want to own either Manitowoc business individually?). The initial surge in Manitowoc's stock over the last week has taken a lot of the upside out of a breakup announcement. Assuming there's no breakup, we wouldn't be comfortable owning Manitowoc's crane business and slow-growth food equipment business in the current market environment.
Disclosure: The author has no positions in any stocks mentioned, and no plans to initiate any positions within the next 72 hours.
The author wrote this article themselves, and it expresses their own opinions. The author is not receiving compensation for it (other than from Seeking Alpha). The author has no business relationship with any company whose stock is mentioned in this article.