The sell-off in the price of crude has been brutal, especially to the share prices of almost all of the companies connected to the energy sector. While the market has made no effort to differentiate those companies minimally affected by lower crude or will even be more profitable - a topic for another day - the worst carnage, and possibly the most interesting, has been in the upstream producers - the energy E&P companies. For the upstream MLPs sustainability of current distribution rates boils down to two questions. How effective will hedging derivatives function to support short to intermediate term cash flow? And what will happen with the price of oil from here and how will that impact the longer term profitability of these companies?
For the first question, I believe that the upstream MLPs like Linn Energy LLC (LINE) (and LinnCo (LNCO), BreitBurn Energy Partners LP (BBEP), Vanguard Natural Resources LLC (NYSE:VNR), Memorial Production Partners LP (NASDAQ:MEMP) and Legacy Reserves LP (NASDAQ:LGCY) will be able to maintain distributions through 2015 even at a very low price of crude. For evidence, take a look at this chart provided by Legacy Reserves during its presentation at the Wells Fargo 2014 Energy Symposium on December 9.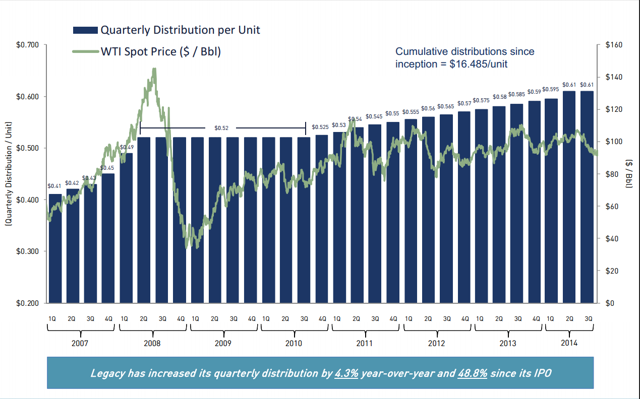 The 2008 to 2010 section of the chart shows how the hedged, upstream MLP model can handily survive a sharp drop in the price of crude followed by a two to three year price recovery. For the upstream MLPs, fourth quarter/January distribution announcements will start in earnest in January.
For the second question, I will reference the crude oil production forecasts from the Plains All American Pipelines' (NYSE:PAA) Analyst Day held in June. During the meeting Plains provided its estimates of U.S. and North American crude oil production growth through 2018. While the new well completion production growth numbers are now seriously in doubt, there are some parts of the data that can still shed a light on what will happen to the price of crude oil in 2015 and beyond.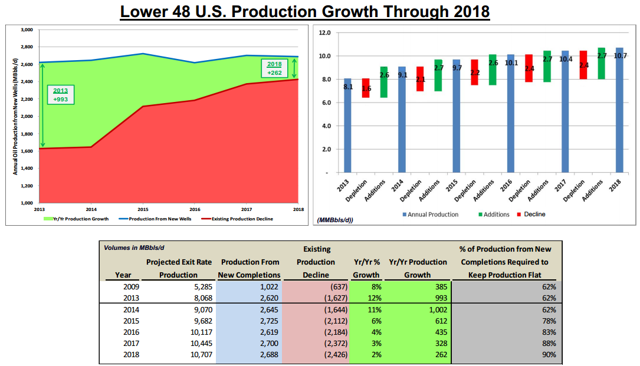 The interesting information on the charts and tables is how much new production is required to offset the decline rate of producing wells. In 2015, oil drilling companies must add 2.6 million new barrels per day of production to produce a net increase of 600,000 bpd by the end of the year. Put another way, almost 80% of the projected new crude production in 2015 would go to replace the decline from existing wells. Past 2015, using the PAA numbers, the portion of new production that replaces decline rate losses grows by about 5% each year.
These numbers show that a drilling activity reduction of as little as 20% would turn year-over-year production growth into a decline. It does not require a massive reduction in energy E&P capital expenditures to reverse the U.S. oil and gas production growth, which has been a major factor leading to the drop in the price of crude. That 600k bpd of 2015 production growth that was estimated back when oil was $95 per barrel is not much different from the midpoint of the estimates on the global oversupply vs. demand that I have read.
From these figures, my thoughts are that the estimates of $50 to $60 oil for much more than half to three-quarters of 2015 are closer to myth than accurate projections. A small pullback in drilling activity by U.S. producers will in short order bring supply and demand much closer to a balance, or even put supply on top. Then there are the unknowable effects of low crude prices on places like Libya, Venezuela, Iran, Iraq or Nigeria. A civil, military or economic disruption in one or more of these energy dependent governments will send the price of oil very quickly upward.
Upstream MLPs Oversold in Relation to Oil Price Visibility
With the drop in the price of crude, the upstream MLPs such as LINE, BBEP, VNR, MEMP and LGCY units have sold off 50% to 70%. Yields are now well above 20% based on the most recent distribution rates. The unit price drops have been viewed as the signs of near-term distribution reductions. Yet all of these companies have hedged production enough to support the current distribution rates through at least all of 2015. Right now, I think a buy-and-hold will pay off very well over the next couple of quarters as we find out exactly how these MLPs will adjust their operations in reaction to lower energy prices. I expect that massive distribution cuts are not part of the plans going forward.
Disclosure: The author is long LGCY, LNCO.
The author wrote this article themselves, and it expresses their own opinions. The author is not receiving compensation for it (other than from Seeking Alpha). The author has no business relationship with any company whose stock is mentioned in this article.