The Russian ruble may continue to fall in 2015 as declining oil prices and inflation pressures lead to economic contraction. The ruble has already declined nearly 50% against to U.S. dollar since September, pulling back from lows of 80% declines, as is seen in the chart below.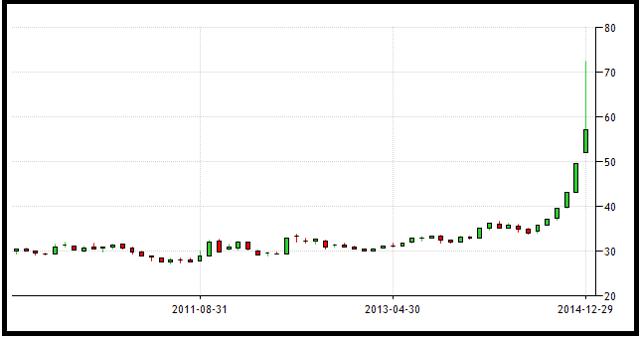 Data provided by Trading Economics
Russian policymakers now fear that the drastic decline in the value of the ruble will lead to inflation pressures next year. Last Friday, Russian Economy Minister Alexei Ulyukayev warned that inflation measures could spike higher over the next few months.
"The inflation forecast is tough, high. We forecast the level of 10% at the end of [2015]. Inflation would remain in double digits throughout 2015, peaking at the end of the first quarter or in the second quarter," Ulyukayev said in a report by Reuters.
Currently, annual inflation measures are just under 10%. In November, the inflation figure came in at 9.1%, above the previous month's reading of 8.3%, as well as exceeding estimates for 8.9%. The pace of annual inflation has risen from under 4% in 2012, to now just below 10%, as is seen in the chart below. The cost of food and services are mainly contributing to the figures rise.
"Year-on-year, high upward pressure came from food and non-alcoholic items [+12.5%], with sugar posting the highest increase [+20.8%], followed by cereals and vegetables [+20.5%] and meat and poultry [+18.2%]. Housing, water, electricity and gas prices grew at a faster 8%, mostly driven by a rise in water cost [+13.9%] and an increase in rent prices [+13.1%]," according to a report by Trading Economics.
It is never a good sign when the price of water is increasing by over 10% in a given month.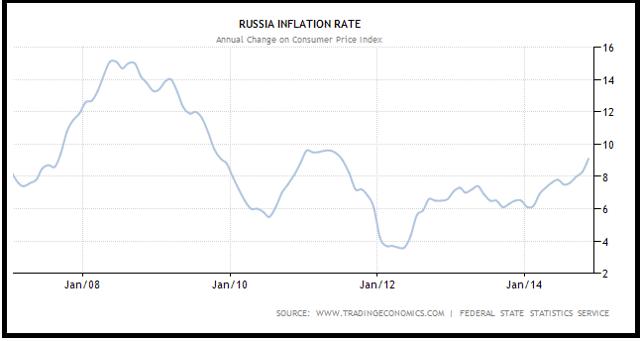 Data provided by Trading Economics
Meanwhile, the pace of economic growth is also expected to decline in coming months. Finance Minister Anton Siluanov said last week that he sees the Russian economy contracting in 2015.
"The Russian economy could contract by 4 % next year, its first contraction since 2009, and that the budget could have a deficit of more than 3% of gross domestic product if oil prices average $60 a barrel. Also, without doubt, we will have to bring the Reserve Fund into play [referring to one of Russia's two rainy-day funds intended to support the economy at times of crisis]," Siluanov said in a report by Reuters.
As of now, the economy continues to grow, but has slowed in recent quarters. Annual economic growth in the third quarter came in at 0.7%, below the previous quarter's reading of 0.8%, while in line with estimates for 0.7%. Since growing at an annual pace of nearly 5% in 2012, the figure has now fallen close to 0%, as is seen in the chart below. The growth figure was mostly driven by "manufacturing and transport sectors" in the most recent quarter, according to Trading Economics.
The Russian economy could be headed for more troubling times in 2015 as economic growth recedes, alongside spiking inflation measures. As the price of oil remains low, and the West continues to impose sanctions, Russian economic activity looks to have little upside potential. For this reason, expect the ruble to lag its foreign counterparts over the next few months.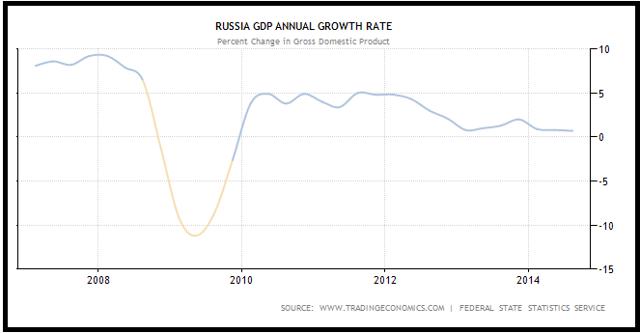 Data provided by Trading Economics
Disclosure: The author has no positions in any stocks mentioned, and no plans to initiate any positions within the next 72 hours.
The author wrote this article themselves, and it expresses their own opinions. The author is not receiving compensation for it (other than from Seeking Alpha). The author has no business relationship with any company whose stock is mentioned in this article.