The current low rate interest environment is adversely affecting financial institutions of all kinds. Companies within the industry are forced to generate earnings from other places as they await an increase in both short and long term interest rates. In the meantime, Regions Financial (NYSE:RF) has been focusing on loan growth, expansion of its credit card portfolio, returning capital to shareholders, and improving asset quality. After a year of growth comparable to the S&P 500, RF must continue to grow these other aspects of its business to increase the value of its stock until rates rise.
Loans and Deposits
For loans, consumer lending grew 2% sequentially while business lending also grew 2% in the quarter and now stands at 4% growth YTD. A large driving factor for consumer lending is indirect auto lending. A business segment that has been prospering due to the thriving domestic automobile market. Further growth in this area is anticipated. On the company's Q3 Conference Call, CEO Grayson Hall has forecasted that overall loan growth for the year will come in at the lower end of the 3% to 5% range; This was the guidance provided earlier in the year by management. While it may be disappointing to end up in the lower end of guidance, the figure still represents solid growth for the year. Deposits grew pretty modestly by $308 million, or less than 1%. It should be noted that the growth isn't great but it's operating off a large base of $93.8 billion.
Credit Card
Regions' credit card portfolio is a relatively young aspect of the company but one that has management excited. It was formed in 2011 when the company purchased $1 billion worth of accounts from FIA Card Services. Having this segment allows Regions to diversify its business so it's not purely a retail bank as it has been in the past. Growing this portfolio is exactly the kind of thing the company needs to do to boost its ancillary profit drivers until rates rise.
Credit Card balances increased 2% from Q2 with a 4% increase in active users. CFO David Turner has forecasted the growth in balances to continue in the short term. Management has done a good job of prudently expanding this portfolio by focusing on further penetrating its existing user base rather than acquiring new customers. On the Conference Call, CFO David Turner said that the company's marketing efforts "have primarily targeted (its) existing customer base." This is wise because it is easier and arguably more effective to tailor advertising toward those already in business with the bank. This is especially true since customer service and satisfaction has been a core focus of the Regions 360 initiative launched by Hall. RF's successful customer service efforts will result in customers being much more willing to open a credit card account with the bank. Regions' penetration rate for its credit card is up 200 basis points from last year and now stands at 15%.
Capital Distributions
Despite facing a tough economic environment, RF has been returning cash to shareholders. The company has increased its quarterly dividend each of the last two years. In Q2 2013, Regions increased the dividend 300% from $0.01/share to $0.03/share, then a year later bumped it again to $0.05/share. Both of these increases were announced shortly after its Q1 earnings report. DailyFinance.com estimates that the Q12015 report will be released on January 20th. Of course, any dividend increase will have to be approved by the Fed in its annual Comprehensive Capital Analysis and Review (CCAR). The capital plans of each bank must be submitted to the Fed by January 5th. The 2014 CCAR resulted in RF's plan of the dividend hike and $350 million buyback seeing approval from the central bank. Fortunately for investors, as of the Q3 Report, management had not yet bought back any of the shares it is allowed to from the market. Regions reported its 3rd Quarter results on October 21st, while shares were languishing at its lowest levels of 2014. The stock was hovering around $9.25 then, but it now trades at about $10.75/share. On the CC, Turner said that Regions will begin the buyback shortly. In all likelihood, the company's patience throughout the year paid off and shares were repurchased at the lowest price possible for the year. The YTD chart is provided below: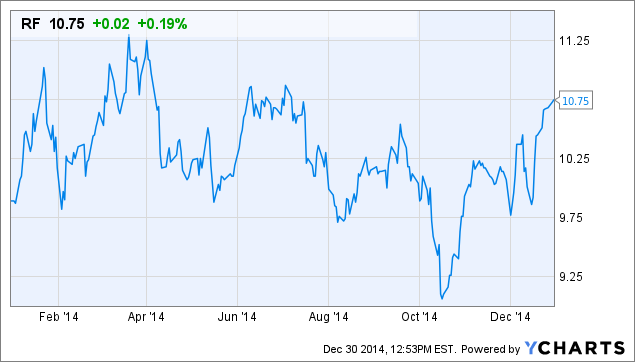 Asset Quality
Another focal point for Regions since the Great Recession has been increasing its asset quality. RF has seen material improvement in several of its asset quality metrics sequentially:
NPLs decreased 7%
Loan-loss allowance to NPL coverage ratio increased from 137% to 141%
Total delinquencies fell 4%
Troubled debt restructurings dropped 7%
The company believes most of this improvement was driven by refinancing and paydowns. Both criticized and classified loans also decreased since Q2. These metrics are obviously very important for a bank and will help increase profitability in the long run. Turner forecasted that favorable asset quality trends will continue.
Analyst Opinion
Individual investors have a varying perspective on how analyst opinion should factor into their decision making. While many have extreme values on the worth of professional opinion, I believe that it is definitely worth taking a look at. Especially when sentiment is overwhelming skewed in one direction, a lot of implications can be drawn. According to The Wall Street Journal, the consensus rating of RF is "overweight", with 11 of the 30 analysts covering the stock assigning a "strong buy" rating. The consensus rating among analysts is actually relatively disconcerting to me given current market conditions. The financial sector is at the top of a lot people's lists for investment ideas due to the impending rate increase. The fact that 13 analysts following the stock have assigned a "hold" rating most likely means that there are other financials higher on their lists. Again, analyst opinion is very subject to interpretation and not absolutely indicative of the stock's past or future performance. Just something for investors to think about if they prefer to account for professional opinion.
Conclusion
Regions Financial has been approaching the low interest rate environment correctly by making every effort to improve other areas of its company. Solid loan growth, credit card portfolio development, shareholder distributions, and asset quality have been the epicenter of management's attention. Grayson Hall and the rest of his management team have done a good job of moderately improving each of those segments. RF is poised to enjoy a significant boost in profit on top of the $0.22/share earned this past quarter once rates rise. There are many potential plays within the financial sector in anticipation of higher rates and RF will certainly be one of the winners. The growth here is not overwhelming but it is providing a sturdy base that can be improved on over time. For me, Regions is a Buy heading into 2015.
Disclosure: The author is long RF.
The author wrote this article themselves, and it expresses their own opinions. The author is not receiving compensation for it (other than from Seeking Alpha). The author has no business relationship with any company whose stock is mentioned in this article.