By Todd Shriber & Tom Lydon
Despite the fervor surrounding Alibaba's (NYSE:BABA) September initial public offering, 2014 has been a disappointing year for exchange traded funds with exposure to Chinese Internet stocks.
The silver lining in that scenario is that investors can scoop up ETFs such as the KraneShares CSI China Internet Fund (NYSEARCA:KWEB) and the Powershares Golden Dragon Halter USX China Portfolio (NASDAQ:PGJ) at favorable prices in anticipation of a significant 2015 rebound by Chinese Internet stocks.
BitAuto Holdings (NYSE:BITA) and Vipshop Holdings (NYSE:VIPS) "may both advance an additional 32% in the next 12 months, according to average analyst estimates compiled by Bloomberg," according to an article written for the news agency by Belinda Cao and Elena Popina.
KWEB, the lone U.S.-listed ETF devoted exclusively to Chinese Internet stocks, allocates about 7.2% of its combined weight to Vipshop and Bitauto. The ETF has traded slightly lower this year. PGJ, the PowerShares offering, is not a dedicated China Internet ETF, but the fund does allocate a combine 58% of its weight to the technology and consumer discretionary sectors. That includes a 10% combined weight to Vipshop and BitAuto.
While KWEB and PGJ have struggled this year, more traditional China ETFs with large weights to state-controlled enterprises have jumped amid rallies for those stocks, particularly financial services shares. For example, the iShares China Large-Cap ETF (NYSEARCA:FXI), the largest China country-specific ETF, is up 8.5%.
Still, market observers see companies with exposure to the Chinese consumer, such as those held by KWEB and PGJ, as favorable plays for investors in 2015.
"China's 632 million Internet users still represent less than half of the country's population, whose middle class was estimated at 200 million people by Alibaba Chief Executive Officer Jack Ma. Government data indicate the user total could rise to 850 million by 2015," according to Bloomberg.
Much of the 2015 potential and promise for China Internet ETFs will boil down to Alibaba's ability to impress investors. The stock is KWEB's largest holding at 10% of the fund's weight. Although Alibaba is not currently a member of PGJ's lineup, it could be in the future and it is unlikely that the ETF would rally in significant fashion if Alibaba languishes.
The average analyst price target on Alibaba is just over $120 with two analysts forecasting prices of at least $130. The stock currently trades around $106.
The newly minted Emerging Markets Internet & Ecommerce ETF (NYSEARCA:EMQQ) is another idea for investors to consider in the search for Chinese Internet exposure. EMQQ, which debuted in November, is not a dedicated China ETF, but the Emerging Markets Internet & Ecommerce Index devotes a significant portion of its weight to Chinese Internet names, including Alibaba, Tencent Holdings (OTCPK:TCEHY), JD.com (NASDAQ:JD), Baidu (NASDAQ:BIDU) and Vipshop. Those stocks combine for a third of the index's weight.
Nearly 30 of EMQQ's holdings are Chinese companies. EMQQ's underlying index allocates a combined 7.5% to Vipshop and BitAuto.
KraneShares CSI China Internet Fund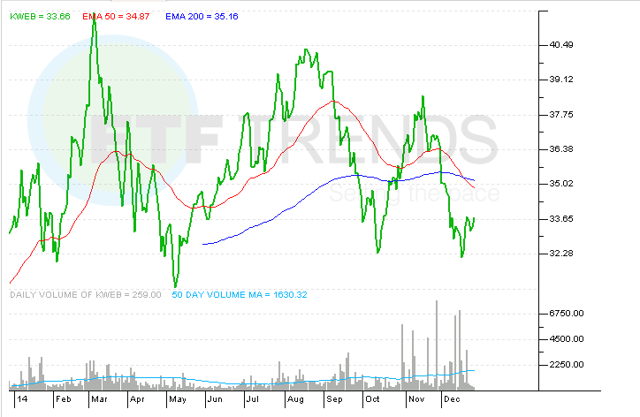 Todd Shriber owns shares of Alibaba.
Disclosure: The author has no positions in any stocks mentioned, and no plans to initiate any positions within the next 72 hours.
The author wrote this article themselves, and it expresses their own opinions. The author is not receiving compensation for it. The author has no business relationship with any company whose stock is mentioned in this article.