The euro is under pressure as political strife, and a weak economy in Greece threatens stability in the currency bloc. CurrencyShares Euro Trust (NYSEARCA:FXE) has fallen almost 13% since May, as is seen in the chart below.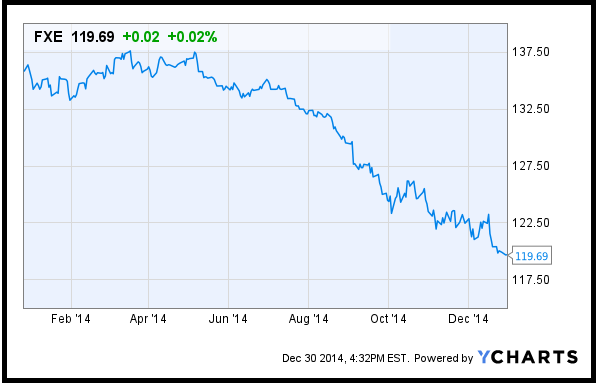 Political strife in Greece over the last month threatens stability in the euro area. On Monday, parliament in Greece failed to elect a president with majority vote, which forced a snap election for January 25th. Financial markets are unnerved as the new potential ruling party could renege on austerity conditions set forth during its bailout.
"The reason for this collective outbreak of nerves is that the polls point to an election win for Syriza, the far-left Populist Party led by Alexis Tsipras. Although Mr. Tsipras says he wants to keep Greece in the euro, he also wants to dump most of the conditions attached to its bail-outs, ending austerity, reversing cuts in the minimum wage and in public spending, scrapping asset sales and seeking to repudiate much debt. Such a program seems, to put it mildly, to sit uncomfortably with Greece's continuing membership of the singe currency," according to a report by the Economist.
Although austerity led to advances in economic growth, low inflation and unemployment levels continue to affect the masses. In the most recent quarter, annual economic growth came in at 1.9%, above the previous quarter's reading of 0.4%, as well as surpassing estimates for 1.7%. Since the depths of the crisis in 2010, annual growth has rebounded to nearly 2%, from a 10% contraction, as is seen below.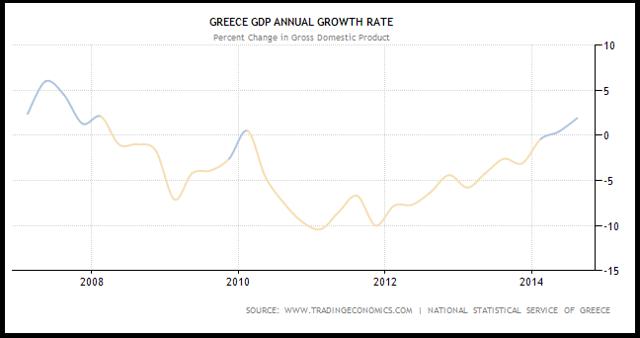 Data provided by Trading Economics
Meanwhile, contracting inflation and a high unemployment rate weigh on Greece's population. In the most recent month, Greece's unemployment rate stood at 25.7%, slightly down from the prior month's revised reading of 26%. But since the financial crisis in 2008, the rate of unemployment has grown from just above 5%, to now being above 20% for the last few years. The lack of jobs is weighing on people of all ages, while harming pressures for wage growth, and thus keeping inflation muted. Youth unemployment is close to 50%.
"The youth unemployment rate was recorded at 49.8% in September of 2014, down from 57.3% in the same month of the previous period. It is the highest rate among age groups," according to Trading Economics.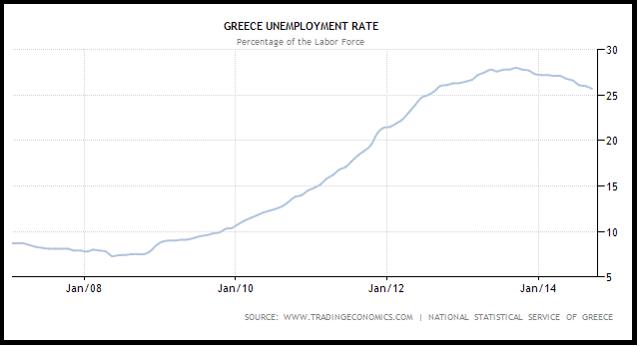 Data provided by Trading Economics
Lastly, as wage pressures remain muted, inflation has continued to contract. In November, the annual pace of inflation came in at -1.2%, above the previous month's reading of -1.7%, but missed forecasts for -0.56%. Inflation has fallen from nearly 6% in 2010, to around -2% throughout most of 2014, as is seen in the chart below.
While Greece is only a concentrated part of the euro area, its problem is not isolated. Youth unemployment and tepid wage pressures are concerns for many countries in the periphery. While growth has rebounded somewhat, it does not tell the complete story of the masses that still suffer. The current environment in Europe should create instability in 2015, and continue to be a headache for policymakers, weighing on the strength of the euro.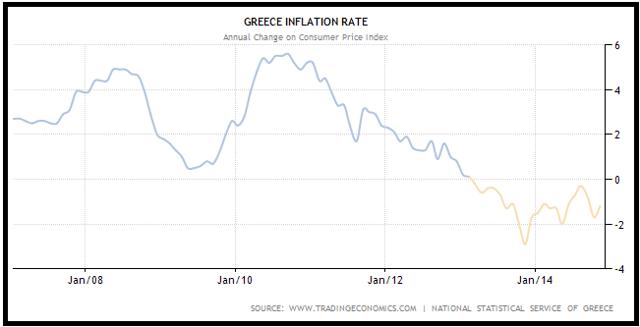 Data provided by Trading Economics
Disclosure: The author has no positions in any stocks mentioned, and no plans to initiate any positions within the next 72 hours.
The author wrote this article themselves, and it expresses their own opinions. The author is not receiving compensation for it (other than from Seeking Alpha). The author has no business relationship with any company whose stock is mentioned in this article.