The U.S. dollar may advance further next year as metrics for economic growth and real wages have yet to fully recover from the financial crisis, even as consumer confidence spiked higher. PowerShares DB US Dollar Index Bullish (NYSEARCA:UUP) is up over 12% since July, as is seen in the chart below.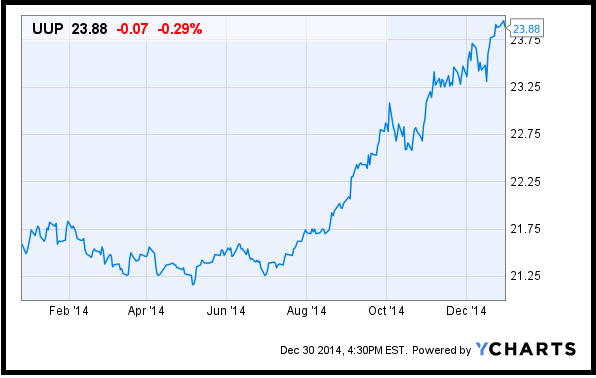 Consumer confidence recovered strongly in 2014, leading to financial market optimism. In December, the Reuters/Michigan Consumer Sentiment figure came in at 93.6, above the previous month's reading of 88.8, as well as exceeding estimates for 93.5. Since reaching lows of under 60 in 2008, the confidence figure has risen to over 90 now, as is seen in the chart below. Analysts believe "lower gas prices" and a stronger labor market are responsible for the increased optimism among consumers.
According to Trading Economics,
[Consumer confidence] reached its highest reading in nearly eight years as lower gasoline prices drove expectations up. The final gauge of consumer expectations increased to 86.4 from a preliminary 86.1 and 79.9 in November. Meanwhile, the one-year inflation expectations decreased to 2.8% in December from a preliminary 2.9%, but were unchanged from the previous month.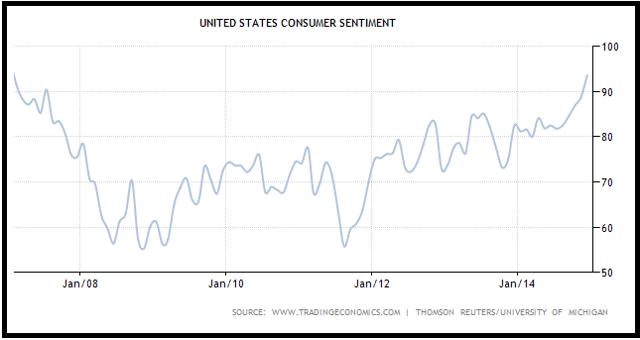 Data provided by Trading Economics
While consumer optimism is on the rise, economic growth and labor wages still have room to grow. In the third quarter, the GDP-per-capita figure grew by an annual pace of 1.86%, above the previous quarter's reading of 1.75%. The figure essentially measures economic growth, divided by population, as a way to gauge how much economic output is being produced per person. While the figure has risen from its -4% contraction levels seen during the financial crisis a few years ago, the current pace of growth is still well off peak pre-financial crisis levels of nearly 3%, as is seen in the chart below.

Data provided by the Federal Reserve
While economic growth has room to improve, so do real wages. In November, the pace of annual real wages came in at 0.92%, down from the previous month's reading of 0.94%. While real wage growth recovered from its depths of -1% contraction during the financial crisis, it is growing at half the pace seen prior to the crisis, as well as less than a third the pace during the late 1990s, as is seen in the chart below.
Economic growth and real wage measures are improving, but there remains room for more recovery. The annual pace of growth in both measures are well off pre-financial crisis levels, signaling the true health of the U.S. economy may not be as rosy as many headline figures present. With room for economic growth, the U.S. dollar may similarly have further upside potential in 2015.

Data provided by the Federal Reserve
Disclosure: The author has no positions in any stocks mentioned, and no plans to initiate any positions within the next 72 hours.
The author wrote this article themselves, and it expresses their own opinions. The author is not receiving compensation for it (other than from Seeking Alpha). The author has no business relationship with any company whose stock is mentioned in this article.