Regardless of what certain pundits and investors say, gold still has room to run. Below are some of the reasons I believe GLD and gold will have a great run into the end of 2011.
The European debt crisis is far from over and the U.S. Dollar is not very appetizing. Italy, which holds monstrous amounts of debt compared to Greece, seems like it is ready to take the spotlight (and their notoriously corrupt government will be much harder to deal with). The Euro will get smashed when the EU can no longer delay dealing with its problems. Over the last year, when the Euro became unattractive, money has tended to travel to the USD. However, the U.S. is dealing with debt problems of its own. The U.S. Congress has no real plans on how to deal with it. They are still trying to schedule meetings to make plans to deal with it. My thought process is that when funds exit the Euro and the USD is unappealing, gold is the next logical safe place to store value. There are other destinations, such as equities and bonds, but with their relationship to the U.S. government I feel they are less attractive than independent gold.
Inflation may become more than a lingering issue throughout the world. While Bernanke has been able to maintain some control over the rate of change in goods and services, countries with huge GDPs such as China and Brazil are having trouble. Gold can be used to hedge against the inflation by investors. The Chinese have been encouraged by the government to buy gold for years, this will only spur more demand from one of the most populous countries on earth, as the inflation rate stays above 6.0%. Foreign governments and large financial institutions will most likely hold their gold positions or add, due to the currency problems in the near future stemming from the Euro and USD. Gold can be used as a currency, although it is a commodity, when fighting with inflation. Commodity price inflation (food and oil) should also continue to grow, gold will follow / lead, while currencies become less valuable comparatively; basically-- if you can't beat them, join them-- buy gold.
The U.S. debt ceiling
The problems faced by the U.S. government are not going to be an easy fix, especially with a stubborn Congress. The Dollar has been weak, but its downturn may not be over. Investors will be looking to avoid holding cash and American equities while the problem is solved. Over the last few years, it has been obvious that when investors are risk averse, the first choice is to buy gold. Just think, one more negative headline from Standard & Poor's about the U.S. debt rating could bounce gold 75$/ounce in a day. If QE3 is coming, and some are expecting it this fall, then gold may be a safe vehicle to ride out the currency storm.
Indian wedding season
Indians are one of the largest buyers of gold, and it is a well known fact that Gold performs well from September to December.
Mainly I think a currency crisis is brewing worldwide, and gold will be a safe place to store value. The Euro and USD are fundamentally weak, and inflation is nearly out of control due to huge stimulus packages and low interest rates that aren't helping struggling economies. Gold should be the crutch to lean on for a while.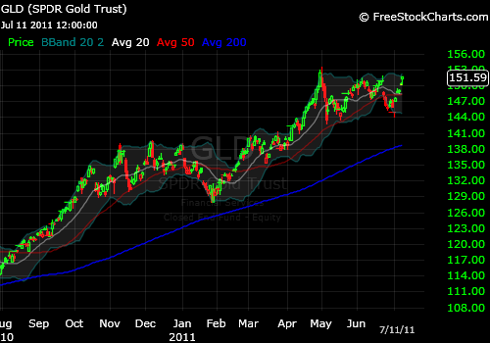 Disclosure: I have no positions in any stocks mentioned, and no plans to initiate any positions within the next 72 hours.