The concern for some solar investors going into December was that solar stocks were being unfairly sold off in sympathy with plunging oil prices. The problem of course is that little of the world's electricity, especially in the U.S., is even generated by oil anymore. The linkage does not make sense. Even as late as two weeks ago, pundits and analysts were still making the same mistake. For example, this quote comes from TheStreet.com, December 12, 2014 in "Solar Stocks Fall Into Bargain Territory as Oil Prices Plunge":
While many stocks are affected by low energy prices - for instance, airline stocks benefit from lower fuel prices - solar stocks trade more in immediate tandem with the energy sector as investors consider the overall cost of energy. So, if crude oil prices are getting close to their nadir, the bottom of the solar stocks' slide will likely come sooner than later.
December has produced some solar-oil relief. The Guggenheim Solar ETF (NYSEARCA:TAN) - an ETF of solar stocks listing SunEdison (SUNE), First Solar (NASDAQ:FSLR), and SunPower (NASDAQ:SPWR) as some of its largest components - sharply decoupled from plunging oil prices in December. While oil continued to decline, TAN essentially held flat.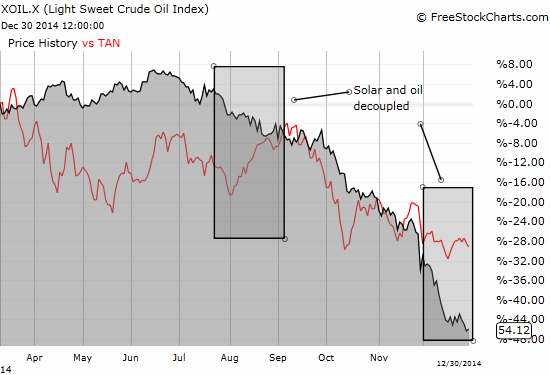 As a group, solar stocks are not simply trading in lockstep with oil prices
Source: FreeStockCharts.com
In early December, I suggested that tax-loss related selling is a more likely culprit than plunging oil prices for solar's losses. December's stabilization is the result of a notable bounce from mid-December that may already represent some of the comeback I was anticipating for January. It could also be sympathetic buying in conjunction with this year's "Santa Claus" rally. The bounce also happened to coincide with the latest announcement in the US-China solar tariff war. In this round, the Commerce Department finalized a July preliminary ruling that imposed/increased tariffs on Chinese and Taiwanese solar products. On January 20, 2014, the International Trade Commission (ITC) will render a final decision on approval or disapproval of the trade actions.
Regardless, I have proceeded with a trade in anticipation of a January relief rally that starts to reverse losses incurred before December. The bounce going into year-end has forced me to hedge more heavily than I originally intended: there is a chance that the relief rally has already ended. To guide the positioning, I looked at sentiment on my main equities of interest: FSLR, Canadian Solar (NASDAQ:CSIQ), and TAN. I decided on a final configuration shorting shares of TAN and CSIQ; and going long call options on CSIQ and FSLR. Price data come from FreeStockCharts.com. All other data come from Schaeffer's Investment Research (click the links for the specific references).
First Solar
Stock price: The December low was a fresh 14 to 15-month low. FSLR has already bounced 10% off that low.
Analysts: Essentially split evenly between bears and bulls.
Put/call open interest: Open interest is at its highest point of the year and reaching the highs of 2013. These heights have been achieved with a large spike in open interest that occurred AFTER FSLR's December low.
Short interest: Shares short are back to lows of the year and are down about 60% from two years ago. Short interest is 12% of float.
Assessment: I am surprised that shorts have been backing off FSLR. I would have at least expected shorts to press bets into on-going share weakness. I interpret this action as mildly bullish. With traders rushing for puts over calls AFTER a major low, I prefer the contrarian trade that anticipates a continuation of the bounce. The 50/50 split with analysts generates no clear trade opportunity but strong disagreement is good for sentiment: there is no excess of bullishness or bearishness. FSLR is the fulcrum of the entire January relief rally trade.
Canadian Solar
Stock price: The December low represented a fresh 14-month low, and it cracked important support at the previous 2014 low. Like FSLR, CSIQ has already bounced 10% off its low. As shown in the last post, CSIQ looks like it has topped out for now given the stock failed to break through important overhead resistance levels earlier this year.
Analysts: VERY bullish: 4 strong buy and 1 buy recommendation. No neutrals. ZERO bears.
Put/call open interest: Open interest has bounced ever so slightly off a 52-week low.
Short interest: Shares short near highs of the year with the previous high set just in November. Shares short have increased 137% in two years. Short interest is 13% of float.
Assessment: I am very wary of the bullish consensus of analysts. CSIQ is vulnerable to earnings surprises and event risks. The lack of bearish revisions in the face of the steep price decline off this year's highs may indicate sentiment is overly bullish and subject to downward revisions in the near future. The low put/call open interest means investors have little protection in place in case of such surprises and are thus vulnerable to selling.
With this context, I am inclined to join the gathering short interest as a suitable hedge to the FSLR position. However, since CSIQ has a very low P/E and P/S (P/B is still at 2), it is not clear how much more downside remains in the very short-term. Call options are in place just to protect against an extreme, company-specific upside surprise. Over a longer horizon, CSIQ is very vulnerable to a change in fundamentals given a 577% run-up in 18 short months.
Guggenheim Solar ETF
Stock price: The December low did NOT make a fresh intraday 2014 low as support held. TAN is only up 3% from those lows.
Analysts: N/A
Put/call open interest: While open interest has spiked after the recent low, it is still well-off its high for 2014. The December low in stock price coincided with a 52-week low in open interest.
Short interest: Shares short are approaching the high of the year set around April. Current short interest is up 209% from 2 years ago and is 29% of the float. Most of the increase in short interest occurred right after TAN made its high for 2014 which was also a 2 1/2-year high.
Assessment: I started thinking shorting TAN is a perfect hedge for First Solar bullishness. FSLR is also 8% of TAN's current holdings. Seeing how well shorts timed their decision to increase positions, I am further inclined to join even with the exceptionally high percentage of float. Given TAN is an ETF, it is not subject to the kind of extreme upside risk as a single company. Its largest holding, SUNE, is 12% of assets. Even if SUNE doubled overnight, TAN would gain just a modest amount. A short on TAN is an adequate broad hedge on the entire solar sector continuing its sell-off in January.
Wildcard: Solar City (SCTY)
If January starts off well for solar as I am expecting, I plan to add SCTY shares and/or call options into the mix. (I may also add more FSLR call options). SCTY has strong name recognition and should be a favorite for traders who want to ride a resurgence of solar names.
Wildcard: Chinese solar plays
Given most Chinese solar plays were able to bounce along with the rest of solar and the general stock market despite the U.S. tariff ruling, I am on alert to watch how they trade going into the January 20th ITC ruling. I am NOT interested in shorting any of them, but will look for reasons to buy, especially if the ITC rules against the U.S. Also on my radar is Hong Kong based, recent IPO Sky Solar (NASDAQ:SKYS).
The stock has had a wild rollercoaster ride since it priced at $8 on November 13 after an initial range of $10-12. On the second day, the stock ranged from $9 to $13. On December 22, the company made a series of important announcements including its intentions to enter the Chinese solar market and the securing of major financing for various solar projects. The stock soared 61% that day and now investors are suddenly willing to pay the company's original IPO range again.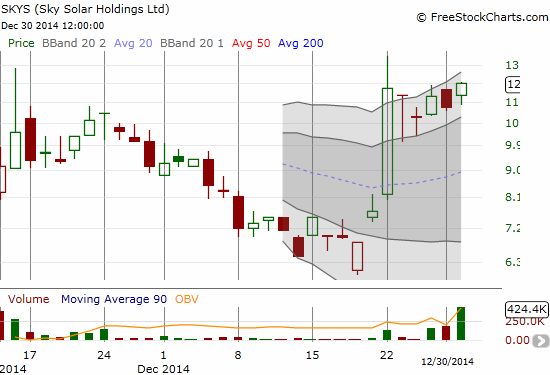 The current sharp run-up for SKYS follows a sustained and deep decline. The stock now needs to show some kind of stabilization before the next run-up.
Source: FreeStockCharts.com
Success versus Failure
This entire strategy could fail if First Solar does not lead the charge for a January comeback. Position-sizing is also a risk and may require fine-tuning as the trade unfolds: I recommend anyone else attempting this trade to create the positioning that aligns with your own risk tolerance and ability to make adjustments. On the downside, the hedges work particularly well if a sharp sell-off resumes in January. While I am assuming this is not the likely scenario, I will be watching for signs a sell-off will resume after January once earnings have been reported. Thus, it is possible I will continue to hold the short side even if the net trade returns a gain in January.
Be careful out there!
Disclosure: The author is long FSLR, CSIQ.
The author wrote this article themselves, and it expresses their own opinions. The author is not receiving compensation for it (other than from Seeking Alpha). The author has no business relationship with any company whose stock is mentioned in this article.
Additional disclosure: Complete positioning, conditions, structure, and caveats explained in the article.