The residential solar sector has been making headlines in the solar industry. In recent quarters, residential solar growth has outpaced that of the commercial and utility solar sectors. Although residential solar has firmly established itself in the solar industry, the dynamics within the residential sector are not so clear cut.
Ever since industry leader SolarCity (SCTY) has arrived on the residential scene, residential solar growth has absolutely exploded. The company's success has drawn a myriad of followers both large and small. Despite SolarCity's overwhelming success, there have been constant clamorings of the company's demise at the hands of smaller, more localized companies. This brings up the general discussion of how the large residential companies compare to the smaller, more regional solar companies.
The Trend
Against all superficial intuition, the larger residential solar corporations have been absolutely ripping market share away from smaller residential firms. As a prime example of this trend, SolarCity had initially started out with less than 10% of residential solar market share. Within just a few years' time, SolarCity has gained up to 40% of the market share. What is even more surprising is that this market share consolidation is not even close to slowing down.
A graphical representation of SolarCity's historical market share. Notice that momentum for market share consolidation is actually speeding up for the company.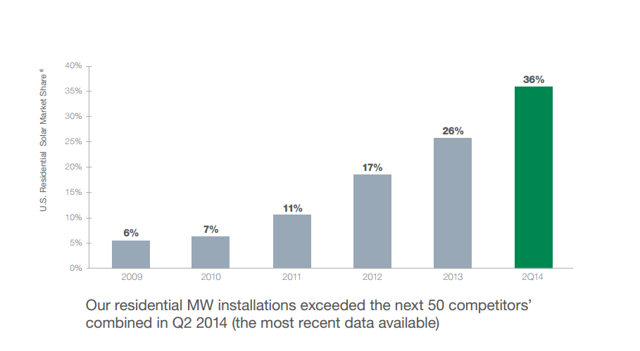 Source: SolarCity
In the 3rd quarter alone, SolarCity added about 3% more market share. Vivint Solar (NYSE:VSLR), the second largest residential solar company, has a similar story. A few years ago when the Vivint Solar was just starting out, the company barely even registered on the solar scene, with a market share in the low single digits. Going three years into the present, Vivint Solar now commands approximately 15% of the market share. This means that the top 2 residential solar installers have more than half of residential solar's market share.
Advantages of Larger Corporations
Because the residential solar industry is focused on the installation aspect of solar, many people assume that since other installation industries (notably the HVAC industry) are dominated by local firms, the residential solar space would naturally do so too. Despite the superficial similarities between the residential solar industry and other installation industries, this assumption breaks down under closer examination.
One key difference between residential solar and other installation businesses is the cost of residential solar products. While the products of most installation industries, such as air conditioners, roof tiling, etc, usually cost in the low thousands, a complete solar system averages around $20k-$30k. Because of the huge costs associated with solar, residential solar companies oftentimes offer lease/ppa/loan products in addition to just pure installation services. In fact, the physical installation aspect is only a smart part of a residential solar companies complete business portfolio, as an overwhelming majority of customers choose some sort of long-term financing option for their solar panels as opposed to cash transactions.
Because of the large costs associated with financing solar systems, residential solar companies are forced to emphasize finance, where larger companies thrive because they can attain capital at much lower costs. This financing aspect alone puts larger corporations like SolarCity or Vivint Solar in a huge advantage over smaller competitors. SolarCity, for instance, recently announced a $400M financing deal with Bank of America Corporations. This kind of financing would be impossible for regional solar firms.
Another major advantage that larger corporations hold over smaller firms is the economies of scale that come with size. A larger corporation has much greater purchasing power for panels or supplies. While larger companies may get cheaper prices for bulk deals, smaller companies will undoubtedly be stuck with something close to market price. In addition, large residential companies' sales and acquisitions costs will also be lower due to more effective advertising ability. There are many more small advantages that come with size, which eventually all add up to a sizable profit margin differential of large firms over smaller firms.
Finally, larger residential companies have the advantage of being able to vertically integrate across the value chain. This not only reduces logistics costs, but also allows for organized cost reduction roadmaps, which would be impossible without the entire value chain under one umbrella. It would not be feasible for a local residential firm to have the resources to vertically integrate, and terribly impractical to coordinate the cost reductions needed to be competitive without vertical integration.
Misconception
The largest misconception in the regional versus large corporation debate is that regional installers have the knowledge advantage in terms of local permitting and zoning laws. There is no reason for this to be true as large installers such as SolarCity essentially have employees stationed at permanent/semi-permanent stations.
It does not make sense to think that these SolarCity employees would know any less about the local landscape than an employee of the regional company. In fact, given SolarCity's market share, it is highly likely that it will be the dominant force in the majority of locations even against regional firms. This would suggest that SolarCity employees could be even more knowledgeable about the local playing field than even the most regional firms.
Conclusion
Large residential solar corporations have a clear advantage over their smaller counterparts. Despite the constant analysts' predictions of regional firms taking market share from larger firms, the opposite has been happening. In 2013, according to many analysts, 2014 was supposed to be the year where larger residential corporations started ceding market share back to smaller firms, and yet the exact opposite is happening with market share consolidation actually speeding up at the top. Now critics have pushed this date back to 2015, yet the evidence increasingly still shows that 2015 will also be characterized by consolidation. This makes for a perfect time to invest in large residential solar companies such as SolarCity and Vivint Solar, as they have huge upside in the current residential solar environment.
Disclosure: The author is long SCTY.
The author wrote this article themselves, and it expresses their own opinions. The author is not receiving compensation for it (other than from Seeking Alpha). The author has no business relationship with any company whose stock is mentioned in this article.