We believe investors should consider accumulating Leucadia National (NYSE:LUK) as its shares are trading at an 18.55% discount to book value. Although LUK's business units have put up underwhelming performance recently, we believe its shares should be worth its adjusted projected Q4 2014 book value of $27.87 due to its liquid balance sheet. LUK shareholders enjoyed an impressive period of growth in its shares from 1979 to May 2008 under its former Chairman Ian Cumming and its former President Joseph Steinberg. Unfortunately, LUK's shares generated a negative total return of 57% decline since peaking at $56.90 in May 2008 due to the mediocre and volatile performance of its business units since then. As part of a succession plan, LUK acquired the 72% of Jefferies Group that it did not already own and Jefferies' CEO Richard Handler became LUK's new CEO while Jefferies' President became LUK's new President.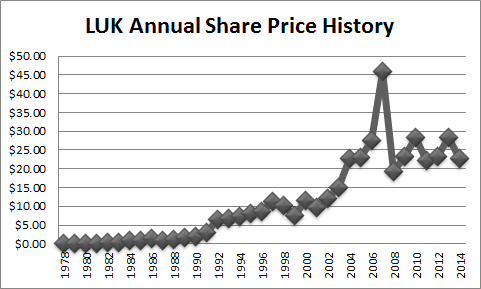 Source: Bloomberg LP
LUK's business units are comprised of the following:
Jefferies Group LLC: Jefferies is a well-known, well-respected investment bank and institutional brokerage firm.
National Beef Packing LLC: LUK owns 78.9% of National Beef, which is one of the largest beef processing companies in the U.S.
Other Operations, which consist of its timber, plastic products, energy products, and asset management operations.
Associated Companies, which consists of its significant minority equity ownership stakes in businesses that it has not consolidated on its balance sheet.
Jefferies Group LLC: LUK closed its acquisition of Jefferies Group on March 1, 2013. LUK issued $4.75B of its stock to acquire the 72% of Jefferies that it did not already own. Jefferies is LUK's largest business segment as measured by assets ($44.5B) shareholder's equity ($5.6B) and reported pre-tax profits ($316.6M).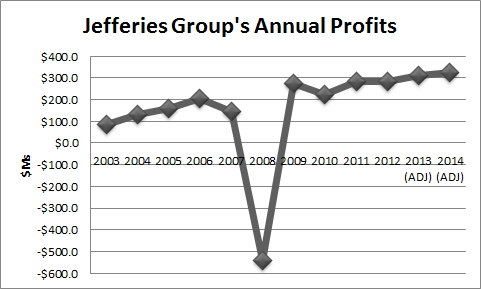 Source: Jefferies Group's 2003-2013 Annual Reports and Q4 2014 Earnings Release
Jefferies generated 3% revenue and adjusted profit growth in FY2014 as sharply increased investment banking revenue from increased capital raising, capital markets and financial advisory activities more than offset principal transaction revenues associated with soft fixed income trading markets. Jefferies' adjusted Return on Tangible Equity in 2014 was 9.8%, which is underwhelming and well below our implicit cost of capital (11%) as well as many of its brokerage and investment banking peers.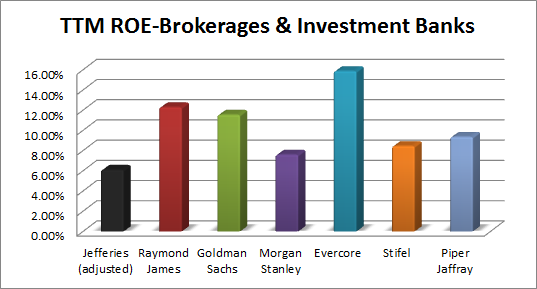 Source: Morningstar Direct
Jefferies has $919M in excess net capital as of August 2014, down from $1B when we first took a position in it. $84M of Jefferies' $919M in excess net capital belongs to its Jefferies Bache commodities and financial derivatives brokerage operations. The bad news is that Jefferies Bache lost nearly $210M in the last two years, which explains why Jefferies is exploring strategic alternatives for the unit.
National Beef Packing Company, LLC: National Beef accounts for approximately 14.5% of the 2013 federally inspected steer and heifer slaughter as reported by the United States Department of Agriculture. LUK acquired control of National Beef at the end of FY 2011 for $943M in cash from its former owners U.S. Premium Beef, LLC and NBPCo Holdings, LLC. U.S. Premium Beef still owns 15.1% of National Beef, NBPCo Holdings still owns 5.3% and TMK Holdings owns 0.7%. In hindsight, we think LUK made a mistake in paying the equivalent of 20X pre-tax profits for a beef processer was not the best use of shareholder assets.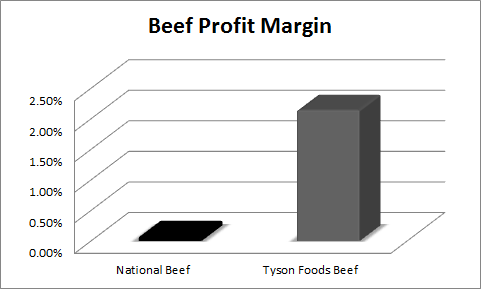 Source: MRQ Reports for Leucadia and Tyson Foods
National Beef is LUK's largest business segment in terms of revenues, accounting for 67% of LUK's net revenues in YTD 2014. Unfortunately for LUK, National Beef's revenue has stagnated in its ~3 years of control and its pre-tax profits sank from +$59M in 2012 to a pre-tax loss of -$92.6M in the trailing twelve months ending in September 2014. This was because of fewer cattle processed; higher sales prices received for its beef products, a $63.3M impairment charge in Q4 2013 for closing its Brawley, CA facility, higher costs paid for live cattle and Wal-Mart (NYSE:WMT) discontinued using National Beef as a vendor for consumer-ready products in 2013. National Beef earned $4.8M on $5.9B in revenues in YTD 2014, which resulted in a net pre-tax margin of +0.08%. This pales in comparison to the +2.15% profit margin of Tyson Foods' Beef Division (NYSE:TSN), which is the largest publicly traded meat processor in the United States.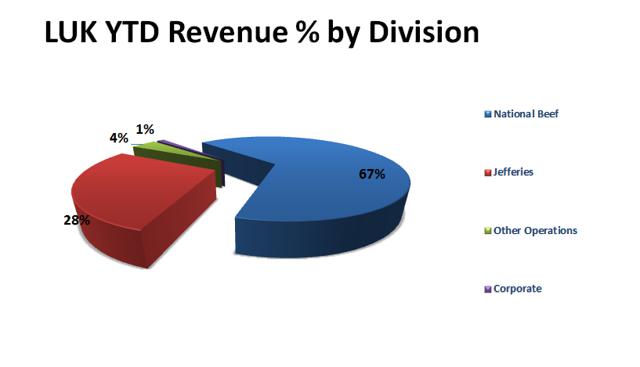 Source: MRQ 10-Q Report for Leucadia
Other Operations, Corporate & Associated Companies: LUK earned $40.5M in YTD 2014 from its other wholly owned businesses (versus $10M of losses in YTD 2013), incurred $152.3M in net losses from its corporate operations and earned $84.3M in net income from its associated companies (companies in which it holds a 20%-50% voting interest in). Included in these results was a $22.7M gain from the sale of an equity interest.
On November 26, LUK invested $64.5M in Harbinger Group (NYSE:HRG), which increased its stake to 23% of the company. As part of the transaction, Phil Falcone stepped down as chairman and CEO of Harbinger and former LUK President Joseph Steinberg succeeded him as chairman. A search for a new CEO is underway. In 2013, LUK took an initial stake in Harbinger for $8.50/share and doubled down in March 2014 at $11/share.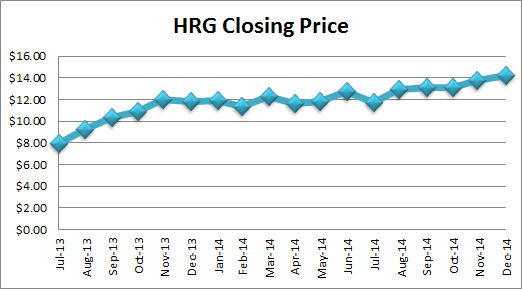 Source: Morningstar Direct
Although LUK's oil and gas exploration business represents a small portion of its revenues ($5.9M in Q3 2014 and $7.8M in YTD 2014), the recent decline in oil prices has piqued our interest in this segment. Earlier this year, LUK announced that it would not proceed with the development of the Lake Charles project that would have used gasification technology to convert low-grade fuel fossils into clean-energy products. At least the wind-down costs were financially immaterial. LUK's Oregon liquid natural gas project incurred $5.4M in losses during the first nine months of 2014, down from $10.8M in YTD 2013. Oil is not the only energy source that saw its prices decline this year. According to the U.S. Energy Information Administration and Bloomberg, the natural gas spot price declined from $6.24 per million BTU on February 21 to $3.05 on December 22.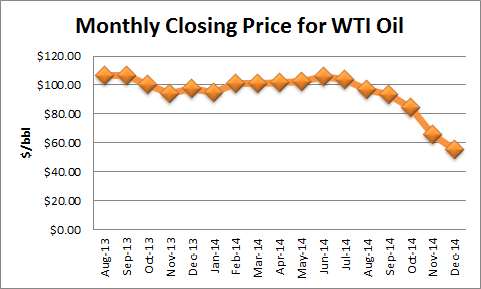 Source: United States Energy Information Administration
Fund Holders: Notable institutional investors in LUK include the following:
Fairholme Capital Management:15.1M shares, 4.09% of LUK's outstanding stock
Beck, Mack & Oliver: 7.8M shares (2.11%)
JANA Partners: 7.2M shares (1.95%)
Ruffer LLP: 6.7M shares (1.83%)
Soros Fund Management: 4.3M shares (1.16%)
Horizon Kinetics LLC: 3.6M shares (1%)
Third Avenue Management: 3.1M shares (0.84%)
Sentry Select Capital: 3.07M shares (0.83%)
In addition to its institutional shareholder base, its four largest past and present executive officer shareholders own 14% of LUK.
LUK's price to book ratio of 0.8 is well below the 1.6 of Berkshire Hathaway, the average brokerage firm as measured by Morningstar, and other diversified "Baby Berkshire" conglomerates that such as Harbinger Group, Fairfax Financial and Markel. Granted, this current relative value discount to its peers is currently justified as LUK's annualized ROE of 3% is much lower than its peers however, we expect LUK to take steps to improve its returns on invested capital. One such step of note is its discussions with other firms to potentially sell off its money-losing Bache futures brokerage business. This would help LUK boost returns to investors by improving its bottom line and by freeing up additional capital for superior potential investment alternatives, or for dividends and share repurchases.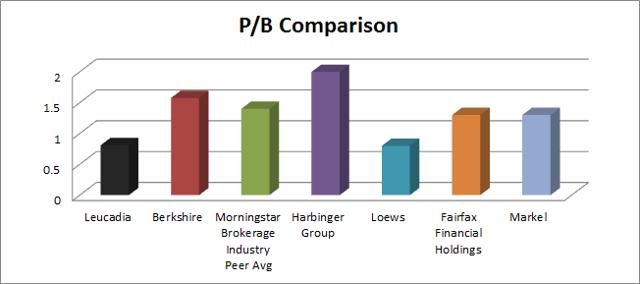 Source: Morningstar Direct
In conclusion, LUK is a company that investors should follow and accumulate shares in, particularly because it is widely held by many well-respected value investors. LUK had a long record of adding value to shareholders in excess of the S&P 500. While its recent results have been mediocre, we do not believe that this is permanent, especially because its new management has some notable success with its investments in Knight Capital (KCG Holdings) and Harbinger Group. Investors should take a second look at LUK because its share price is currently trading at an 18.55% discount to its book value. Although LUK's annualized ROE of 3% is very low, investors should not expect this to persist forever.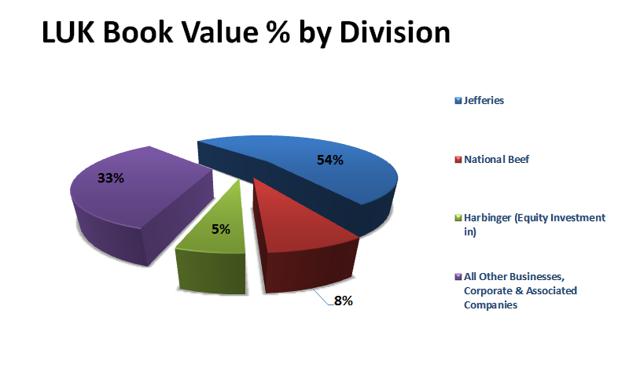 Source: MRQ 10-Q Report for Leucadia
Disclosure: The author has no positions in any stocks mentioned, and no plans to initiate any positions within the next 72 hours.
The author wrote this article themselves, and it expresses their own opinions. The author is not receiving compensation for it (other than from Seeking Alpha). The author has no business relationship with any company whose stock is mentioned in this article.