Well, 2014 is almost over and it has been an eventful year. I experienced an "unplanned early retirement" and I wrote a series of articles explaining how I was adjusting my investment portfolio to begin coping with my new reality. This adjustment mainly consisted of rolling my 401k over into an IRA and investing that capital according to a well considered investment plan. I also began making some adjustments to my taxable account. Today, I want to give an end of the year report card describing how my decisions have worked out. It has not yet been a full year, but I think this investment journey deserves an end of the year update.
If this is the first time you are reading one of my articles, I suggest you go back and read "Unplanned Early Retirement, Part 1" to get the background on my situation. You might also want to read Parts 2, 3, 4, 5, 6, 7, and the series conclusion depending on which types of investments interest you.
My 401k to IRA Rollover action plan consisted of asset allocations and specific dollar targets for each security within each asset class. I was looking for positions that either had dividend growth with a current yield of 3% or 4%; in the absence of dividend growth, I wanted yields in the 5% to 6% range or higher. I allowed myself some flexibility on these rules for the sake of diversification. I avoided positions that might generate foreign taxes or otherwise would make no sense in a tax deferred account. My final asset allocation plan, as executed in January and February 2014, was as shown in the following table: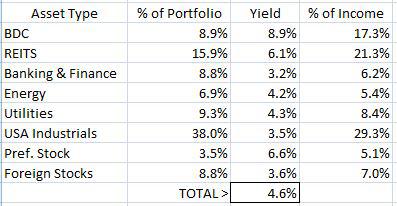 It has been a little less than 11 months since I transferred my 401k into a rollover IRA. So, how is my strategy working? Remember, I would like to grow my current income, and in doing so I expect I will also grow my total portfolio capital value, especially during the near term when I am still able to do my automatic dividend reinvestment.
From the time I transferred my 401k until today, the sum total of the account including reinvested dividends is up 14.2%. For comparison the Dow is up 13.95% and the S&P500 is up 16.6%, so I am still doing okay as far as capital preservation and growth. My current income, however, is much better than either the Dow or the S&P500. As of today, my current yield is about 4.9% in spite of the capital growth, but my yield on the cost of my original investment has already reached almost 5.6%. I expect this number to continue to grow quickly due to my continued dollar cost averaging on reinvested dividends and the fact that many of my stock choices have a history of growing their dividends every year. Compounding plus real dividend growth equals accelerating income.
The next table shows my initial detailed investment plan as executed with the actual percentages for each ticker symbol. This is my best estimated snapshot in time as there was a little bit of variation day to day. You can see each symbol, the percentage of my portfolio invested in that symbol, and the grouping I placed each symbol in. You can also see my summaries for each grouping including the percentage of the portfolio dedicated to each group, the combined dividend yield for that group, and the percentage of my annual dividend income that each group comprised.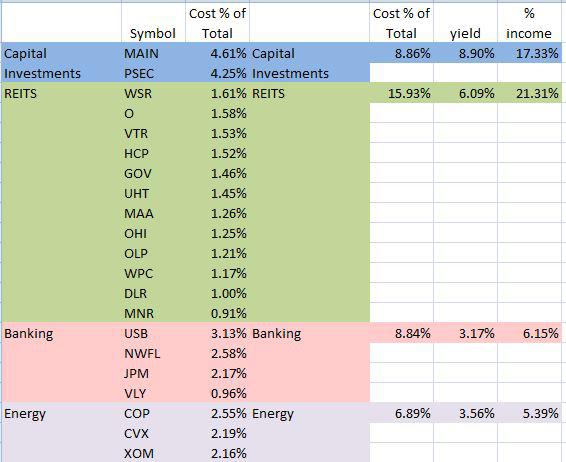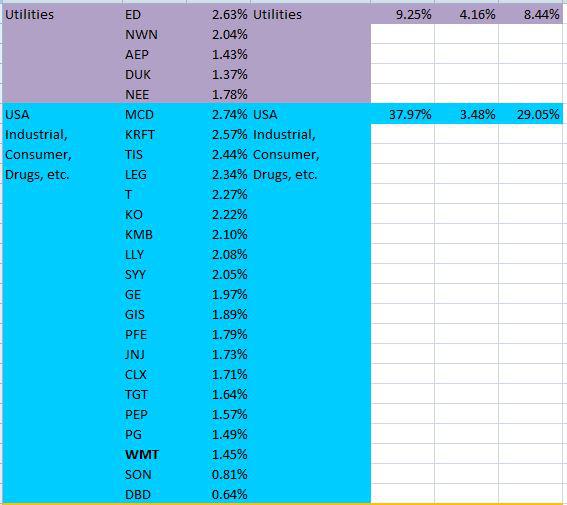 I thought I had a pretty good plan as I explained in my previous articles, but not everything works out the way you want it, so adjustments become necessary from time to time. My investing philosophy tells me to sell when I no longer believe the investment proposition. One way I evaluate that is to ask myself whether I would be a buyer at this price and under this new set of conditions. If I think buying more of a certain stock is a bad idea, then I might consider selling some of it. In some cases, I may sell some off the top of a high flyer to get cash for what I think is a better investment. In other cases, I may sell to avoid losses when I decide my original reasons for investing were either wrong, or based on a different set of conditions. Thankfully, I do not have to sell often. I am an investor not a trader; nevertheless, my portfolio looks somewhat different 11 months into this journey than it did 1 month in. Check out the next table to see what has changed.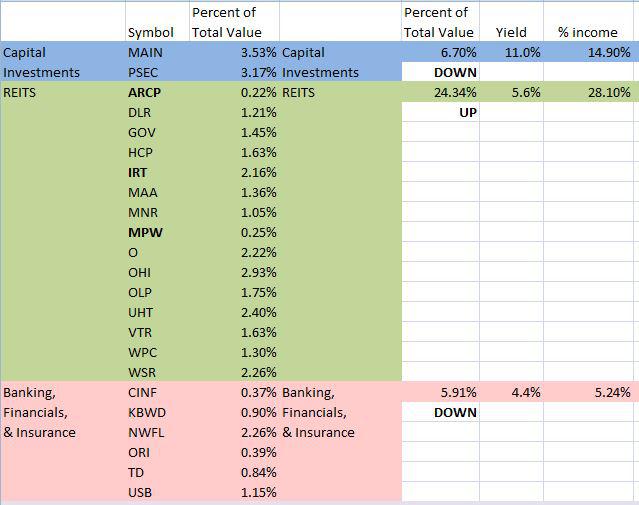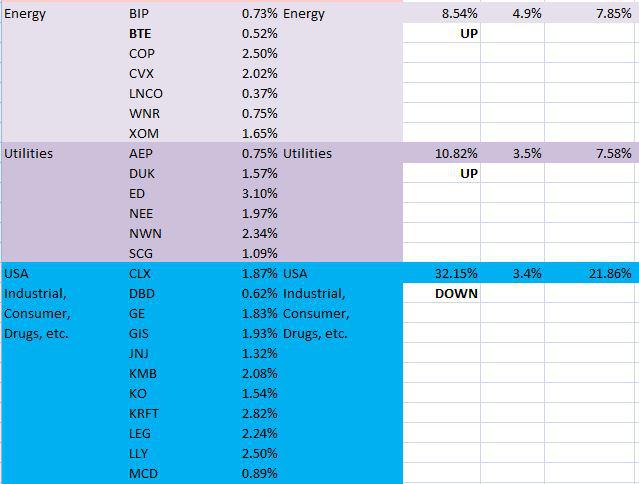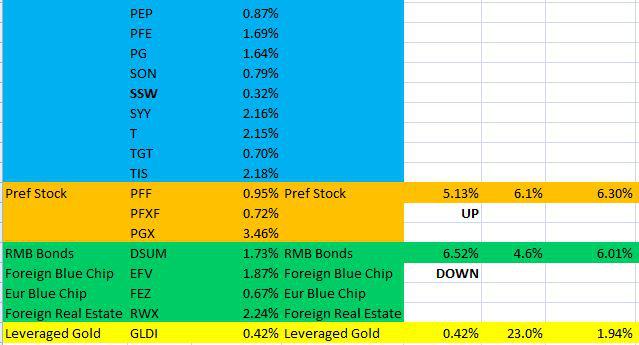 As you can see, the relative percentages have changed from the original plan. Some categories are up while others are down. This is to be expected. Some investments grew faster than others. Some dividends are bigger than others and these investments may get a little out of balance due to the continued dividend reinvestment. In some cases, I shifted a little money from one category to another to take advantage of perceived opportunities. In other cases, I used strategic selling of options to generate a little cash for investing. This allowed me to buy a few new positions without having to sell old ones. Overall, I find this strategy has worked, but in my limited experience it is a lot of effort for a relatively small return.
My biggest disappointment has been the capital I put into business development corporations, particularly Prospect Capital (NASDAQ:PSEC). I have not sold any of these assets out of my IRA, but they are down significantly. I remain more optimistic than most of the comments I read, but I am watching them closely. I have actually cut my overall holdings in PSEC by selling some out of my taxable account and reallocating that cash into municipal bond CEFs, particularly Invesco Value Municipal Income Fund (NYSE:IIM). I have also put my PSEC dividend reinvestment on hold for now and will redeploy that large monthly cash payout elsewhere.
I have added three more REITs - American Realty Capital Properties (ARCP), Independence Realty Trust (NYSEMKT:IRT), and Medical Properties Trust (NYSE:MPW). I added a few financial services companies such as Toronto Dominion Bank (NYSE:TD), Cincinnati Financial Corp. (NASDAQ:CINF), and Old Republic International (NYSE:ORI), along with one financial fund, PowerShares KBW High Dividend Yield Financial ETF (NASDAQ:KBWD). I added one more utility, Scana (NYSE:SCG), in support of my home state. I got rid of Wal-Mart (NYSE:WMT) and put Seaspan (NYSE:SSW) in its place. I diversified my preferred stock holdings a little by adding Market Vectors Preferred Securities exFinancials ETF (NYSEARCA:PFXF) and iShares US Preferred Stock (NYSEARCA:PFF). I also added a leveraged gold fund, Credit Suisse Gold Shares Covered Call ETN (NASDAQ:GLDI), for the high yield, but I only added a very small amount since I am not terribly convicted of the premise. The idea for these additions came from various sources including the commentary at the bottom of my own articles. For those who read and are kind enough to impart their wisdom, I thank you.
You can see that I also went out on a limb with small investments in energy companies such as Brookfield Infrastructure Partners LP (NYSE:BIP), Baytex Energy (NYSE:BTE), and Linn Co LLC (LNCO). I think BIP is a long term holding that I can probably own for life. On the other hand, I have been burned by LNCO before and it appears to be happening again. Maybe this time things will be different, but I once again have doubts.
So what grade do I give myself? I have grown my capital in line with the overall market just as I hoped. My dividend is well ahead of the market and growing quickly just as I planned. I have thus met my two main goals. Could I have done better? Of course, but then again I could have done a lot worse. As always, I appreciate any comments.
I hope you have a great and prosperous New Year.
Thanks for reading, and as always, let me know what you think. If you have learned something in this catalog of my new phase in life, please let me know. If you can teach me something, definitely let me know.
Disclosure: The author is long MAIN, PSEC, ARCP, DLR, GOV, HCP, IRT, MAA, MNR, MPW, O, OHI, OLP, UHT, VTR, WPC, WSR, CINF, KBWD, NWFL, ORI, TD, USB, BIP, BTE, COP, CVX, LNCO, WNR, XOM, AEP, DUK, ED, NEE, NWN, SCG, CLX, DBD, GE, GIS, JNJ, KMB, KO, KRFT, LEG, LLY, MCD, PEP, PFE, PG, SON, SSW, SYY, T, TGT, TIS, PFF, PFXF, PGX, DSUM, EFV, FEZ, RWX, GLDI. I am long all the stocks mentioned in this article. I intend to stay long most of the stocks mentioned for the foreseeable future with the possible exception of LNCO and BTE. This article serves as a journal of my own experience. I am not a certified financial expert of any kind. As always, do your own due diligence before investing your hard earned cash.
The author wrote this article themselves, and it expresses their own opinions. The author is not receiving compensation for it (other than from Seeking Alpha). The author has no business relationship with any company whose stock is mentioned in this article.