It's been quite a year in 2014. YTD, the Dow Jones Industrial (DJI) is up 13.10%, NASDAQ Composite (IXIC) up 15.09%, and S&P 500 up 8.82%. The healthcare sector lead the way during 2014, up 20.42% YTD, while technology, real estate, and utilities also experienced great returns. On the flip side, the energy sector slugged to a decrease of 6.98%. If it wasn't for an absolute crash of oil prices the last four months, we might have seen green across all sectors for the year. In this article, I want to go back and review each of my articles' performance and discuss if any major news since publications change my initial opinion.
In my first article, I stated: "Blue Nile (NASDAQ: NILE) has a great opportunity to rebound and grow 20% to 40% within six months." The article was published on July 22nd, and close at $26.28. It currently is trading at $36.90, which is a 40.41% return since publication date. Their sales in Q3 grew slightly, up 6.91% compared to 2013 Q3 sales, but didn't blow anyone away with their Q3 report. No major insider transactions have occurred that would affect my opinion. My opinion going forward: take profits at $40/share if it reaches that price before Q4 results are released in early February. I want to see how the holidays affected Q4 sales before adding a longer-term opinion.
Next up is Cigna (NYSE: CI). I mentioned in the original article: "I do foresee a pullback, whether right after earnings or within the next month." When the article was published on 7/24, Cigna was trading at $96.75. Earnings were reported on 7/31 and, one week later, closed at $88.75, an $8 drop or -8.27% decrease. I also stated: "If the price drops back below $80/share, I will reconsider buying back into a position." It never lowered enough for me to feel comfortable buying back in, but sure wish it had. It's currently trading at $104.12, up 18.71% from the 6-month low. Cigna had 21 insider sales in the last six months and zero purchases. I'm still slightly bearish on Cigna, mainly due to healthcare leading all sectors this year, plus the PPS up 37.65% from its 52-week low. However, the 2-year chart looks great, with resistance levels often becoming the new support.
I published my article on Under Armour (NYSE: UA) on July 28th. I wrote my article right after Q2 earnings were released, when the stock was trading at $69.63. Since publication, Under Armour saw a high of $72.69, but a low of $61.64. Trading of Under Armour fluctuated between $66 and $71 during those five months. Under Armour crushed earnings when they released Q3 numbers back on September 30th. Gross profit was up 32.89%, compared to Q3 of 2013. They have almost surpassed the total 2013 gross profit in their first three quarters of 2014, so they will once again produce higher annual gross profit totals and have a shot to continue to grow annual net income as well. Third quarter net revenues increased 30%, 3Q footwear net revenues increased 50%, they raised 2014 net revenue outlook by roughly 30% and raised operating income outlook by 31%. The stock is currently around the same price it was originally, however, in the original article, my time horizon wasn't a six month exit strategy. I saw, and still see, Under Armour as a long-term play, and continuing to be a force in the sports apparel industry.
My fourth article was on Amazon (NASDAQ: AMZN). I wrote the original article after shares tanked roughly 10% after poor Q2 financials, when the stock was trading at $307.06. It has seen some pretty wild price swings during the last five months. It reached $346.38 almost a month after my article was published, but then slowly trickled down to $287.06. When Amazon released their Q3 report back in October, shares dropped roughly 8% post-earnings release. It has since rebounded, but investors might have been onto something concerning the longer-term horizon. Gross profit was higher from same quarter last year, however, operating income and net income took a shot in the foot, as Amazon lost ($437 million) in net income for Q3. There's going to be a point when Amazon cannot keep up with their growth rate, especially with Alibaba (NYSE:BABA) starting to take over China's marketplace. I initially thought their phone, the Amazon Fire, would at least add some value to the company when I stated: "I cannot see this smartphone making a big splash in the smart phone industry, but it doesn't need to be a homerun to add value to Amazon." I was right on one part: the Fire not making a splash. The phone experienced almost embarrassing sales, and as I see it, was a fail and added no value to the company. This is two straight quarters Amazon has seen a loss, so my initial positive outlook for Amazon has changed into a state of unknown.
My next two articles are perfect examples why you should use stop losses to minimize the risk of losing a substantial part of your initial investment if things go south from the beginning. Both Geospace Technologies (NASDAQ: GEOS) and Approach Resources (NASDAQ: AREX) flat out fell from the sky the last five months. Yes, both are in the Energy sector, and as everyone knows, that whole industry has been shaken up during the last few months, but these two stocks performed much worse compared to, let's say, XLE (Energy Select Sector SPDR ETF) From the time of each article, (Geospace was published one week after Approach Resources), Geospace is down -29.8%, Approach Resources is down -62.98%, and XLE is only down -16.16%. As far as earnings, Geospace struggled during Q4, posting their first quarterly loss in over a year. Their fiscal year ended September 30th, and total assets continued to rise, while total liabilities continued to fall, yet revenue has stalled and for four straight quarters, produced lower revenue, and lower gross profit. I don't see Geospace nearly as appealing as I once did. I see Approach Resources as the more popular play at this point between the two, and is just along for the ride on the Energy sector roller coaster free fall. 3Q numbers looked good, if you can ignore the dramatic drop in PPS. They reported 3Q net income of $22.4 million and beat analyst estimates on EPS while falling short on revenue expectations. If I had to choose between the two, Approach Resources would be my choice moving forward, but I want to see a bottom and a slight rebound of both oil prices and the energy sector before even thinking about entering a position in Approach Resources. A stop loss of 10% would have limited the damage, but I did not foresee these two companies, along with the whole energy sector, finishing 2014 this poorly.
The next two articles, Ensco Plc. (NYSE: ESV) and Sears Holdings (NASDAQ: SHLD), were only published this month, so one cannot really make an accurate assumption to the article's success with such a small time-frame, but am including them in my 2014 review. I originally hinted at Ensco as a dividend play, because at the time of publication, the dividend was paying 8.88%, but also had a solid financial future forecast. It was originally trading at $33.10 with a $0.75 quarterly dividend. It is now trading at $30.72, so PPS has dropped -7.19%, but with the dividend, would actually have seen a slight ROI gain. As long as Ensco doesn't cut, or suspend their dividend like SeaDrill (NYSE: SDRL), I still see this as a good stock to add as a dividend play. As far as Sears Holdings, it's up roughly 1% since I stated in my original article why I thought Sears was overvalued at its current price per share.
Below is the final 2014 performance tracker for all eight of my Seeking Alpha articles. This "eight stock portfolio" did not perform as well as I hoped. My big winner was Blue Nile, up 40.41%, but had two big losers where stop loses would have come into play. I believe transparently is very important when writing for Seeking Alpha, and that is why I wrote this 2014 review. My first article was published on July 22nd, and every investor's hopes are "to beat the market," and unfortunately, I did not accomplish that with these eight articles. During the time span from July 22nd to December 29th, the SPDR S&P 500 ETF (NYSEARCA:SPY) is up 5.31%, while these eight stocks only produced a gain of 3.395%. I hope everyone had a great 2014 trading year, and here's to a great year of investing in 2015!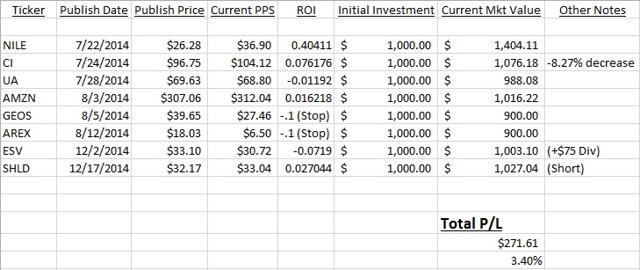 Disclosure: The author is long UA, AMZN, NILE, GEOS, ESV. Currently have zero positions in CI, AREX, SHLD.
The author wrote this article themselves, and it expresses their own opinions. The author is not receiving compensation for it (other than from Seeking Alpha). The author has no business relationship with any company whose stock is mentioned in this article.