By Craig Bowles
The leading automakers are scheduled to report monthly sales on Monday, January 5th.
Summary: The leading U.S. automakers are expected to show continued year-over-year December strength despite some sales having been pulled forward during the start of holiday shopping in November. Results get a boost from good weather, having 26 sales days compared to 25 in December 2013, and declining gas prices continuing to support to strong truck and SUV sales. Incentive spending jumped 5.7% from last year to $2,894 per vehicle on average, so incentives are back above September's $2,801. Zero percent financing for up to 72 months has supported a record high level of borrowing for car purchases. Car loans financing rates near all-time historic lows, average new loan term durations at or near all-time highs, more loans secured with lower credit scores, and lease penetration at or near all-time highs gives the industry confidence that strength will carry over into 2015. The U.S. auto market is seen as at least approaching "late-cycle" and investors generally see U.S. seasonally adjusted annual rate (SAAR) levels above 16 million units as unsustainable. The debate continues over whether auto-financing is the biggest sub-prime bubble since housing with December auto sales expected to hit their highest level since 2006.
Ford Motor (NYSE:F) - Expected Release Time: 9:30 a.m. EST
Overview: Ford Motor began shipping the new (700 pounds lighter) all-aluminum F-150 pickup truck to dealers but mostly missed out on the normal seasonal spike that full-size trucks see in December. Ford's advertising for the new truck has shifted to durability rather than fuel efficiency of up to 26 mpg. Expansion of production and distribution capacity in China is expected to benefit 2015, as would higher year-over-year North American margins. Deutsche Bank downgraded Ford to Hold from Buy citing U.S. vehicle affordability is reaching an inflection point with prospective and unprecedented regulatory cost burdens facing U.S. Automakers.
Technical Review: Ford shares built a double-top from the summer of 2013 through the summer of 2014 with resistance at around the $17 level. The stock found support at $13.50 and has consolidated close to $15.50. The problem with the sharp pullbacks is that investors who wish they had gotten out at higher levels bring selling pressure in on any rally. (Chart courtesy of StockCharts.com)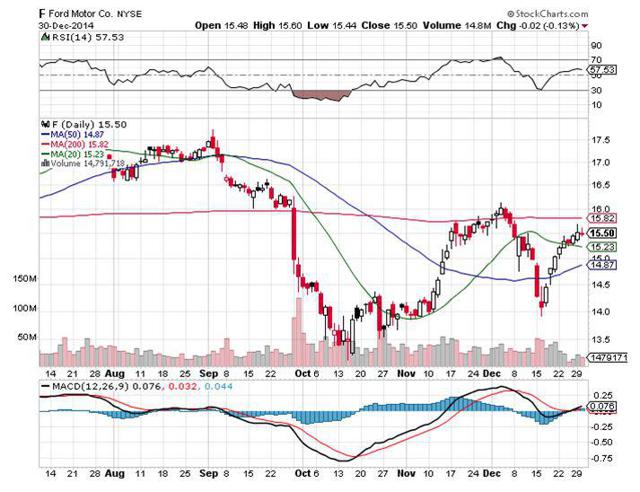 Estimates y/y:
Edmunds.com: 3.8% (Source: Edmunds.com)
Kelley Blue Book: 3.9% (Source: KBB.com)
True Car:2.9% (Source: TrueCar.com)
Average:3.5%
General Motors (NYSE:GM) Expected Release Time: 9:30 a.m. EST
Overview: General Motors is expected to benefit in December from Ford's truck transition. While the company continues to deal with 80 recalls that have amounted to 30 million vehicles since 2008, analysts expect this to subside by mid-2015. GM's ignition switch recall this year helped CEO Mary Barra earn the title of "Crisis Manager of the Year" by Fortune. So far, the company has avoided paying out the $10 billion in claims owed by their bankrupt predecessor. Strong global sales and rising margins in North America and China offset the challenges in Russia and South America. Similar to Ford, next year is expected to benefit from actions taken this year.
Technical Review: GM shares are testing the top of the 2014 downtrend. Failure here has previous support at $30 and the next support level at $26. GM and Ford stocks tend to move similarly. GM led the most recent weakness that began in July and has led the current rebound, as well. (Chart courtesy of StockCharts.com)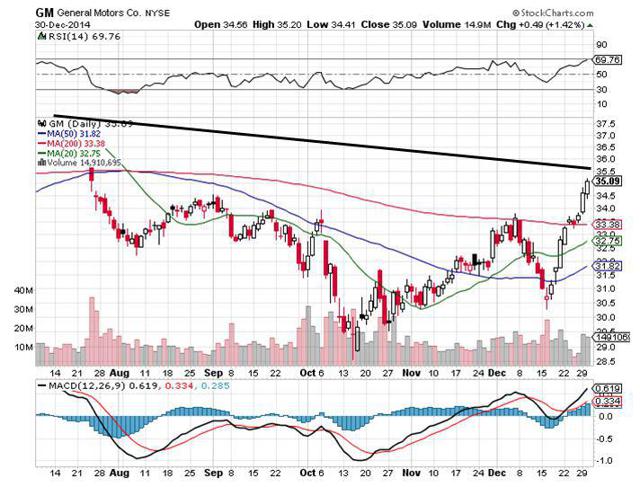 Estimates y/y:
Edmunds.com: 13.9% (Source: Edmunds.com)
Kelley Blue Book: 6.9% (Source: KBB.com)
True Car:12.3% (Source: TrueCar.com)
Average:11.0%
DISCLAIMER: By using this report, you acknowledge that Selerity, Inc. is in no way liable for losses or gains arising out of commentary, analysis, and or data in this report. Your investment decisions and recommendations are made entirely at your discretion. Selerity does not own securities in companies that they write about, is not an investment adviser, and the content contained herein is not an endorsement to buy or sell any securities. No content published as part of this report constitutes a recommendation that any particular investment, security, portfolio of securities, transaction or investment strategy is suitable for any specific person.
Disclosure: The author has no positions in any stocks mentioned, and no plans to initiate any positions within the next 72 hours.
The author wrote this article themselves, and it expresses their own opinions. The author is not receiving compensation for it (other than from Seeking Alpha). The author has no business relationship with any company whose stock is mentioned in this article.