Earlier this month, we published a report in which we concluded that investors should avoid The Howard Hughes Corporation (NYSE:HHC) based on valuation. A fellow Bay State investor (Todd Sullivan of Rand Strategic Partners) responded to it with an article of his own in which he took issue with our conclusion. Sullivan proposed that Howard Hughes' Greater Houston assets were not as exposed to the price of oil as we thought and that the book value of Howard Hughes' South Street Seaport and Ward Villages properties was not a fair value for those assets. We then responded with a report of our own in which we were able to counter his points and then he responded with an article that was riddled with miscalculated data points due to apples-to-oranges comparisons in which he attempted to rebut our points. We are wondering if that is the cause of his irrational exuberance for Howard Hughes, as he thinks that a $210/share price for Howard Hughes' shares is "too low".
Howard Hughes' Business:
Howard Hughes seeks to be the leading developer of master planned communities and mixed use real estate properties. Howard Hughes specializes in the development of master planned communities, and the ownership, management and redevelopment or repositioning of real estate assets currently generating revenues, also called Operating Assets, as well as other strategic real estate opportunities in the form of entitled and unentitled land and other development rights, also called Strategic Developments. Howard Hughes' three business operation divisions consist of its Master Planned Communities, its Operating Assets and its Strategic Developments.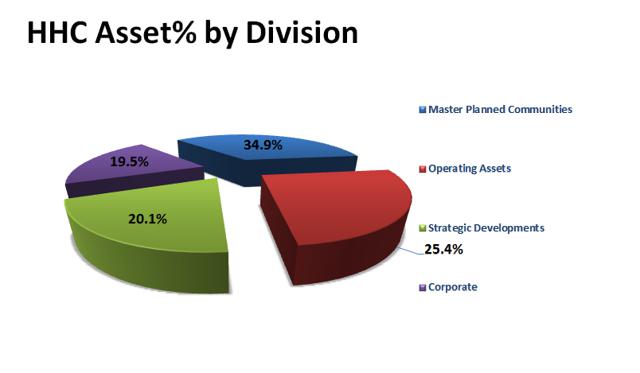 Source: Howard Hughes's Most Recent 10-Q Report
Unlike most publicly traded real estate companies which are limited in their activities because they have elected to be taxed as a real estate investment trust, Howard Hughes (except for Victoria Ward Limited, one of its subsidiaries which is a captive REIT) has no restrictions on its operating activities or the types of services that it can offer. We believe Howard Hughes' structure provides the greatest flexibility for maximizing the value of its real estate portfolio as it is able to retain and reinvest 100% of its profits, rather than being forced to pay dividends to shareholders. If Howard Hughes was organized as a qualified REIT, it would be obligated to distribute 90% of its pro-forma taxable income annually to its shareholders in the form of dividends.
Another benefit of Howard Hughes' registration as a 'C'-Corporation for tax purposes is that it can utilize its operating loss carryforwards in order to offset future taxable income. As of last year, Howard Hughes had $368M in tax loss and credit carryforwards on its balance sheet, and the value of these carryforwards as well as its interest deduction carryforwards was $134.6M as of last year based on its most recent tax rates, which includes $85.67M in value from the interest deduction carryforwards.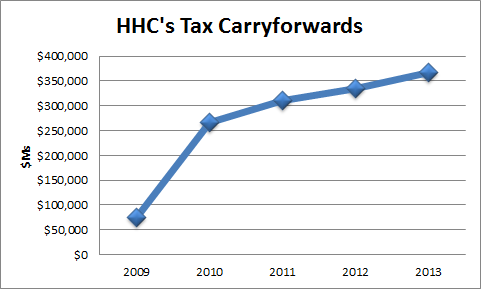 Source: Howard Hughes's 2009-2013 Annual Reports
Howard Hughes' captive REIT subsidiary Victoria Ward Limited will revoke its REIT election within the next few years in connection with its planned condominium development that the Hawaii Real Estate Commission approved in Q4 2013. As part of this transaction, Howard Hughes will assume a deferred tax liability of $48M due to the excess book over tax basis relating to land and buildings as of Q4 2013. Although Howard Hughes is not currently a qualified REIT, and it will revoke the REIT status of its Victoria Ward captive REIT subsidiary, we believe that there is potential for Howard Hughes to convert all or part of itself into a REIT through either converting to a REIT or spinning off its income-producing properties into a separate REIT affiliate. That potential catalyst for this is contingent on its ability to develop and generate operating income from its existing portfolio of Operating Assets as well as its Strategic Development assets, and we believe it would take at least four years for Howard Hughes to be in a position to consider executing this.
Howard Hughes Versus Other Real Estate Firms:
Sullivan took issue with our observations that Howard Hughes was trading at 29X operating income and compared it with the PE ratios of four other REITs (Taubman Centers (NYSE:TCO), Macerich (NYSE:MAC), General Growth Properties (NYSE:GGP) and Simon Property (NYSE:SPG)). He tried to make the argument that Howard Hughes was undervalued because he was under the impression that Howard Hughes' PE was lower than the four REIT peers he chose. The only problem with his analysis was that he gave Howard Hughes a PE of 29X earnings when Howard Hughes has no GAAP earnings due to its warrant losses. We never said it had a PE of 29, we remarked that it traded at 29.9X its trailing 12-month operating income, which is comparable to Taubman Centers, well below Macerich and ahead of General Growth Properties and Simon Property.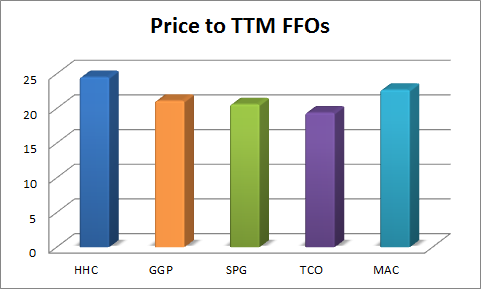 Source: Morningstar Direct
We were amazed that Howard Hughes (29.6X) is trading at a significantly lower price to trailing 12-month operating income than Macerich (47.9X). Macerich's price-to-TTM operating income is well above its REIT peers; however we believe this is because Macerich's depreciation-to-revenue ratio of 33.76% is well above the other companies in this sample. In addition, Macerich's price increased by 25% over the last couple of months because part of this is due to the recent news that Simon Property Group and the Ontario Teachers' Pension Plan took a significant stake in Macerich. Also, at first glance we were surprised that Howard Hughes had the lowest price-to-book ratio yet its price-to-TTM operating income was comparable to Taubman Centers and higher than Simon Property Group and General Growth Properties. After further review, we found that Howard Hughes is trading at the highest price-to-fund flows from operations ratio, and its fund flows from operations as a percentage of revenue was the lowest in the sample group. We therefore can conclude this section of the report with the confidence that Howard Hughes is not trading at a discount relative to its peers, and that Sullivan's thesis that it was trading at a discount to its peers does not hold.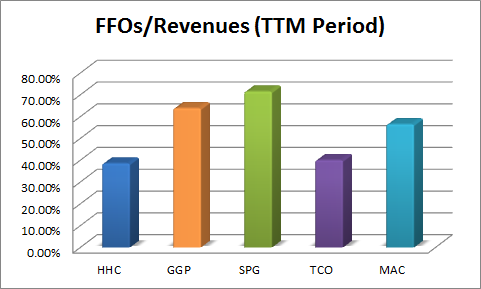 Source: Morningstar Direct
Howard Hughes' Use of Leverage:
Howard Hughes has the most conservative balance sheet of its aforementioned peers because it has the highest equity-assets ratio. Howard Hughes' assets are financed 41.15% by equity, 35.4% by mortgages and other bonded debt, and 23.45% by non-interest-bearing working capital liabilities. The next most conservative balance sheet within the peer group is Macerich (35.4% equity, 53.6% debt and 11% working capital). The other three companies (GGP, Simon and Taubman) utilize significantly less equity and more debt as a percentage of their asset bases than Howard Hughes does. One observation that we took note of was that Howard Hughes' outstanding debt increased by a factor of 9X from $209M (7.2% of its assets) in 2009 to $1.88B (35.4% of its assets) as of Q3 2014 and was the primary source of funding for the rapid growth in Howard Hughes' asset base during this period. In addition, Howard Hughes expects to incur an additional $1.1B in new debt in order to complete its projects under construction as of Q3 2014. In 2009, Howard Hughes utilized no variable rate debt, but it increased it to 39% of its debt in Q3 2014 (net of $172M of variable-rate debt has been swapped to a fixed rate for the term of the related debt). As investors expect that the Federal Reserve will increase interest rates starting next summer, Howard Hughes may see increased interest expenses next year associated with its variable rate debt.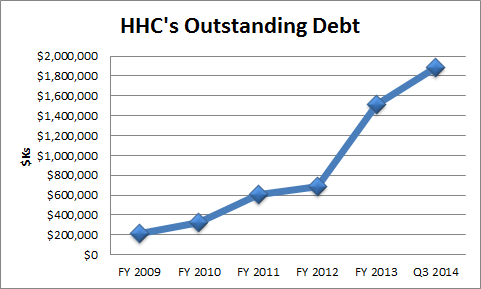 Source: Morningstar Direct
Valuing Howard Hughes's properties
We were surprised that Todd assigned an 11X book value valuation for the Ward Villages and Seaport simply because one of Howard Hughes' competitive peers was trading at an 11X book value. We are more than aware that the value of companies and business properties can be greater or lesser than its book value. We even understand the benefits of utilizing the capitalization rate (cap rate) to value income generating real estate properties. However, we would most certainly not give Howard Hughes or its properties the same P/B multiple as any of its REIT peers considering that Howard Hughes' REIT peers had a higher FFO/Revenue margin than Howard Hughes and those companies are well-established REITs. Meanwhile, Howard Hughes is not currently a REIT, but could potentially consider becoming a REIT (in whole or by spinning off its income-generating Operating Assets properties) in at least four years if it is able to generate sufficient Net Operating Income from its properties that are currently under construction.
To value Howard Hughes, we will use a sum-of-the-parts approach consisting of book value to value its MPC Segment and its Strategic Developments Segments that are currently under construction and are not expected to generate NOI in the immediately foreseeable future. For the Operating Assets division, we will use the Cap Rate based on projected future NOI discounted back to the present day at an 11% cost of equity capital rate. We will also adjust for any debt that Howard Hughes has already incurred or future expenses that it will need to incur in order to complete projects that we expect the company to generate new NOI.
Cap Rate and Operating Properties
We think that Property Metrics' Robert Schmidt made a good point when he wrote about how the cap rate is a fundamental concept in the commercial real estate industry. Yet, it is often misunderstood and sometimes incorrectly used. One way to think about the cap rate intuitively is that it represents the percentage return an investor would receive on an all-cash purchase. We think Todd Sullivan may have made a mistake in his model when using the cap rate to value Howard Hughes' Operating Asset properties such as Downtown Summerlin. Specifically, we think Sullivan forgot to include the impact of debt on the value of these projects as the assumption of increased debt reduces the value of what a buyer would have to pay in cash on hand in order to acquire the property. As the cap rate's numerator (NOI) does not include the impact of interest expenses, as a property assumes more debt, it is only natural that the equity value of a property is reduced as a greater portion of the property's NOI must be paid to the debtholders.
We will accept Sullivan's $40M in Net Operating Income that he projects for 2016. As for the cap rate, we would be more inclined to use a 6% cap rate instead of his 5% rate, results in an unlevered property value of $666.67M as the average cap rate for properties like this was 6.45%, according to Integra Realty Resources. As this property currently has $172.9M in outstanding debt as of Q3 2014 and it is expected to incur an additional $138.9M of debt, the residual value to equity holders for Downtown Summerlin is $354.87M. Further, as we expect Howard Hughes to realize its projected NOI of $40M in 2016 rather than 2014, we would discount this future value in order to arrive at a present value. If we discount this at 11% for two years, we arrive at $288M in residual value for equity shareholders. In short, if we were considering purchasing Downtown Summerlin today, we would pay $599.8M in total consideration consisting of $288M in cash and the assumption of its $311.8M in debt. The book value of Downtown Summerlin was $141.4M as of Q4 2013 and Howard Hughes incurred $211.6M in costs during the first nine months to build and develop the project, and it expects to spend $147.2M in Q4 2014 and future periods to complete the project, resulting in a projected book value of $500.2M as of Q4 2014. Our net unlevered present value of $599.8M for the Downtown Summerlin property is only 20% higher than its projected book value.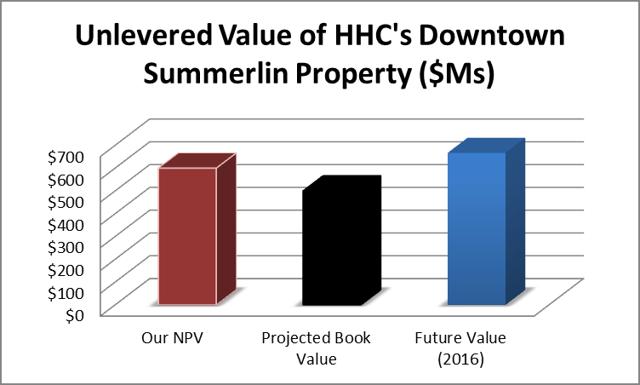 Source: Our Estimates
Another example of this is his valuation of the Exxon Mobil (NYSE:XOM) strategic developments. We will agree with his model inputs ($12M in projected Net Operating Income, 6% cap rate, Q4 2015 projected opening date, one full year for the project to reach its projected NOI). We agree that the future unlevered value of the project is $200M; however, it will take two years for Howard Hughes to realize this value and after discounting it back by two years at 11%, we arrive at a net present value for this project of $162.3M, which is not far off from the $171.5M total estimated project cost. As we expect this project to incur $132.5M in debt in order to complete it, the net present value available for equity shareholders is $54.8M.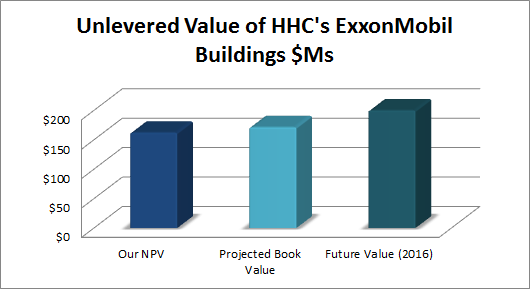 Source: Our Estimates
We can conclude that a significant portion of the value that Howard Hughes' bulls see in the company relates to the projected Net Operating Income from its strategic developments, particularly the Downtown Summerlin, South Street Seaport and the Exxon Mobil buildings. We also included $8M in incremental NOI from its recent acquisition of 10-60 Columbia Corporate Center from GGP as partial satisfaction of GGP's obligation to indemnify it for certain taxes under the Tax Matters Agreement, dated as of November 9, 2010. Howard Hughes' Net Operating Income was flat from 2008 to 2013; however, we expect these four developments to help Howard Hughes' NOI increase from $47M in 2013 to an estimated $225M in 2018.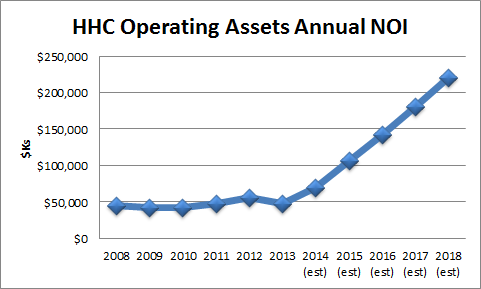 Source: Howard Hughes's 2009-2013 Annual Reports and Our Estimates
We would use a 6% cap rate for Howard Hughes' Operating Assets and arrive at a future, unlevered, undiscounted value of $3.8B in 2018 for the division. We also noted that the division has $580M in net outstanding debt as of Q3 2014, and is expected to incur an additional $247.6M of debt to finish constructing the Downtown Summerlin and the Exxon Mobil buildings. Howard Hughes will also have to incur an additional $439M in expenses (utilizing existing cash or new debt) in order to complete the Two Hughes Landing, South Street Seaport (phase 1), Riverwalk, Columbia Regional Building, 3831 Technology Drive and Woodland Resorts projects. We estimate that the future value of Howard Hughes' Operating Assets division for equity holders is $2.5B in 2018 and its net present value is $1.64B after discounting it back to the present day at a rate of 11%.
After adjusting for debt, Howard Hughes' MPC segment's book value is $1.62B and its Strategic Development's adjusted book value is $548M. Adjustments to the Strategic Development segment's book value are due to projects (Downtown Summerlin, Exxon Mobil and 3831 Technology Forest Drive) that Howard Hughes currently has in this segment but we transferred to the Operating Assets segment in our model, as we expect these projects to generate positive NOI in the next two years. As Howard Hughes engaged in a cashless retirement of a portion (6.1M warrants) of its outstanding share warrants in 2012 by satisfying the net outstanding liability through the issuance of shares, we expect Howard Hughes to perform a similar transaction any time before 2016 to satisfy its remaining 4.7M in outstanding share warrants. Our fair intrinsic present value for Howard Hughes' shares is $89, which is 32% below Howard Hughes' current price of $131.87.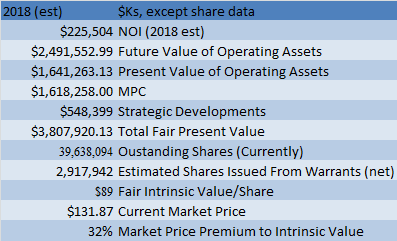 Source: Our Estimates
In conclusion, we reiterate avoiding The Howard Hughes Corporation at its current levels, and we recommend that investors wait until it reaches its fair intrinsic value of $89 before beginning to accumulate a position in the company. We think investors who think Howard Hughes is worth anything more than this are suffering from irrational exuberance. Howard Hughes has had strong growth from its Master Planned Communities business segment and that its business operating model has powerful operating leverage that results in the conversion of sales growth to a high level of incremental operating income growth. We expect that Howard Hughes' MPC revenues and profits will not see the explosive growth going forward that it has enjoyed from 2010 to 2014; however, we expect that NOI growth in its Operating Assets segment from 2014 to 2018 will offset any potential weakness in its MPC segment. However, we find the price of the company's shares to be 32% overvalued at this time and we based a significant portion of our intrinsic value for Howard Hughes on its ability to make continued progress in its aggressive construction development growth program. Even if it was to achieve its goals, we believe that investors would be paying a premium price currently for potential, projected future growth which has been funded through a rapid expansion in the use of financial leverage. We think investors need to account for this use of leverage in their models, as well as additional costs Howard Hughes will need to incur in order to get its properties in a position to generate the future NOI that investors are expecting from the company.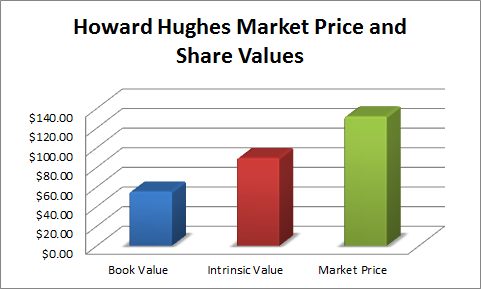 Source: Morningstar Direct and our Estimates
Disclosure: The author has no positions in any stocks mentioned, and no plans to initiate any positions within the next 72 hours.
The author wrote this article themselves, and it expresses their own opinions. The author is not receiving compensation for it (other than from Seeking Alpha). The author has no business relationship with any company whose stock is mentioned in this article.