Bank of America (NYSE:BAC) and Citigroup (NYSE:C) have a cult like following by retail investors - unfortunately, many have been severely burnt during the financial crisis, where the share price of these firms (and others) dropped more than 90%. Whilst both began to slowly recover from the GFC lows - they are not very likely to regain their prior heights anytime soon or at least in my lifetime!
Having said that, both firms are still trading at below book value - and many investors believe (perhaps rightly so), that there is deep value to be found in these banks and that it is only a matter of time before their share price increases substantially.
But does it really matter, which large bank you hold? will the tide raise all ship?
In this article, I will look at following aspects for both BAC and Citi:
Valuation (primarily tangible book value)
Underlying business and returns
Capital, liquidity and funding
Legacy and restructured businesses and legal/conduct charges
Summarize the catalysts for 2015 impacting both banks.
I will then issue my verdict on which stock is a better investment for 2015.
Recent share price performance
To set the context for the comparison, it is quite instructive to consider the relative performance over the last 2 years: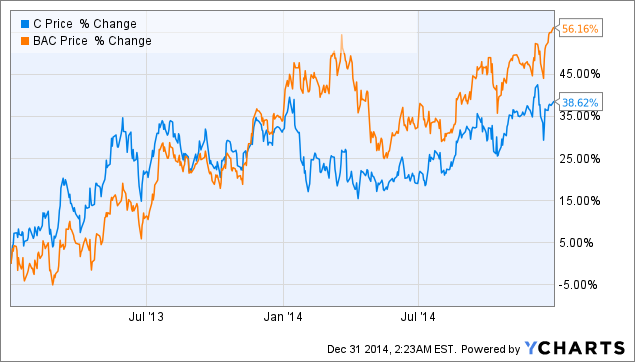 C data by YCharts
It appears that in 2013, Citi and BAC performance tracked each other quite closely. Citi outperforming in the early part of 2013 on momentum from a new CEO and securing a passing grade for its modest CCAR submission. In the latter part of 2013, BOA has caught up with Citi, as it continued to make progress on its turnaround plan and benefit from a gradually, yet steadily healing U.S economy, which in turn supported its large exposure to the U.S housing market.
However, 2014 turned out to be quite a different narrative and BAC substantially outperformed Citi. The main reason for that was the Fed rejection of Citi's CCAR on a qualitative basis. That mishap has cost Citi's shareholder (present company included) 10% to 15% in share price gains during 2014 (not to mention expected dividends). This in my view, goes a long way to explaining the relative underperformance of Citi share price during 2014 (and justifiably so!).
BAC, on the other hand, had a successful CCAR submission and obtained approval to increase its dividend to $0.05 per quarter.
Relative Tangible Book Value
Some investors use a P/E ratio or similar valuation tools to value banks - I do not necessarily believe that such valuation methods (while perhaps useful) are quite right for banks. Banking valuation, especially in today's environment, is all about measuring returns on equity (RoE) and returns on tangible common equity (RoTCE). Tangible book value (TBV) is a more accurate measure of a bank's fair value, as it backs out items such as goodwill and other intangibles, and generally is quite aligned to regulatory capital view of "equity". Consequently, where a bank consistently earns RoTCE above their cost of capital - then, one should reasonably expect its share price to trade at a premium to its book value per share.
The below chart compares the price to TBV for BAC and Citi for the last 3 years: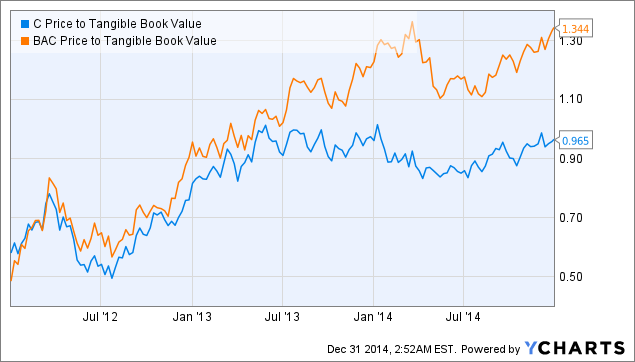 C Price to Tangible Book Value data by YCharts
There is an unusual pattern in this chart - whereas Citi price to TBV consistently traded slightly below BOA's from 2012 to mid 2013 - that gap substantially widened during the second part of 2013 and 2014. Why is that?
The reasons are similar to the ones noted above. Firstly, BAC continued to execute on its massive turn around, supported by a recovering U.S. housing market and consumer - Citi was caught up with global macro events (e.g. a slow-down in Emerging Markets) and the shocking rejection by the Fed of its CCAR submission.
The other material reason is of course, Citi's large Deferred Tax Asset (DTA) of $49.9 billion as of Q3'2014. While a DTA does form part of a firm's accounting assets and therefore, its TBV - it is not present valued (rightly so, in accordance with U.S. GAAP) and as such, economically at least it should be discounted. Hence, in my view Citi's TBV is economically lower than reported (on a napkin math's basis, should shave off about $5-$10 billion of its TBV). Furthermore, a large part of Citi's DTA (~$36 billion as of 3Q'2014) cannot be utilized in its regulatory capital ratios. BAC on the other hands, has 'only' $15 billion of DTA and practically all of it is recognised for regulatory capital purposes.
So to summarize, it seems that on a price to tangible book value valuation basis - BAC carries a valuation premium of about 35-40% over its peer.
Is BAC valuation premium justifiable?
The short answer is that it depends on the normalized RoTCE each firm can sustain. But to really answer that question fully though, one must look at both the numerator and denominator - in other words, the returns generated (numerator) from the tangible book value (denominator). In this case, Citi has a clear disadvantage on the denominator side - it is forced to carry larger book value (due to CCAR failure and higher G-SIB capital charge) and part of its TBV (i.e. $36 billion of DTA) does not generate any returns. All else being equal, it seems that BAC valuation premium is justified under current circumstances.
Let's look at the returns (numerator), BAC and Citi's businesses generate.
Summary of BAC and Citi's returns based on 3Q'2014 data
A summary of BOA segments presented at the Goldman Sachs U.S. 2014 Financial Services Conference:
Looking at the above slides, I will make the following observations:
It looks like 4 out of 5 segments are delivering very good returns, but all these good profits are effectively given away on the 5th segment (CRES). Although, CRES does include substantial legal and conduct charge which hopefully should be one-offs.
Having said that, if and when BAC will be able to come close to breaking even on this segment, it will make a huge difference to its valuation.
Not unexpectedly, the Global Markets returns are not spectacular given trading environment (i.e. a 'mere' 10% on allocated equity). One would expect a significantly higher return under normalized conditions.
Let's now consider Citi's returns on tangible book equity (source: 3Q'2014 earnings deck):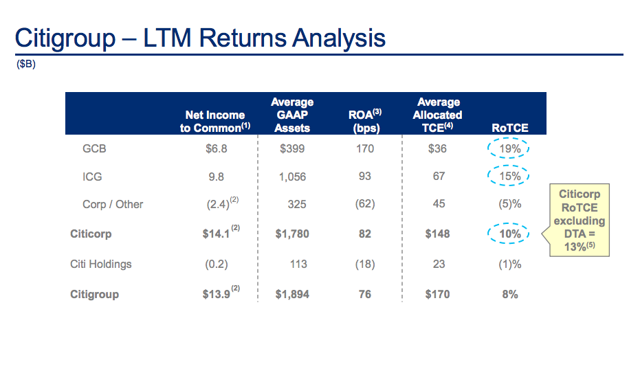 A few observations on Citi as well:
A very decent return on its consumer bank of 19% RoTCE
ICG (which is broadly equivalent to the combined BAC Global Banking & Global Markets) is delivering a decent return of 15% RoTCE, in a challenging investment banking environment
The DTA is a major drag on overall RoTCE returns (3% drag)
BAC and Citi: Consumer Bank comparison
BAC consumer businesses [excluding Consumer Real Estate Services] consist of Consumer and Business Banking (CBB) and Global Wealth & Investment Management (GWIM). These are great U.S. centric consumer businesses that generate fantastic returns - the latest 3Q'2014 numbers are shown below: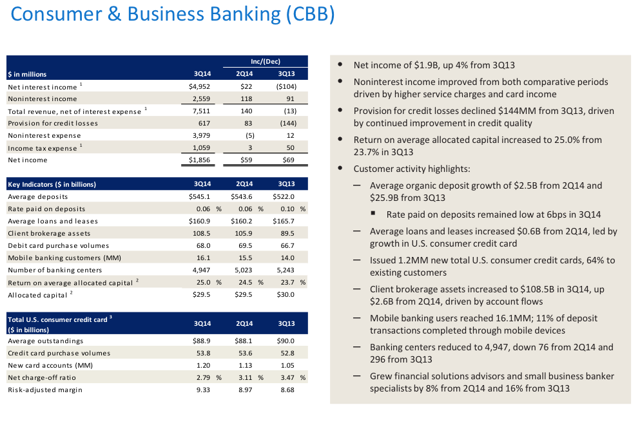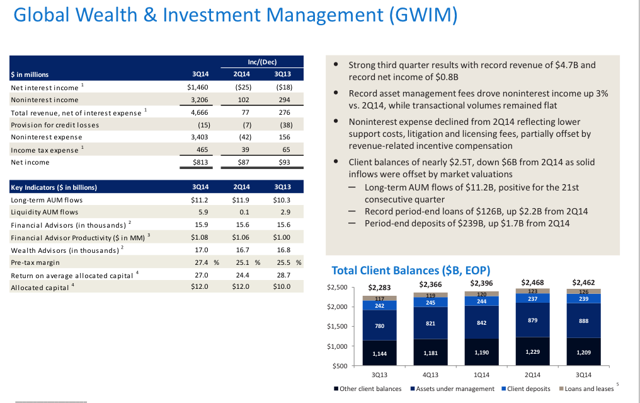 The combined segments are generating a superior ~25% returns on total allocated equity of ~$32.5 billion. With a great U.S deposit franchise that will benefit greatly once interest rate begin to rise.
Citi's Global Consumer Bank (GCB) financials are provided below: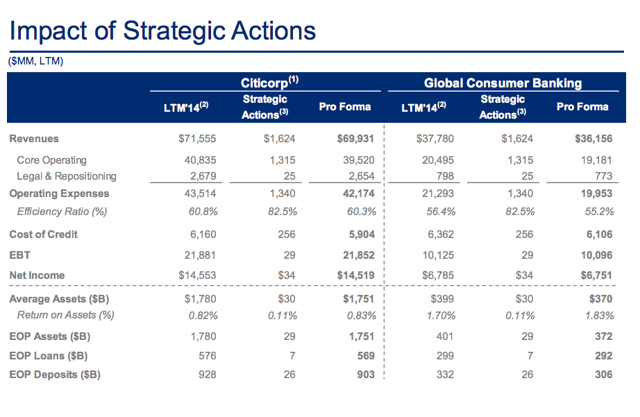 Citi's GCB is a global consumer bank operating in 24 markets (following the announced retreat from 11 markets) - it generates a very respectable 19% RoTCE on average allocated tangible common equity of $36 billion. While GCB returns are good, there are some substantial headwinds baked in the 2014 numbers that comprise of ~$800 million of (mostly) one-off legal and repositioning costs - as such, normalized RoTCE are likely to be in the low 20s in 2015.
Citi versus BAC consumer bank
Looks like BAC is currently a better performing consumer bank than Citi's on a RoTCE measure. Size of respective consumer banks is broadly similar from an allocated equity perspective (BAC's $32.5 billion versus Citi's $36 billion). BAC will benefit more from U.S rising interest rate given its much larger retail deposit franchise. Citi, though, through optimization and restructures (including retreat from 11 consumer markets) will likely catch up somewhat on efficiency metrics. Having said that, BAC has a unique growth engine in its GWIM business - which is not a very capital intensive business and almost impossible to replicate. So overall, I do think BAC consumer franchise is somewhat superior to Citi's and very well-positioned for 2015 and beyond.
BAC and Citi: Investment Bank comparison
BAC reports its investment bank in two segments - Global Banking and Global Markets and their respective financials are reflected below: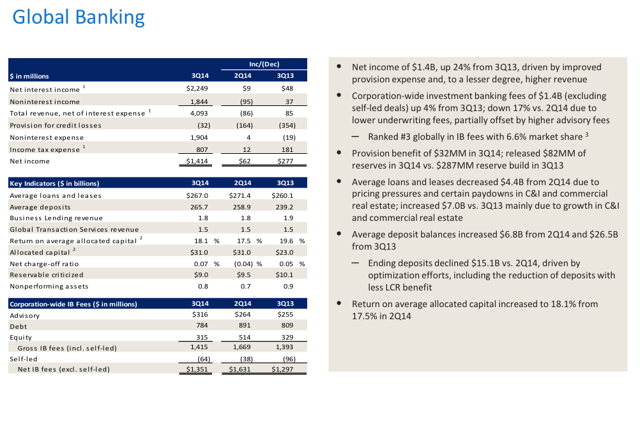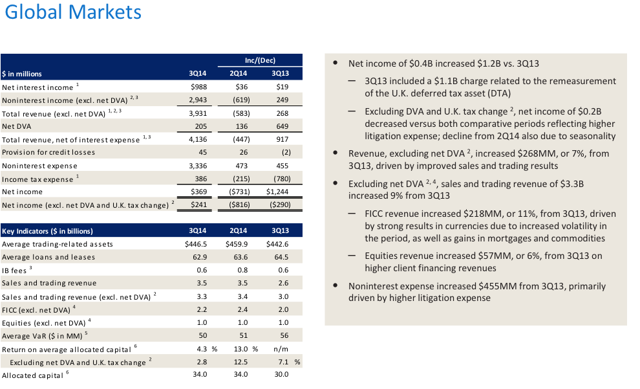 The combined BAC investment bank consumes an allocated capital of approximately $65 billion and the blended return on allocated equity is around ~13%.
Citi Institutional Client Group (ICG) financials as of 3Q'2014 earnings are shown below: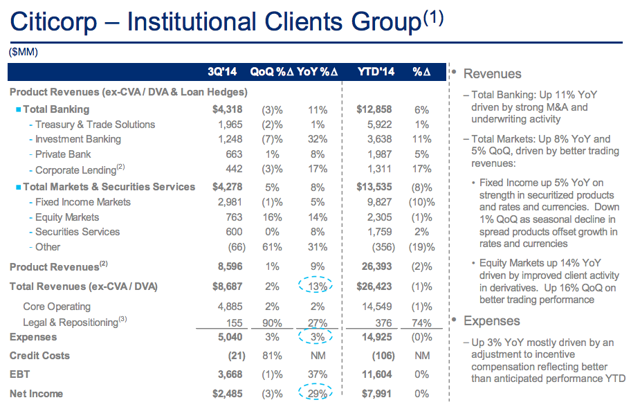 Over the last 12 months, it generated a RoTCE of 15% on an allocated capital of $67 billion.
Citi versus BAC consumer bank
While BAC investment banking businesses are solid and clearly earning their cost of capital - I prefer Citi's ICG division and for several reasons. Firstly, it is a much more of an international franchise than BAC is, which I perceive as a significant advantage - as much of the growth in investment banking services going forward, will likely be generated from international markets - the below slide, from HSBC investor presentation highlights this trend: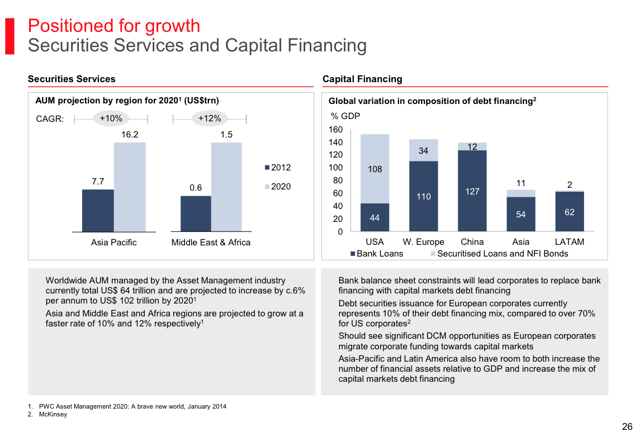 This is further reinforced in a recent McKinsey report titled "Asia: The promised land for FICC" (subscription needed). I believe Citi is much better positioned to capture these international opportunities.
The other main reason, I prefer Citi's investment bank is its unique Transaction and Trade Services business, with a largest propriety closed loop global payments which is present in ~100 markets. It generates $378 billion of deposits compared to $265 billion for BOA (based on 3Q'2014 average balances) - and as such, stands to benefit more significantly from interest rate rises and margin decompression. It owns a unique payments business that cannot be replicated (organically or inorganically) in today's regulatory environment and as such, is a strong and lasting competitive advantage for Citi.
Capital, Liquidity and Funding
Both Citi and BAC are classified as G-SIB and therefore required to hold additional capital buffers. Citi's current minimum Tier I common ratio (Basel III) capital requirement is 9% and it as of Q3'2014 operates with a 10.7% ratio. Its supplementary leverage ratio is 6% (Basel III). It has average deposits of $954 billion.
BAC current capital ratio is 9.5% compared with a minimum requirement of 8.5%. Its SLR ratio is 5.5% compared with a minimum fully phased ratio requirement of 5%. It holds $1,112 billion of deposits.
Clearly, both are very well capitalized and maintain a very healthy SLR buffer - Citi has more surplus capital and leverage, but not of its own choice, rather it is forced to keep this on its balance sheet, until the point it would be able to successfully pass CCAR and return surplus capital to shareholders. Nevertheless, Citi's regulatory capital generation and return narrative is a very strong one - and shareholders should rightly expect it to unfold during 2015.
Legacy Businesses
Citi Holdings is the segment where Citi winds down its legacy position in U.S. mortgages and other assets and businesses that do not fit within its strategic agenda. For many years (since 2009), Citi Holdings made substantial losses - more recently, in 2014 it turned a consistently profitable performance for several quarters in a row. Citi's management is guiding for continued profitability for the Citi Holdings segment. Citi Holdings currently carries $23 billion of allocated capital. It is currently in the process of disposal of several assets - the largest one is OneMain, Citi subprime lender, which its disposal is expected to be announced early in 2015 (and it appears that it will generate a taxable gain on disposal).
BAC Consumer Real Estate Services include Home Loans and Legacy Assets & Servicing business. It has a total allocated capital of $23 billion and it is currently loss making of $5.2 billion (driven by elevated litigation expenses of $4.2 billion and costs of servicing legacy portfolio).
Catalysts for BAC and Citi
For BAC the primary catalysts are CRES getting closer to break-even and revealing the true earning power of the franchise and U.S. short-term interest rates rising and supporting its deposit franchise and Global Markets business.
For Citi, it is even simpler - pass CCAR with flying colors and return meaningful amount of capital. Similar to BAC, interest rates rising on the short end and the return of volatility to markets, will certainly drive the share price higher in 2015.
The bottom line - which stock of the two is the better investment for 2015?
I truly believe both stocks will be winners in 2015 - I am very constructive on U.S. financials in general for 2015 given rising interest rates and U.S. macroeconomic developments.
BAC has a quality franchise - it has a very strong consumer franchise that delivers great returns. It is a very well-managed bank and certainly leveraged to the U.S. consumer and economic growth. It also has a full service and scale investment bank that over the cycle should deliver very good returns. BAC is also modestly valued currently - still below book value (but above tangible book value). Its main challenge, it how to get CRES to break-even and on a path to consistent profitability - it is still difficult for me to see a clear timeline or path to achieve that sustainably. I feel it is at least 12-24 months away.
Citi franchise is undoubtedly a quality one and just as good (overall) as any - it has a global consumer bank that earns well above its cost of capital (and improving in 2015). Its investment bank, in my view, is a top tier franchise that has a lasting competitive advantage in terms of its unique geographic spread, crown jewel of a global payments business and truly is a FICC flow monster.
Citi's main headwinds are, first and foremost its capital denominator problem - it needs to fix this by returning very meaningful amounts of capital to shareholders in 2015. Secondly, it also needs to continue to utilize its DTA as quickly as possible. Fortunately, Citi is well on track in fixing these two issues - and as such, I do not see why it should not bridge some of the 40% valuation gap between itself and BAC - in other words, reverse the valuation loss it made since the second half of 2013.
Therefore, my conclusion is that Citigroup is the better investment choice for 2015 (although both should be profitable investments)
Disclosure: The author is long C, BAC. I hold long term options in Citigroup.
The author wrote this article themselves, and it expresses their own opinions. The author is not receiving compensation for it (other than from Seeking Alpha). The author has no business relationship with any company whose stock is mentioned in this article.