Introduction
U.S. Silica (NYSE:SLCA) has been hammered by a collapse in the price of oil. After reaching an intraday high of $73.43 on September 3, it has fallen 66% to $24.95 as of December 30. Given the steep sell-off, value investors may be tempted to consider taking a position in the company given its varied strengths. After all, U.S. Silica is an established company with strong profit margins and sustained demand.
In spite of U.S. Silica's strengths, now is not the time to take a long position in the company. Bearish technical indicators and continued weakness in the oil market will weigh down the stock. Although U.S. Silica will likely perform well in the long-run, it should be avoided until near-term uncertainty in the oil markets is resolved.
Bearish Indicators and Weak Oil
Taking a look at its chart, U.S. Silica appears to be in a bearish, downward trajectory.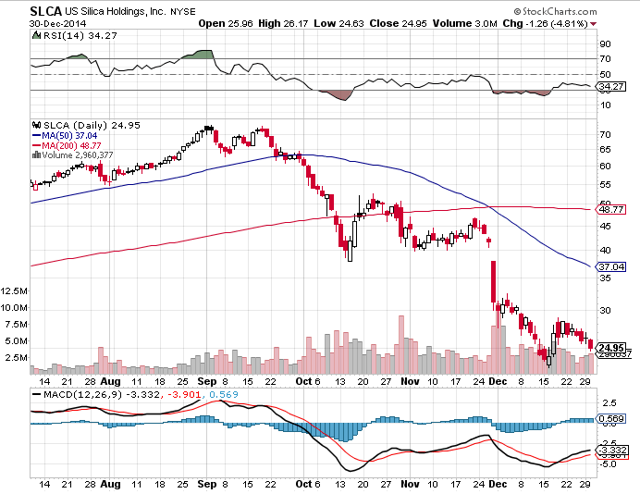 Source: Stockcharts.com
Overlaying U.S. Silica's share price with oil, one sees a strong correlation.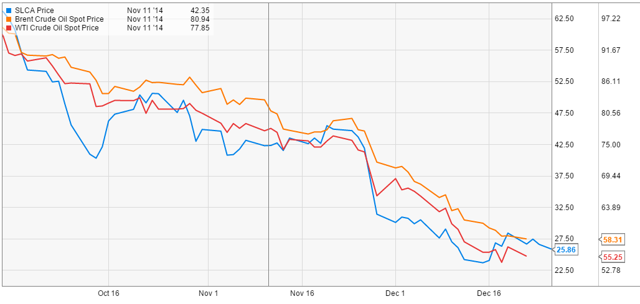 Source: YCharts.com
The price of a barrel of oil has dropped from around $100 at the beginning of September to the mid-$50 range. Oil will potentially continue to decline because OPEC's refusal to cut production, weaker demand from China, and higher supply. With oil potentially continuing its slide into next year, U.S. Silica will continue to be hurt by this drop.
Positive U.S. Silica Data
In spite of the dramatic decline in its share price, U.S. Silica continues to have strong profits and sustained demand.
According to their Q3 earnings announcement, U.S. Silica is now expecting full-year 2014 Adjusted EBITDA to be at the high end of its guidance range of $230 million to $240. In addition, it has an Enterprise Value/EBITDA of 7.78, an operating margin of about 20%, and a manageable quarterly Debt to Equity Ratio of 0.96.
Going forward, one of U.S. Silica's strengths is that nearly 40% of its sales come through long-term contracts. According to their last quarterly report:
For a number of customers, we sell under long-term, competitively-bid contracts. As of October 30, 2014, we have eleven take-or-pay supply agreements in the Oil & Gas Proppants segment with initial terms expiring between 2014 and 2019.
Long-term contracts will allow it to sustain profitability in spite of the issues like the near-term impact of low oil prices.
The Board of Directors also recently increased their share buyback plan from $25 million to $50 million. According to President and CEO Bryan Shinn:
"The decision to upsize our stock repurchase program reflects our confidence in U.S. Silica's long-term strategy and growth prospects as well as a commitment to delivering increased value to shareholders."
Conclusion
U.S. Silica is a solid company that has been adversely affected by broader market conditions. However, with continued uncertainty in the price of oil, considering a long position in U.S. Silica is a risky proposition. Although there is a lot to like about U.S. Silica, it should be avoided until oil prices stabilize.
Disclosure: The author has no positions in any stocks mentioned, and no plans to initiate any positions within the next 72 hours.
The author wrote this article themselves, and it expresses their own opinions. The author is not receiving compensation for it (other than from Seeking Alpha). The author has no business relationship with any company whose stock is mentioned in this article.