For most investors, forays into Chinese Internet stocks come with an eye toward finding the "Chinese Google," or the "Chinese Amazon." Such speculation is often risky, and centers on what I believe to be a faulty assumption, that Internet development must follow the same path in every nation.
China is a very different society from the United States, and the online services and products Chinese customers want may well not neatly mirror those that made their nut in the US in years past.
Today I want to look at one of these unique cases, 500.com (NYSE:WBAI), an online retailer for the China Sports Lottery. It's not something with a US analogue, and that's tended to get it wrongly ignored by investors.
China and the Sports Lottery
Gambling is illegal in China and, like many other countries where that is the case, the government is using that illegality to offer a handful of official gambling avenues over which they have a monopoly. In China's case there are two "lotteries" which amount to the sum total of legal gambling in the nation.
One of these, the Chinese Welfare Lottery, is a pick six numbers style lottery very similar to Powerball or other US counterparts. The other is the Chinese Sports Lottery, which is not so much a lottery as it is a sports book system, allowing players to bet on the results of sporting events.
The Chinese Sports Lottery is absolutely huge. In 2013 they did approximately $21.25 billion in sales, and while final figures for 2014 aren't in, the indications are that interest soared with the World Cup of soccer, driving a major boost in both legal and illegal gambling on sports.
Where 500.com comes in
Like lotteries in most US states, the Chinese lotteries are administrated centrally, but at retail are handled largely by traditional retail outlets. 500.com provides its customers with the option, either through its website or through mobile apps, to play the national sports lottery via Internet.
With Internet access becoming more common in China, and sports gambling surging as well, it's no surprise that 500.com is seeing its revenues jump markedly as well.
| | |
| --- | --- |
| 2010 | $25.1 million |
| 2011 | $37.1 million |
| 2012 | $27.4 million |
| 2013 | $41.4 million |
| 2014 Q1-Q3 | $69.1 million |
The 2012 decline was an aberration (more on that below), but otherwise 500.com has experienced steady growth, with 2014 marking a sort of tipping point where online sports gambling is starting to become big time, with 500.com emerging as a market leader in providing service for the government's lottery.
2012 and the Finance Ministry
While 500.com was one of few solely online lottery retailers in China, a number of brick and mortar retailers have also offered the service online as well. 2012 is when things got interesting, however, as the Chinese Finance Ministry warned that companies providing lottery services via Internet needed ministry authorization.
Interestingly enough, virtually no one listened, but 500.com shut itself down for months, causing a drop in revenue and jumping through the hoops to get FM-authorized. To this day, they are one of only two Internet sites authorized by the Finance Ministry for lottery-related activities and the other, Sportier.cn, only serves as an odds-maker for the lottery, not as a commercial provider to end users.
From a legal perspective, this effectively means 500.com is alone in being a legal provider of sports lottery service online in China. In practice, a large number of providers still operate without the Finance Ministry's imprimatur, and Taobao.com, one such site, is a top competitor with 500.com.
The Finance Ministry approval may never prove essential for operations, but the fact that 500.com has it is certainly a nice bit of insurance for investors, and the fact that it is unique in having the approval could mean they find their list of competitors shrinking precipitously some day, if the Finance Ministry gets serious about enforcing the rule.
That's only one competitor, however, as outright illegal rival bookies have also attempted to court Chinese customers, and often with better odds than the state monopoly offers. This too is something for 500.com to contend with, though it is a much riskier business to be in, and 500.com's relationship with the official sports lottery, as well as the Finance Ministry, gives it an appealing level of legitimacy for would-be gamblers.
By the numbers
500.com's revenue comes pretty much exclusively from the Chinese Sports Lottery directly for services provided (connecting them with customers), and the company enjoys a very appealing profit margin in these dealings, 21.3% operating in the third quarter. This is roughly in line with FY2013 numbers, though down a bit from the 38% margins in Q2 of FY2014, when the World Cup surge began.
Though the Q3 margins went back down to traditional levels, the revenue did not, and at $30 million actually surpassed the more World Cup-heavy quarter slightly, showing that the new customers who came for the cup stayed.
This boils down to 4.26 RMB per American share in earnings in the past three quarters, or about $0.68. Estimates are for the year's earnings to top $1.10, and to go up to $1.34 in FY2015. With the stock trading at just over $18, this is a very modest price considering the rate of growth the company is undergoing.
The balance sheet also looks quite strong, with $82.3 million in cash on the books, and no debt to speak of.
Conclusion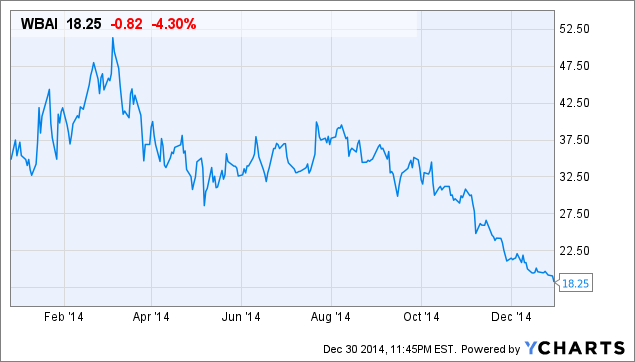 WBAI data by YCharts
As you can see, 500.com has fallen on some hard times in the past year. It's difficult to understand why, as apart from Muddy Waters coming out in September as short, there really isn't much negative news out there surrounding the company.
Quite the opposite, really, as both earnings statements and general reports on sports gambling in China will attest to the rapid growth of the industry, and 500.com remains among the industry leaders, and certainly the best positioned for what is admittedly an uncertain regulatory environment.
While buying 500.com in the $35-$40 range may have been a serious gamble, but at the current numbers it's really difficult to argue against the stock from a growth value position. Months of steady decline have turned 500.com into a rare contrarian growth play, and one that warrants some serious attention.
Disclosure: The author has no positions in any stocks mentioned, and no plans to initiate any positions within the next 72 hours.
The author wrote this article themselves, and it expresses their own opinions. The author is not receiving compensation for it (other than from Seeking Alpha). The author has no business relationship with any company whose stock is mentioned in this article.