By Steven Carroll
There seem to be two divergent schools of thought around the stock - with the bears focusing on massive (deflationary) chicken supply looming in 2015, and the bulls focused on the structural growth story and the cost reductions anticipated after Tyson's recent acquisition of Hillshire Brands. As 2014 draws to a close, we can see from the chart below that the stock price has outperformed the S&P 500.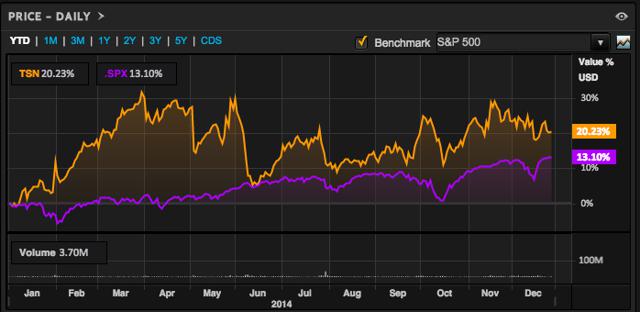 Source: Thomson Reuters Eikon/StarMine
Effect on earnings
While the acquisition seems to have set sell-side hearts aflutter with MBA buzzwords like cost take outs and synergies, in the shorter term it causes a very negative impact on the Earnings Quality score. Contrary to what investment bankers will tell you, many acquisitions fail to generate value, cost savings, etc. and instead are an operational nightmare consuming management bandwidth for significant periods. (That has certainly been the firsthand experience of this writer.) To give the hard numbers in the chart below, the EQ score fell from the top quintile (a score of 83) to the bottom (currently 16).

Source: Thomson Reuters Eikon/StarMine
Good value?
For the fans of DuPont analysis - Tyson has always relied on high asset turnover and low profit margins - witness Tyson's profit margin of 3.8%, compared to Sanderson Farms (NASDAQ:SAFM) at 13.8%. Any misgivings about short term profitability seem to be more than accounted for in the price, with the company having the lowest forward 12 month P/E (11.6) among any of the 15 food products firm in the U.S. with more than $10 billion market cap. Tyson also has the lowest five-year market implied growth at 5% in that same peer group. The chart below shows the StarMine calculated fair value for the stock is at a larger premium than any point in recent years.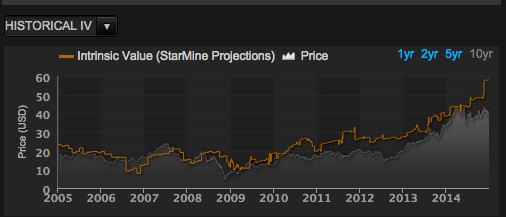 Source: Thomson Reuters Eikon/StarMine
Rising popularity
Brokers seem to be taking notice, with TSN now on multiple conviction lists for 2015. As the impact of the Hillshire Brands acquisition flows through to the cash flow statement, there's plenty of opportunity for the company to pay off debts or make complementary acquisitions.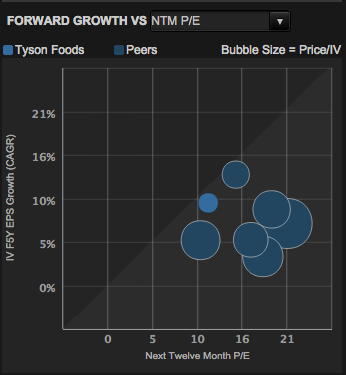 Source: Thomson Reuters Eikon/StarMine
Cash flow, EPS outlook
Increases in capital expenditures have meant that free cash flow in fiscal 2014 year is down 28% to $546 million. However, in 2015 I/B/E/S forecasts a surge of 120% to $1.2 billion continuing to climb to $1.33 billion in 2016. The chart below shows how strong the company's free cash flow has remained over recent years.
Earnings per share (I/B/E/S mean), by comparison, are expected to increase more modestly from $2.94 in 2014 to $3.59 in 2016.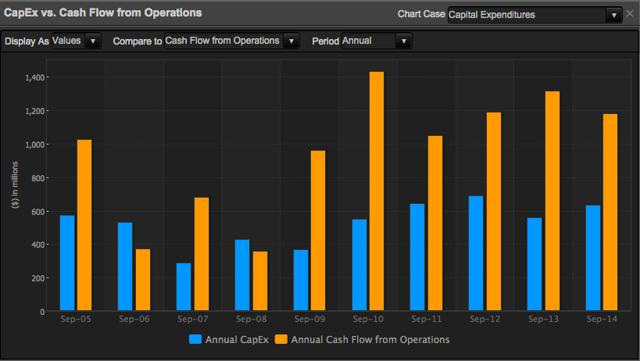 Source: Thomson Reuters Eikon
Pass the gravy
So for those willing to look through the transition year of 2014, things are starting to look exciting further out. So what's the poultry picture? Strong free cash flow growth, solid EPS growth and a strong likelihood of de-levering in the balance sheet may mean investors could consider sitting around Tyson's dinner table.
Disclosure: The author has no positions in any stocks mentioned, and no plans to initiate any positions within the next 72 hours.
The author wrote this article themselves, and it expresses their own opinions. The author is not receiving compensation for it. The author has no business relationship with any company whose stock is mentioned in this article.