Investors always lose their shirts at the top of market cycles. This is a combination of greed, impatience, and FOMO, aka "fear of missing out." It is also the result of bad, self-serving advice that suggests a good investor stays in the market no matter what. Getting out, of course, means the possibility of missing out on gains. But look at the practical result, over the long term, of chasing gains to the exclusion of managing risk. It is this very behavior, in our view, that produces horrible results for most investors. If you don't have a practical means of evaluating risk… and you don't have a sense of whether valuations are cheap or expensive… why be in the market?
The major indices saw a delayed "Santa Rally" in the final days of trading for 2014. The Dow (NYSEARCA:DIA) caused muted celebration on briefly topping the 18,000 mark (and is back below it again as of this writing). And small caps, which have functioned as a "canary in the coal mine" all year long, managed to break out to the upside from a multi-month range.
But step out to a wider lens view (as shown below), and the small cap breakout - via Russell 2000 ETF (NYSEARCA:IWM) - looks far less impressive. If anything small caps have potential to be a bull trap. We are not actively or aggressively shorting the major indices: As traders we are content to step aside when the "false trend" is unplayable. With that said, the mounting risks and lousy fundamentals leave us content to be mostly sidelined (as far as long-side US equities go) heading into 2015. Risk is incredibly high.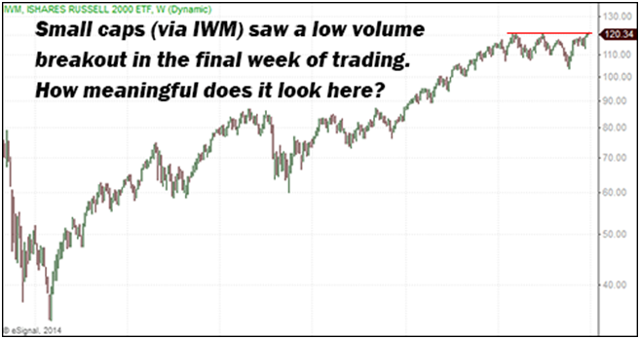 click for full size
Via Doug Short, note the Nikkei chart in the upper right column. December 29th, 2014, marks the 25th anniversary of Japan's 1989 bull market top. On December 29th, 1989, the Nikkei had seen stunning 392% gains in a period of just six years. Market chatter at the peak was just as bullish as ever. From a Wall Street Journal article published Jan 2nd, 1990:
"We're looking for another good year," says Lawrence S. Praeger, chief strategist for Nikko Securities Co…

"The outlook is extremely good," says Pelham Smithers, a research analyst at Shearson Lehman Hutton Inc.'s Tokyo office. Even the risk of a long-term decline, he notes, appears more limited than it was in 1989…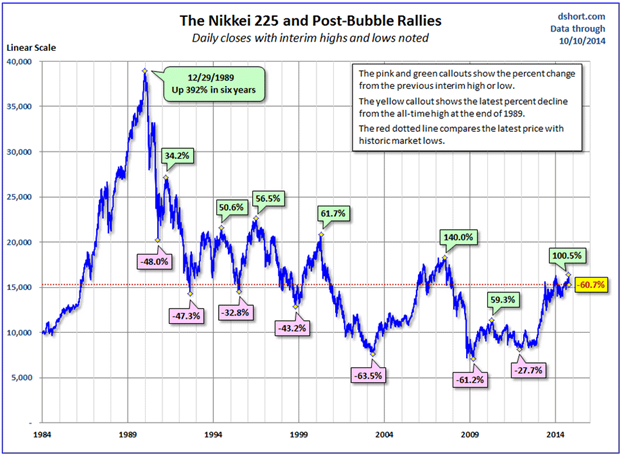 You can see what happened next, which is really no surprise. Investors routinely get killed at market tops, and for the most part their lack of risk control guarantees this. Putting hard-earned money to work with no semblance of risk control does not make sense. Wall Street has convinced people it makes sense because, as a self-interested party, Wall Street wants to maximize fees and have bagholders to cash out on. The reasons why this happens over and over are complex, but there is an element of "something for nothing" mentality in believing that markets offer a free lunch of sorts, or that an investor somehow "deserves" a return just because they lack better alternatives for their savings. The truth is more akin to high stakes poker: If one intends to play the game, one should learn how to play properly, which in turn means risk control. To ignore risk is to deserve the results one gets. Investors on the whole never learn this lesson, and probably never will, as we can see clearly in China's frenzied market: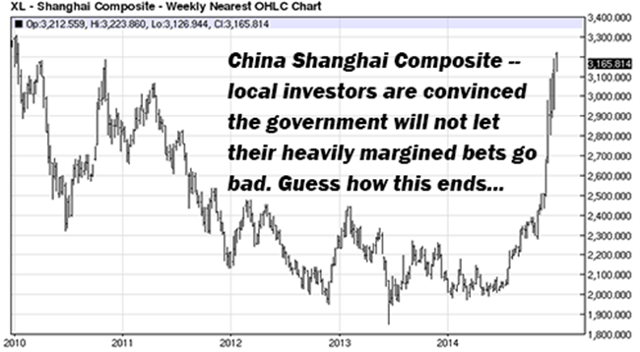 click for full size
Via the old gray lady: "Ordinary Chinese have been piling into the market at a pace not seen since 2007, before the financial crisis, in some cases pulling money from savings deposits or cashing out of property investments as they try to win big. Investors in Shanghai and Shenzhen opened nearly 900,000 new stock trading accounts in the week that ended Dec. 12 alone - the most in seven years." Good luck…
The China bottle rocket may shoot higher for some time yet. But the backdrop - China's troubled economy itself - looks more "gray swan" prone by the day. China's government is desperate to stave off a tsunami of bad loans created by bad investments in eight-lane superhighways, ghost cities, giant shopping malls no one sets foot in, and other such things. A decision to stimulate the flagging economy with more credit means the ultimate fallout will be that much worse. Here and now, though, investors can rejoice as the government tries to transition hungry punters from the overheated property markets into the government-supported equity market. It is not functional capitalism and the distortions will come to a very painful end. Note too our view would be very different if this surge in the Shanghai Composite had come after a real episode of China crisis, rather than prior to its arrival. This is more attempt to delay the inevitable, not a turning point.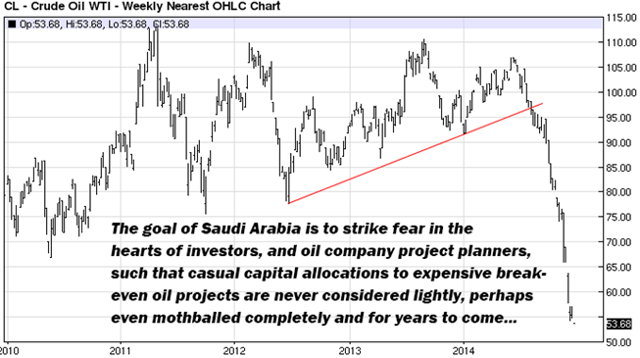 In respect to oil, it is important to understand what Saudi Arabia is really trying to accomplish. The Saudis have roughly $900 billion dollars in reserves and production costs in the $5 per barrel range. They are dug in for a brutal campaign, and this campaign will only be successful when major oil projects are getting shut down, credit markets are in turmoil, and oil investors in general are screaming out in pain. When you see Barron's featuring covers like "Five Oil Stocks to Buy Now," mere months after the historic collapse took place, you know we are not there yet. The existential threat to Saudi Arabia comes from energy companies' ability to produce large quantities of oil at high breakeven prices (e.g. above $80 a barrel). Saudi Arabia would prefer oil to be in the $80 to $110 a barrel range, but it would also prefer not to have marginal competition threatening its long-term relevance. The only way for Saudi Arabia to get what it wants is to hunker down for a multi-year price war, keeping crude prices depressed until a whole slew of projects are shut down, and energy investors in general are taught to fear the House of Saud. When you put together the odds of paradigm shift with the clearly bearish message of price - see Energy Select SPDR (NYSEARCA:XLE) below - it is easy enough to see the folly of early bottom pickers. We are still short energy names and may re-pyramid in 2015.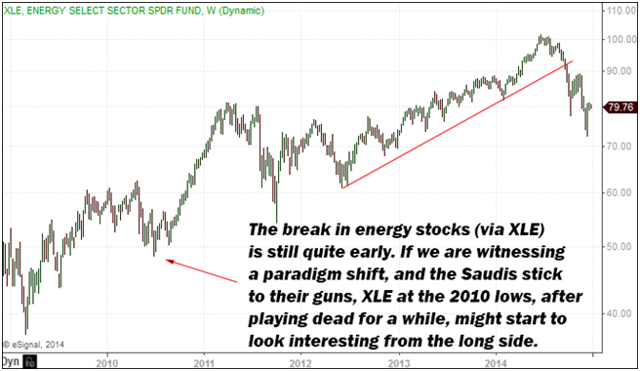 In addition to short energy stocks, we remain short emerging markets and short gold and gold stocks heading into 2015. A key driver behind these positions is the relentless strength of king dollar (DXY shown below).
The fundamentals driving the dollar move are as strong as the price chart itself. The United States is pulling away from ROW in terms of future outlook - recently posting the best GDP growth in years - even as the odds of slowdown and QE and crisis management for the rest of the world increase. This in turn puts extreme pressure on gold and emerging market equities. We are also hearing confirming evidence, like this from the WSJ, start to make its way into forecasts:
The soaring U.S. dollar is squeezing companies in emerging markets from Brazil to Thailand that now face higher costs on roughly $1 trillion in bonds sold to investors before the dollar's surge.

While [the USD's rise] hurts many companies around the world, the pain is even worse at emerging-market firms that issued bonds in U.S. dollars instead of the local currency…
The dollar's strength is also self-reinforcing via negative crisis feedback loop. The stronger the dollar gets, the greater the odds of emerging market blow-up, as various companies and governments that loaded up on dollar-denominated debt are exposed at the worst possible time… which in turn leads to more emerging market selling and more purchasing of dollar-denominated haven assets (like 30 year US treasury bonds).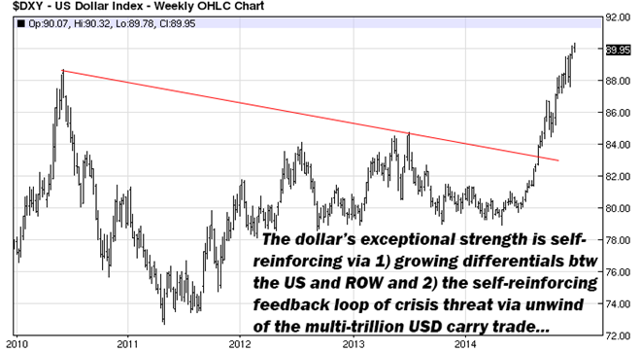 click for full size
Ed. Note: The above was broadcast on December 31st, 2014 via the Strategic Intelligence Report (NYSE:SIR).
Disclosure: The author is short XLE. Long the US dollar versus a basket of currencies.
The author wrote this article themselves, and it expresses their own opinions. The author is not receiving compensation for it. The author has no business relationship with any company whose stock is mentioned in this article.